Last Updated on February 24, 2023 by Rose Morah
Looking for the difference between A Better Route Planner and Plugshare? Or perhaps wonder which one between the two is better.
To help you decide, we going to discuss the difference between the two apps in terms of benefits and who should use each of them.
Related:
Best Tesla Trip Planner App (According To Tesla Owners).
Best EV Route Planner (According To EV Owners).
Who should use ABRP?
ABRP is the best EV route planner for people who are planning to get from one point to another because it helps creates the route for you.
It is also a great trip planner for planning a long road trip to an unfamiliar location because it gives you a better idea of the route.
Why ABRP is best for planning a trip
You can choose whether you want to have a fast trip or not, then optimize your route based on your preferences. You can also optimize your preferences based on the time you want to spend at each charging stop, the number of charging stops in your route, and so on.
I also find it to be a great EV trip planner for routing reasonable intervals with the fastest chargers rather than just random chargers. This is great particularly when you are going on a long road trip.
ABRP charge time estimates and its predicted SOC on arrival are usually quite accurate. This is because it gives you charge estimates when driving based on so many factors such as the outside temperatures, your driving speed, the type of EV and so much more.
If your car doesn't have a good in-build trip planner like the one on Tesla, then should consider ABRP. It is as good as Tesla's in-built trip planner and supports almost all EVs in the market.
ABRP is a great app for new EV owners who are worried about range anxiety as it helps them figure out how to get from point A to point B.
You can export your planned trip on ABRP to Google maps.
You can choose the type of charger, network preferences, chargers to avoid, charger availability, and minimum charging stalls that ABRP should use when planning the route.
When planning a route on ABRP, you can choose to avoid routes with tolls, highways, ferries, car trains, and country borders.
NOTE:
You can link ABRP to your EV for it to be aware of your battery status as you drive.
See also:
How‌ ‌to‌ ‌Use‌ ‌A ‌Better‌ ‌Route‌ ‌Planner‌ ABRP (With Illustrations).
Roadtrippers vs Wanderlog Travel App (Which Is Better?).
10 Best Road Trip Planner Apps/Websites.
Who should use Plugshare?
Plugshare is the best EV trip planner app for people who are looking for places to charge in their destinations or for charging stops that have certain amenities.
You can filter your charging stops by the following amenities:
Hotel/Lodging.
Dining.
Restroom.
WiFi.
Shopping.
Grocery.
Plugshare is also good for people who plan to use only specific charging networks on their route.
Personally, I also use Plugshare as a backup when driving on an unfamiliar route because of the following reasons:
It lets you know whether or not you will pay for parking.
You get to see the type of parking available at a charging stop. i.e you get to see whether it is a garage, pull-in parking, or pull-through parking.
It gives you the charging rates of the public chargers.
See also: Cool and Must-Have Tesla Model 3 and Y Accessories.
It has photos of the charging stops from other users which helps you spot the chargers fast.
I also love the fact that it gives you the details of how close the amenities are to the public charger. See the image below.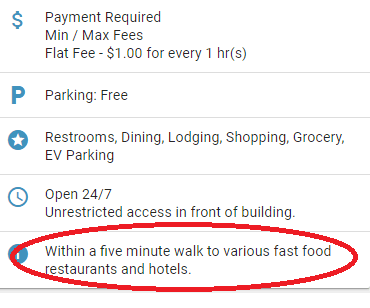 Plugshare allows you to filter out restricted charging stops. These can be locations that allow customers only, guests only, employees only, Tesla drivers only, residents only, and so on.
You can use Plugshare to find free charging stops. See the image below.