Last Updated on May 29, 2023 by Rose Morah
If you're looking to buy or rent a car to sleep in on your next camping road trip, this article has got you covered.
In my thousands of miles-road trip experience of over 10 years, there are many things that I have learned when it comes to sleeping in the car on long road trips.
But through the journey, I have also made many car camping mistakes in the school of hard knocks.
In this article, we will be discussing the best cars to sleep in.
Note: When it comes to the choice of car to sleep in, the most important aspect is the folding seats.
Best cars to sleep in:
1. 2021 Chrysler Pacifica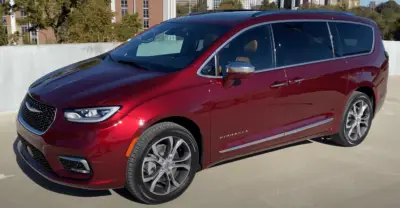 Most people love Chrysler Pacifica because of how easy it is to convert into a camper, and its Stow N' Go seats.
In actual fact, you can easily tell that the car is designed for campers and frequent road trippers from its Stow N' Go seats.
This vehicle is the best option for anyone who doesn't want to deal with the hassle of setting up a car for a place to sleep- i.e hauling, installing, and removing seats.
It is also great for campers because it offers plenty of space for their camp gear, a place to work, and even cook while traveling.
You can even set up a tv screen at the back and watch as you relax after a long drive.
See also: 14 Cheap Off-road Vehicles (For off-road & Overlanding Adventure).
2. Subaru Outback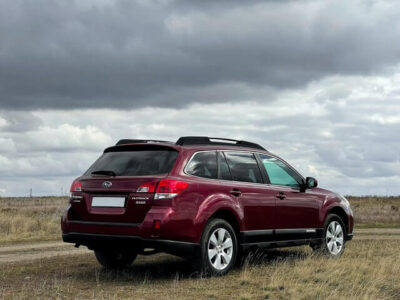 First of all, Subaru Outback has a phenomenal All-Wheel Drive system (AWD) which makes it a good road trip car, especially if you are driving through snow, mud, rain, icy roads and etc. 
The AWD provides more traction on the road, thus decreasing the risk of skidding, hydroplaning, or slipping across the road.
Why is Subaru Outback a good car to sleep in?
You can fold down its back seats when you want to sleep.
Additionally, when you remove the back seats it becomes more spacious and provides ample room for you and your gear.
This makes it comfortable to sleep in even when you are 6ft tall.
However, Subaru Outback does not have good headroom, especially if you are more than 6ft tall.
How to sleep more comfortably in a Subaru Outback
In order to sleep comfortably on your mattress, I would recommend removing the back seat. 
This is because when they are folded down they tend to be uncomfortable to sleep on since they do not fold completely flat.
The seats also tend to take up more space, especially if you want to carry more gear in your car.
How to sleep comfortably in a Subaru Outback when you are over 6ft
Remove the seats. And when it's time to sleep, move the front seats forward then put on your mattress.
This way you will sleep more comfortably without being cramped up.
You may also like:
Read This Before Sleeping In A Car At A Truck Stop.
Can You Sleep In Your Car In A Parking Lot?
Is it illegal to sleep in your car in the US?
3. Ford Explorer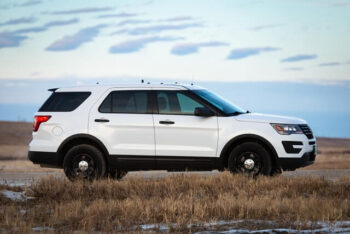 You can easily convert a Ford Explorer into a comfortable vehicle to sleep in by either:
Removing the middle row seats and folding the rear seats in order to fit comfortably.
Or just fold the rear seat and leave the middle seats if you can fit well.
And if you are camping, you could convert it into a great "SUV RV" by removing the middle and rear seats.
Worried about your height?
I know of a number of campers who are over 6'1 and have slept comfortably in the Ford Explorer.
See also:
How To Quickly Get Bed Bugs Out Of Your Vehicle.
How To Permanently Get Rid Of Roaches In The Car (Fast & Effectively).
Longest Range Electric Car in 2022.
4. Honda Element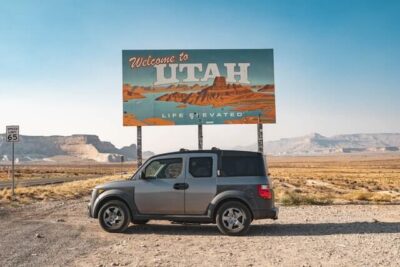 Honda Element is a great car to sleep in.
You can sleep in the car with no one ever suspecting.
From the outside, it looks like just any ordinary car but the inside is spacious when you remove the back seats.
You will perfectly fit in Honda Element if you are 5ft tall.
What if you don't want to remove the rear seats of the Honda Element?
In that case, you will need to fold down the back seats and put a customized sleeping platform that slides over the back seats, then get a foam mattress and you're set.
However, if you are a frequent road tripper and camp a lot in your car, I'd recommend removing the rear seats. This will turn it into a small RV.
Once you remove the rear seats, you will have space of about 5ft from the front seats to the back.
This means that you can comfortably sleep in the Honda Element if you are less than 6ft tall.
However, you will be a bit uncomfortable if you are over 6ft (of course depending on your sleeping position).
A quick note: 

The rear seats in the older Honda Elements fold perfectly flat when compared to the newer models that have side curtain airbags.
However, if you plan to remove the seats, that should not be a problem.
See also:
How To Sleep In A Small Car (Best Tips & Hacks).
How To Quickly Fall Asleep In The Car.
You might also like: must-have Hi-Lift Jack accessories.
5. Chevrolet Suburban (9th gen)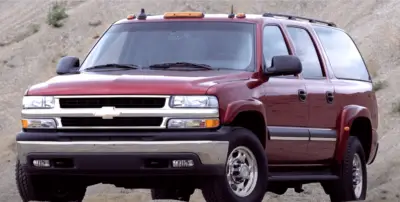 Chevrolet Suburban is a great vehicle to sleep in when going on long camping road trips due to its spacious interior. 
They are also long-lasting, very versatile, and with great off-road capability.
You can safely drive it to and from the mountains even during winter.
What makes the 9th generation Chevrolet Suburban a great car to sleep in?
It has plenty of head and legroom even for people who are over 6ft tall
It has great space to move around and carry more stuff and gear at the back. There is also more space under the rear seats to carry extra stuff on your road trip.
Chevrolet Suburban has a no-built design which means that no tools are required to set it up when camping or sleeping in this vehicle. 
It is a very reliable vehicle with a reasonable maintenance cost.
Its engine design is simple, which is great for people who love DIY repairs.
The 9th generation Chevrolet Suburban is affordable. You can get a good one for under $5000.
See also: Pros and Cons of Hardshell Rooftop Tent (Buyers Guide).
6. Volvo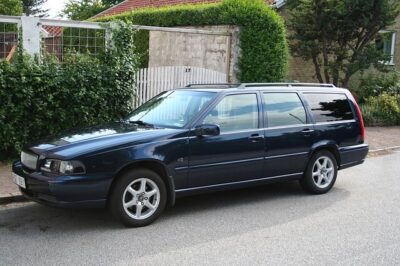 Volvo wagons are amazing cars to sleep in.
For instance, in V70 you will simply need to take off the lower part of the rear seat (where you sit) within minutes, then fold down the back part of the seat.
This will give you a perfect platform to put on your air mattress for a good night's sleep inside.
Additionally, it can fit up to 2 people, or else, you can sleep with your dog and still enjoy the night.
Many campers have also been able to convert Volvo C30 and Volvo XC70 into perfect campers.
For example, the 2001-2007 V70 / XC70 models take only a few minutes to set up for a night's sleep. 
This is because you don't need to disassemble anything. You only need to fold down the back seats, then put on an air mattress. 
Can a tall person (over 6ft) sleep in these types of Volvo wagon cars?
Yes, I have a friend who is 6ft 2 and sleeps comfortably in his V70.
Why is Volvo Wagon a great car to sleep in?
First of all, I loved their spacious cargo area which is great for sleeping, and secondly, they have comfortable seats that are excellent for shorter naps.
And apart from getting good sleep in these cars, I love the fact that they have a 12V socket in the back for charging.
7. Ford Econoline van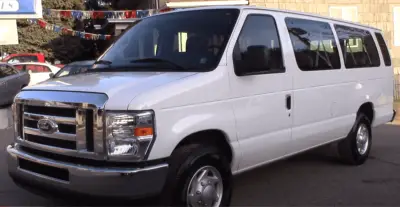 If you are looking for a good car to sleep in, cook, and work in, one that has a high roof and is spacious, the Ford Econoline van would be that car.
I also consider it a fantastic car for a camping trip because you can somehow stand and move around.
A Ford Econoline van is great for long road trippers, frequent road trippers, and campers because it is comfortable to travel and live in.
See also: How To Camp In A Tesla Like A Pro (Tesla Camping Tips).
8. Honda Civic hatch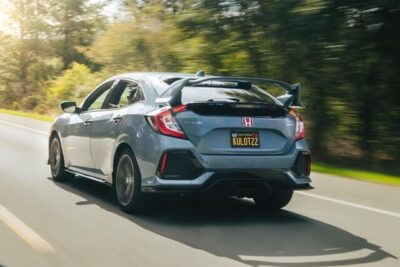 The Honda Civic hatch is another great car to sleep in when going on a long road trip.
There are many things to love about this car. But when it comes to sleeping in the car, here is what makes the car stand out:
You can park it anywhere, where overnight parking and camping are not prohibited, and sleep without anyone suspecting it.
It is easy to set up because you only need to fold down the rear seats.
It has enough legroom when sleeping because once the rear seats are folded you are left with the back row and trunk space where you can comfortably sleep.
If you are not very tall, you will enjoy good headroom.
Two people can comfortably sleep in a Honda Civic hatch.
You may also like: When Does It Make Sense To Fly VS Drive?
9. GMC Acadia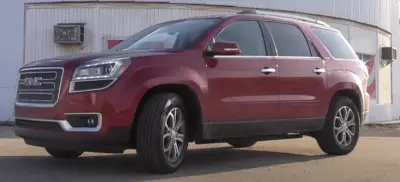 The older GMC Acadia models have got seats that fold perfectly flat. You don't need to remove the middle row seats for you to sleep comfortably.
However, in the newer models, you may need to remove the 3rd-row seats for a tall person (about 6ft) to sleep comfortably.
I have in the past rented a 2013 GMC Acadia. It perfectly fit my foam mattress which was about 48" wide.
It was also easy to set up and sleep in because the seats folded flat.
You may also like: Is the Ford Bronco Reliable?
10. Mazda CX9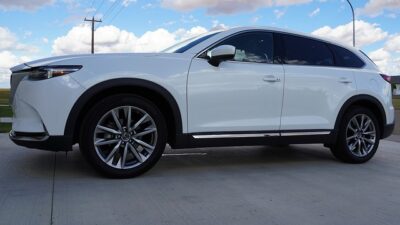 Mazda CX9 is a lot more spacious than most people think.
What many people who own a Mazda love most about this car is the fact that they have enough space, no matter whether you decide to sleep on the seats or fold them down.
11. Toyota Venza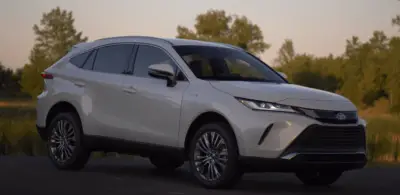 Toyota Venza is a great car to sleep in, especially for people who are over 6ft.
I have a 6'3″ friend who fits and sleeps comfortably in his Toyota Venza when camping on extended road trips. 
The seats of a Toyota Venza fold down flat, so you don't necessarily need to remove them when car camping.
See also:
Don't Buy A Toyota Extended Warranty Before Reading This (Is It Worth It?)
How To Plan A Road Trip On A Budget.
Tips for sleeping in the car comfortably
If you take frequent camping road trips, I would recommend you get a sleeper + storage organizers that you can lay the mattress on when the seats are removed. It looks like a normal bed and feels like sleeping at home.
Get a Hitch Cargo Box for extra storage. 
I use it to store my foldable chairs, table, pieces of firewood, grill, and hiking and fishing gear.
This gives me more space inside the vehicle to comfortably sleep and add more accessories.
3. Get a thick foam mattress for good sleep.
I use this thick mattress when sleeping in my car. It is very comfortable to sleep on even when traveling for weeks.
4. Get a 12V fan to keep you cool when sleeping in the car during summer.
I use this fan because I can control its speed and the direction I want it to face when I am sleeping in the back during summer when the car gets too hot.
5. Have a backup power bank + car jump starter.
This will really help you during emergencies. It is definitely a must-have accessory for anyone going on an extended road trip.
Related: Best and Must-have Road Trip Car Accessories.
Best Cars for Camping Conversion
Ford Transit
Chevrolet Suburban (9th generation).
Mid 2000's Toyota Sienna
Subaru Outback
Ford Explorer
Honda Element
Volvo Wagons
Ford Econoline van
GMC Acadia
Mazda CX9
Chevy Express
Best cars to sleep in for tall people (over 6ft)
2019 Sorento V6
Chevrolet Suburban
2021 Chrysler Pacifica
Subaru Outback
Ford Explorer
Volvo V70
Ford Econoline van
GMC Acadia
Ford Transit
Toyota Venza
Dodge Durango 2019
Toyota Sequoia
Chevy Express