When planning a safari, it is important to look for a bag that meets different African luggage requirements depending on the mode of transport you will be using.
The best African safari bags are soft-sided duffle bags and backpacks. Canva bags are also great, as long as they meet the luggage requirement.  
This article will help you choose the right bag for your African safari.
But first, what are the features of an African safari bag?
It should be lightweight.
Waterproof and dustproof.
It should meet the safari luggage requirements
What are the safari luggage requirements?
Before choosing a safari bag, here are the safari luggage requirements that you need to consider:
If you are going to be board a lightweight aircraft/ small plane on your safari, it will be important to know the required weight limit. 
The weight limit restrictions depend on a safari destination. However, most weight limits for Africa safaris range between 15kg to 20kg. This includes the handbag and the main bag.
To avoid getting stranded, it would be best if you enquired before go on your safari.
Size of the bag (dimension)
The recommended size in most African safari destinations is 30cm x 30cm x 70cm. The size should not exceed 55cm x 35cm x 25cm.
The size will easily fit in small planes. Additionally, this size will ensure that your tour vehicle is not overloaded. 
This is also a great size considering that you will be traveling with your bags throughout your safari drives.
A soft-sided travel bag is the best bag for an African safari. This is because, if you are taking light aircraft flights, a soft-sided bag can be easily manipulated to fit in the plane's luggage compartment.
NOTE:
If your safari bag does not completely meet the recommended size dimensions but is soft-sided, in most cases, this should not concern you. Why? Because it can be easily manipulated to fit still as long as it does not pass the maximum size limit.
Related: What is an African Safari Like? Is an African Safari Worth it?
See also: A Complete Backpack Packing Guide (And Backpacking checklist).
Safari Luggage FAQs
Can you take a suitcase on safari?
NO. Suitcases are not recommended on safaris. This is because they are not soft-sided and will not easily fit in the plane's luggage compartment. They also do not meet most safari guidelines and luggage restrictions.
What is considered a soft-sided bag?
Soft-sided bags are usually bags that have been woven and can be easily squashed and manipulated.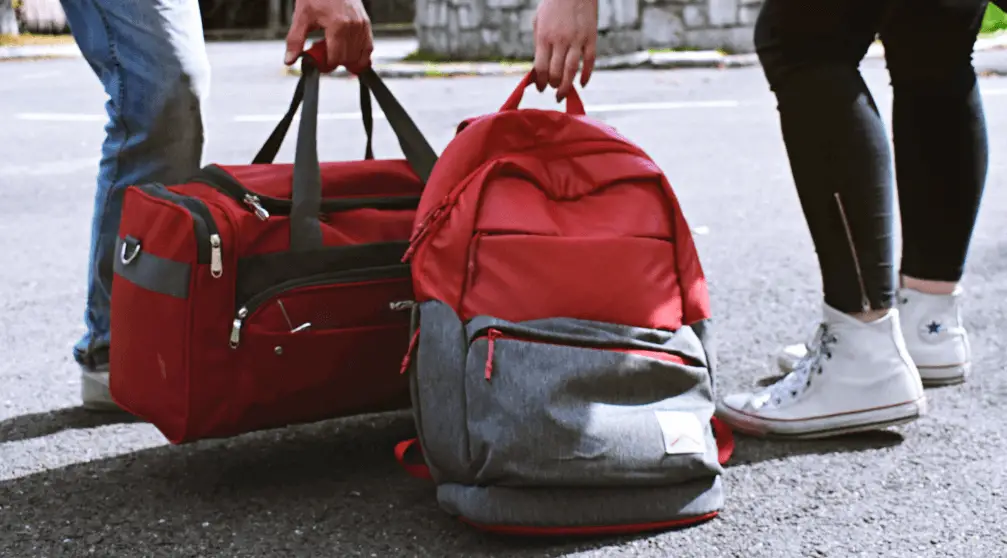 How much luggage can you take on safari?
I recommend you pack light due to weight and space restrictions. Pack smart and ensure that you only carry what you will need on your safari.
See also: The Ultimate Women's Safari Packing List.
Best duffle bags for African safari
Gonex 100L Foldable travel bag
If you are looking for a bag that will easily fit all your luggage, including your photography gear, the Gonex duffle bag will be your best choice.
It comes in multiple colors.
What are its best features?
It is light. 
Water resistant.
Has plenty of storage pockets and built in pouches to pack smaller items.
Has plenty of straps.
It has ample space that fits both you and your partner's clothes.
Good quality.
Check its latest price on Amazon.
KomalC Leather Travel Duffel Bag
If you are looking to travel in styles, the KomalC duffle bags combine fashion, style, and elegance.
It is a beautiful and elegant duffle bag. Other than that, it has the following best features of a good safari bag;
It is very spacious. It fits in a lot of stuff. You can pack for a one week trip in this duffle bag and still get some extra space. 
The bag is very strong and durable. +The leather is not only attractive, but strong, original and very durable.
It still maintains a good shape when fully packed and empty.
Check the current price on Amazon.
Gregory Mountain120 Liter Duffel Bag
I have purchased Gregory products for years, and I love the quality of their products. The Gregory duffle bag is no exception. 
It is;
Water resistant. 
Durstproof, which makes it great for safaris.
Very durable and attractive.
Check out its current price on Amazon
KPL Large 32 inch leather duffel bag
If you really love leather products, then this one will not disappoint you. It actually has a great pure natural leather smell from its 100% genuine leather material. 
It is both very attractive and elegant.
I consider this duffle bag one of the best for an African Safari because it still retains its elegance even when exposed to dirt. 
Additionally, it is spacious, has easy-to-open zippers, is very durable, and can last for years.
Check its current price on Amazon.
Travel Weekender Duffle Bag
The features and the price of the Travel Weekender duffle bag make it a worthwhile purchase. 
For instance, I love its heavy-duty zippers and strong material. It is also lightweight, with lots of pockets and separate spaces to put in extra stuff.
Check its current price on Amazon.
Best canvas travel bags for African safari
The following are our top 5 canvas safari bags.
WOWBOX Duffle Bag 
2. S-ZONE Oversized Canvas
3. Sucipi Canvas Duffle Bag
4. 45L/55L Fitmyfavo Duffle Bag
5. Plambag Canvas Duffle Bag