Last Updated on February 22, 2023 by Rose Morah
If you are traveling to Europe and are wondering which European train booking sites are the best, this article has got you covered.
This is what we are going to cover:
Best European train booking sites.
Best money-saving tips when traveling by train in Europe.
But before that, it is important to point out that trains in Europe are divided into 3 categories:

a). High-speed trains – They connect the big cities and cross-border.

b). Medium speed trains or medium distance trains – operate on medium and long-length routes within a country.

c).  Regional trains – They are for short-distance travel that connects towns and smaller cities.
NOTE: The sites recommended in this article are safe and reliable and their recommendation is based on my experience and other travelers who have used them during their European tours.
Related: Best Travel Apps For Europe.
Best European train booking sites
1. Trainline 
I used Trainline when I was traveling in Europe, specifically Italy, France, Germany, and the UK.
But it covers more European countries, other than the ones mentioned.
I had a great experience using Trainline since it was super convenient and it actually helped me save time when I was at the train stations.
Trainline is a train booking site that gives you ticket information, timetables, and offers for over 200 operators in over 40 countries.
However, one thing I noted was that Trainline added a booking fee when I was buying train tickets through their website.
One more thing, if you like a bit of flexibility when traveling by train around Europe, then I would recommend checking out European passes like the Interrail or Eurail Pass.
The Eurail Pass allows you to travel across 33 European countries. This pass is for travelers who are not European citizens/residents.
On the other hand, Interrail Pass also allows you to travel across 33 countries but can only be used by European citizens and permanent residents.
See also:
Traveling By Bus To Mexico From The US – Best Tips.
Worst Transportation Means In South America For Tourists And Backpackers.
2. TrainPal 
I recommend TrainPal if you plan to go on long-distance train journeys in Europe.
This is because of the following 3 main reasons:
It uses split ticketing. Split ticketing helps you get cheaper train fares that in the end save you money and time when traveling by train in Europe.
You can compare train ticket prices. This ensures that you book at the best prices when traveling.
They have E-Tickets. I found it really time-saving when I was at the train station because I did not have to queue to collect the train ticket.
NOTE:
It is cheaper to book early in advance than on the day of travel, which can be extortionately expensive.
3. Eurail
Eurail is another great European train booking site that covers the vast majority of Europe.
Honestly, when I was traveling in Europe I never used this booking site to book my train tickets but it is on this list because other travelers recommended it. 
So, be sure to check it out as well.
You may also like:
Which Japan Rail Pass Should You Get (Complete Guide)?
Where to Buy a Japan Rail Pass (A Tourist Guide).
Best money-saving tips when traveling by train in Europe
The following are some of the best tips that I learned when traveling by train in Europe:
It is cheaper to book directly through the rail company's website
Depending on where you are traveling in Europe, some countries have train booking apps. Others don't. 
Most of the time, I found it much cheaper to use the country's railway company's official website to book tickets.
Additionally, they have the English option. But you can always use Google translate.
Pro Tip
When booking train tickets from the rail company's website in Europe, it is best to book directly from the originating country. 
See also: Top 15 Cheapest Destinations to Travel Internationally.
Check different ticket pricing options
One thing I noticed during my European tour is that different rail companies offer different pricing.
Checking and comparing different options can help you save money, especially if you are transiting multiple countries in Europe.
For instance, if let's say you are traveling from Frankfurt to Strasbourg, you can check and compare the ticket prices on SNCF and DB (major rail companies in France and Germany).
The first image shows the train ticket prices of DB and the second image is for SNCF on the same routes (Frankfurt to Strasbourg).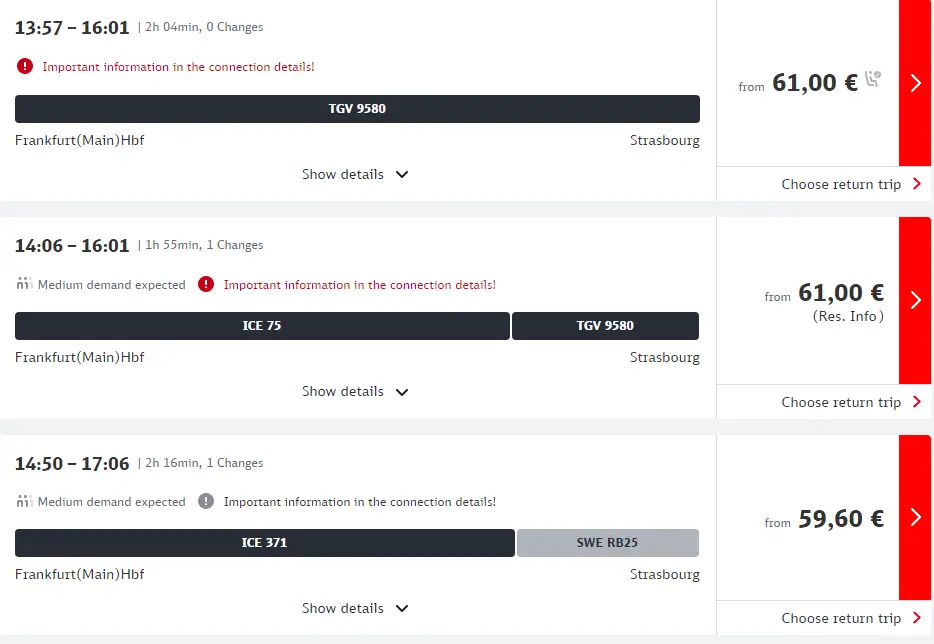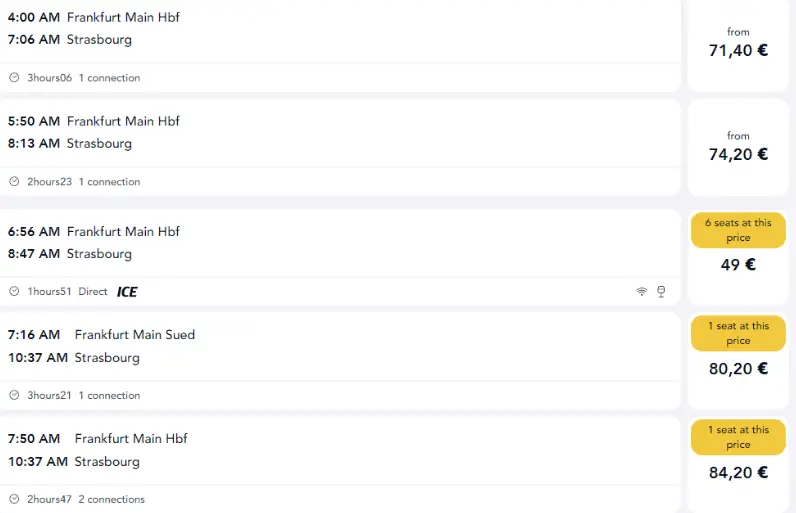 Other examples of major rail companies in Europe include;
SBB in Switzerland.
Trenitalia in Italy.
Italo in Italy.
When doing my European tour, I also found buses/coaches very convenient, especially in Eastern Europe. They were also cheap and very comfortable! 
So, other than traveling by train in Europe, buses/coaches are also another great option.
All the Best!