Are you looking for the best motorcycle stories from the road, written from the perspective of a true adventure motorcyclist?
Well, look no further. Here are five of my favorite websites dedicated to motorcycle road tour stories.
They aren't ranked in a particular order. The sites are tremendous and unique in their own right.
So, here is the list of my best motorcycle lifestyle blogs:
Best lifestyle motorcycle blogs
1.

Mad or Nomad
As much as I enjoy riding, I also enjoy reading incredible and unique motorcycle travel stories. 
Mad or nomad has mad/insane motorcycle road trip stories that will either dare you to try and also appreciate other riders. 
Most of these stories touch my soul! Thanks to Andy and Alissa for such a fantastic site.
At the time of drafting this article, these were my latest stories from their blog:
Motorcycling to the Coldest Place on Earth:

Part 1

The 7th Continent: Motorcycle to Antarctica
2. On Her Bike
"Look like a princess. Ride like a pro."
Kinga Tanajewska is my all-time favorite lady biker. 
She documents her motorcycle travel adventures on her blog Onherbike.
Lemme tell you a bit about this lady.
Kinga Tanajewska quit her job to follow her dream and passion. She knew it was "now or never."
She named her first tour after quitting her job "Are we there yet?" because she didn't know her final destination, which was also a great reference to her impatience.
Since then, she has traveled to many countries around the world on her bike. 
She has been to South Korea, Russia, Africa, Australia, Mongolia, to name a few.
And lastly, I love how Kinga beautifully narrates her travel stories. She is definitely a great role model to other aspiring female riders.
There's a lot I can say about her, but I'll leave it at that. Go check her out on onherbike.com.
Check out these tips and advice when taking a motorcycle road tour across America.
3. NOMADIK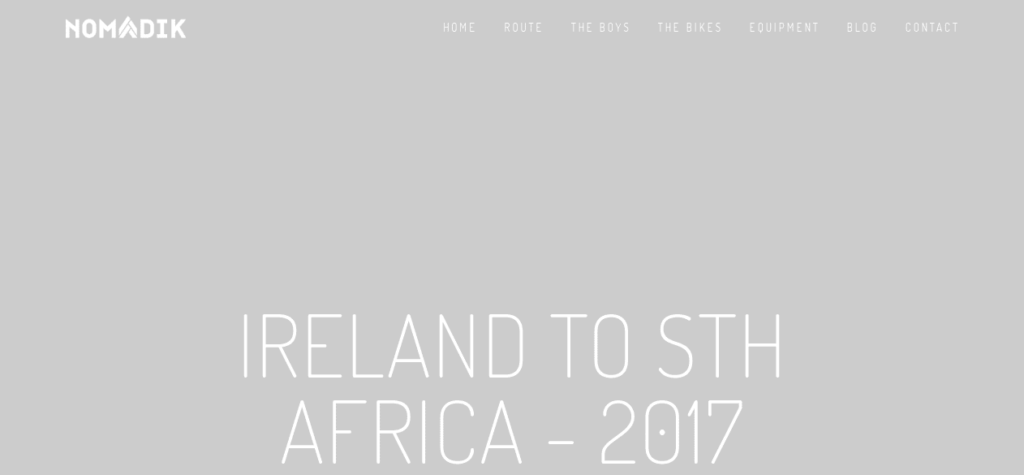 Nomadik and co is an excellent blog by Anthony and Richard, who documents their motorcycle trips through Africa, starting from North Ireland.
Want to know how it feels to ride in Africa? The roads, the weather, and the people in general. Read their blog stories.
4. Law Abiding Biker
First of all, if you are looking for a good motorcycle road trip documentary, then lawabidingbiker.com is the place to be!
Ryan Urlacher perfectly documents their road trips across Canada and the United States.
Be sure to visit their site to listen to their podcasts, read their reviews, connect with other bikers and watch their motorcycle tutorial videos.
By the way, I totally love their channel. Go check it out!
5. Motorcycle Diaries
Motorcycle-diaries.com is yet another great motorcycle blog that provides amazing motorcycle travel stories and inspirations.
Through their amazing and unique stories, you get to discover hidden places and endless landscapes.
You can also sign up with them to share your travel experiences.
The Best Motorcycle Trip Planner Websites
1. Motorcycle Roads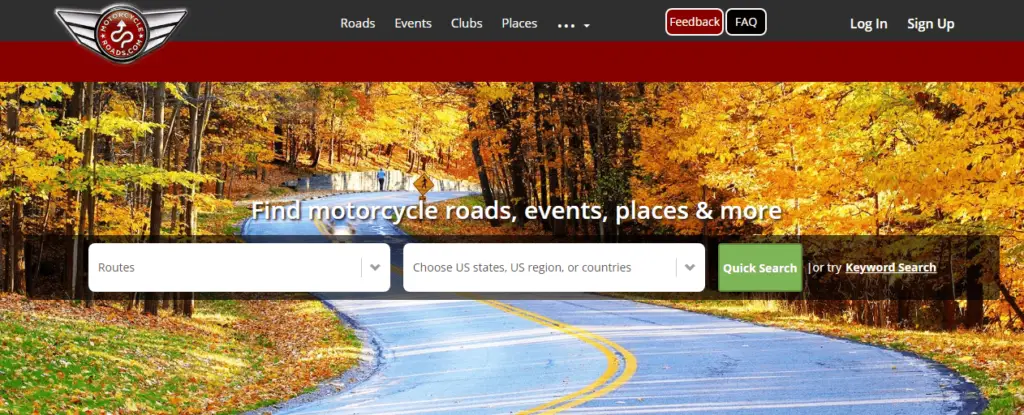 Want to get great riding routes inspiration for your next motorcycle road trip? 
Visit motorcycleroads.com. 
As a rider, nothing is more inspiring than discovering new great routes for your motorcycle road tours.
So what makes motorcycleroads.com different?
They don't just give you the best routes for your road trip, but first, they also allow you to choose the state or country you intend to tour, then they give you a list of motorcycle routes.
Here are the main 3 things that I love about the site:
1. You can easily filter the best motorcycle routes from their overall ratings based on scenery, ride enjoyment, and tourism opportunities. Check the image above to get an idea of what I'm talking about.
Personally, I consider this a great aspect because every rider knows what they want on a motorcycle road trip.
Take, for example, if you are looking to enjoy beautiful sceneries, you'd choose routes with excellent scenery ratings. 
And if you're looking for great and comfortable riding roads for motorcycles, you'll then go for the riding enjoyment.
2. For those riders who prefer camping out on a motorcycle road tour, Motorcycle Roads got you covered.
All you need is to do a quick search of your routes for the best camping grounds.
3. Anything can happen while riding your motorcycle. By anything, I mean punctures or accidents that may damage your bike.
Don't worry, and again they have your back. Within just a few minutes, you can easily do a quick search by indicating where you are, and it will give you a list of dealers/mechanics near you.
2. Eagle Rider
Want to rent a motorcycle for your next motorcycle road tour? 
You may wish to go on a motorcycle road tour, but you don't want to worry about planning the itinerary and accommodation.
Then look no further. Eaglerider is there for that!
What do I love most about eaglerider.com? 
I get to search for motorcycle tours.
I can choose between guided motorcycle tours and self-drive motorcycle tours.
It saves time if you're planning your whole itinerary and plan on renting. Eaglerider.com offers a complete package (Bike+Hotel+Route).
3. Ride Expeditions
Are you looking to be inspired by motorcycle travel adventures? Rideexpedictions.com is the site to visit.
And if you are an adventure rider, you probably know that it is not always about the route, bike, or destination. It is a combination of all these!
This is what rideexpeditions.com offers riders. 
What I love most about this site
They have great touring packages, and if you like, they can do everything for you, including transport, accommodation, luggage, bike maintenance e.t.c leaving you with only one thing, to show up at the airport! How cool is that?
You get to meet other free spirit riders across different countries and continents.
They always have offers, deals, and prizes, including winning a free tour. Yes, that's right. A free tour!