Last Updated on January 30, 2023 by Rose Morah
There are tons of road trip planner websites and apps these days.
But finding the best ones that meet your travel needs is hard. It is like searching for a needle in a haystack. 
This article will cover some of the best road trip planner apps for any type of travel. 
Data from an online survey showed the following as the most preferred road trip planner apps/websites, based on their features and benefits.
Roadtrip Planner
Most – Least Recommended
Benefits
AAA Triptik
40%
Great features and user-friendly
Has the best road trip features for the different types of travelers.
Roadtrippers 
40%
Convenient 
Best for anyone who wants to have fun and enjoy a road trip.
Wanderlog 
20%
It is a collaborative trip planner 
Best for group, family, and friends road trips.
Furkot 
15%
Best road trip planner alternative
Others
1%
Personal Preferences
Best road trip apps/website
1. AAA Triptik
I have used AAA Triptik and can't imagine a road trip without it. It's fun planning your road trips with this route planner because, first of all, it is very user-friendly, and has a variety of great features to help you plan your trip effectively.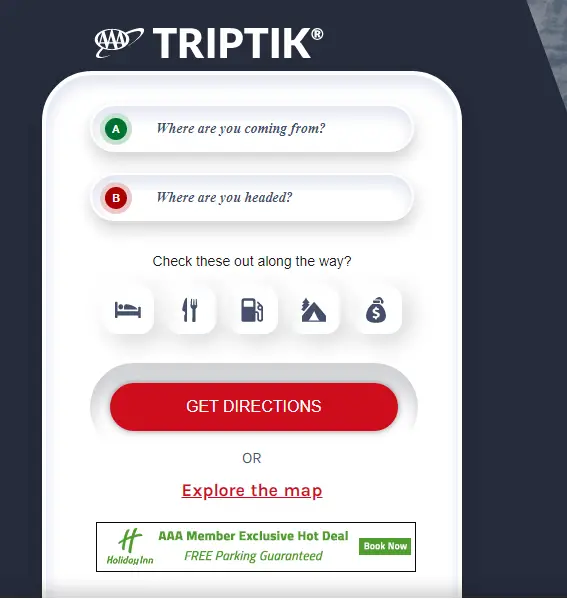 Some of the best features and benefits of the AAA Triptik route planner include:
It gives you easy access to maps and directions for your road trip.
You can plan your future trips and save them for later use.
It allows you to select restaurants, events, attractions, and book hotels on your route by just clicking on the icons.
The route planner also has a gas station icon that lets you know where you can stop and fill up along your route, as well as, the latest gas price per gallon.
If you are going on a road trip with your pet, AAA Triptik lets you know the pet-friendly hotels and restaurants along your route. 
You also get to explore existing campgrounds on your route through the AAA Triptik road trip planner.
2. Roadtrippers 
Roadtrippers is a great app/website when you want to find suggestions of fun things to do along the road, know your gas cost estimations, restaurants, and off-the-beaten-path camping grounds. 
Additionally, it is easy to map out and find great routes through their website/app compared to most road trip planner apps.
Other additional great features of this route planner app:
With Roadtrippers Plus, you can build epically long trips, collaborate with friends, and get exclusive deals and savings on your next adventure.
It offers pre-planned road trips and travel guides.
It is easy to use. You just input your starting point and destination then add and edit your itinerary.
It provides live route updates that notify you about the traffic or any road closure due to construction e.t.c
You may also like:
Roadtrippers vs Wanderlog Travel App (Which One Is Better?).
How to Find Overlanding Trails (Best Tools & Resources for Finding Trails).
3. Wanderlog
Wanderlog is not only a great road trip planner but also one of the best travel itinerary planners.
When mapping your route, Wanderlog is able to show you the distances and directions. Additionally, it gives you the driving times between different attractions on your mapped route.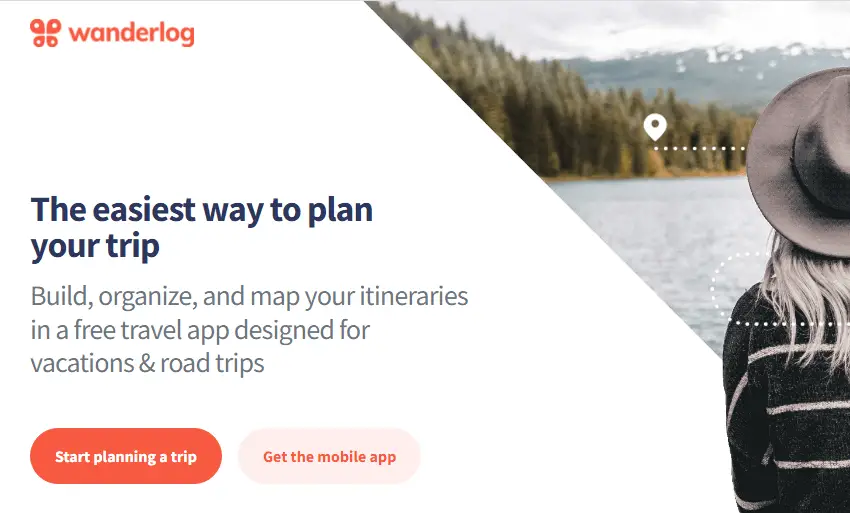 Reasons why most road trippers recommend Wanderlog
It is great for planning group trips/family/ friends road trips.
It gives you a list of ideas for places to visit/explore. 
It is great for creating a travel itinerary.
You can add your trip budget/expenses to help you plan your trip effectively.
It also helps you find places to stay along your route.
See also:
How To Plan A Solo Road Trip (Solo Road Trip Tips).
Smart Ways To Conserve Gas When Running Low.
4. Furkot 
Furkot is yet another great road trip planner website that most travelers recommend.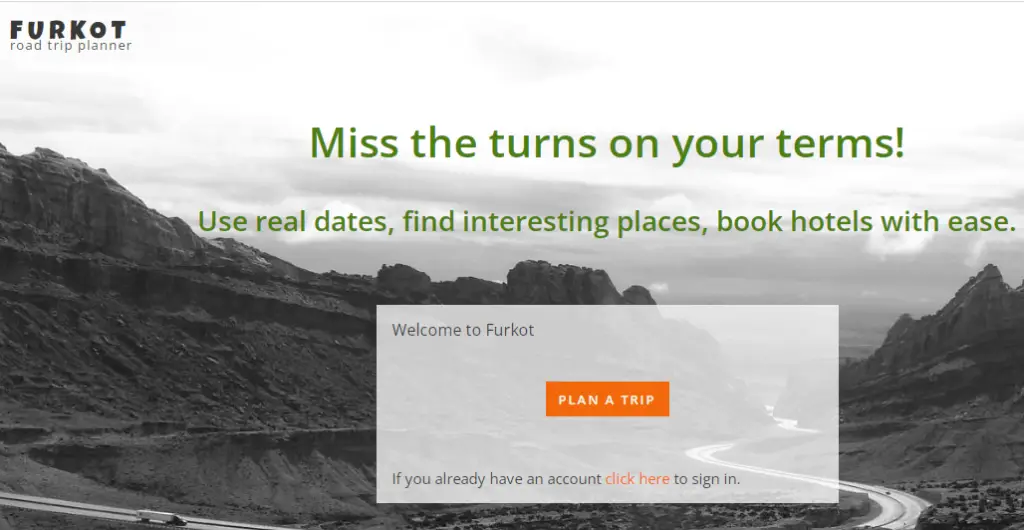 Though it is quite similar to the other route planner apps that we have covered above, the following are some of its major advantages:
It helps you calculate the time it will take you to complete your road trip. This allows you to set your travel time and daily limits, and be precise about how long you would want to drive each day during your road trip.
It gives you suggestions of where to stop for the night based on your preferences, schedule, and mapped route. You have the option to choose; from campgrounds, apartments, hotels e.t.c.
Furkot will give you the total prices of where you want to stay for the night, including the service fees and the taxes
For more info, check them out on their official website.
See also: Tips For Driving Long Distances At Night.
5. Gaia GPS
Gaia GPS is great if you are planning to go on an off-road trip/dirt road trip. It is also one of the best if you plan to go hiking or outdoor camping.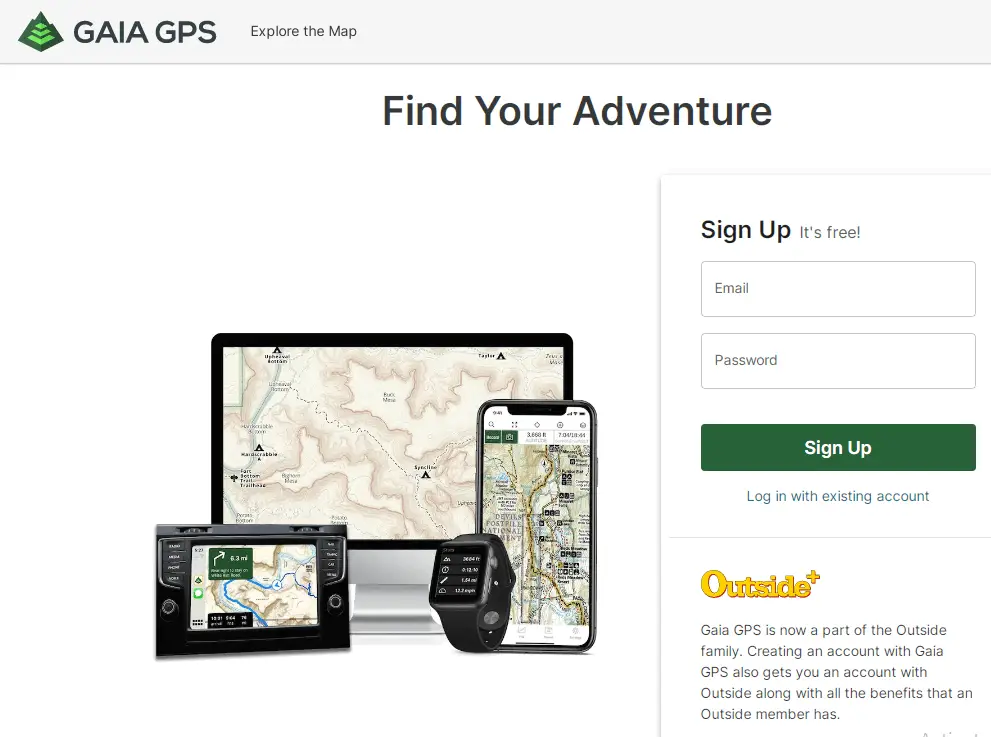 Checkout:
How To Use Gaia GPS (A Complete Guide).
Pros and Cons of onX Maps, Trails Offroad VS. Gaia GPS.
6. inRoute planner
inRoute planner is an Apple product. This means that the app is not available to android users. 
Here are some of the best features and benefits of the inRoute trip planner app:
It gives you the fastest route to your destination. This is great for those people who don't want to spend so much time on the road.
It lets users create custom routes based on their preferences, which may include elevation, curviness, and weather conditions. 
Has a great user interface with interactive charts that show users the expected temperature, humidity, wind e.t.c.
It allows users to search for routes while traveling.
Has voice-guided navigation. You don't need to touch your phone to check the routes while driving. The voice navigation will guide you.
You can find restaurants, hotels, and gas stops with the inRoute road trip planner app.
See also: 15 Things To Do In Downtown Los Angeles.
7. Viamichelin
Viamichelin is yet another great road trip planner app, especially if you plan to go on a Europe road tour. I have personally used it a couple of times and loved it.

Here are some of Viamichelin best features and benefits:
It gives users real-time traffic information.
Allows you to explore major tourist attractions on your planned route.
You are able to choose where to stay and eat when planning your route.
It gives you multiple routes based on gas costs, tolls e.t.c.
It also gives you different route planning options, which include:
– The quickest route.
– The shortest route.
– Economic route – this route mainly focuses on saving money on your road trip by avoiding toll roads, and fuel-inefficient routes.
This route planner also gives you the total cost of your trip throughout Europe.
See also: ABRP Vs Plugshare: Which One is The Best EV Trip Planner App?
8. Google Maps
Google Maps is a free road trip planner app that helps you save on travel and gives you a bigger view of the area you will be going to. 
Additionally, with the help of Google street view, you familiarize yourself with some of the places that you plan to visit or stay during your road trip.
Google Maps comes in handy, especially if you plan to drive a long distance. I remember one time driving for about 8,000 miles from Michigan to Wisconsin, passing through Grand Canyon, San Francisco, Seattle, and Yellow Stone. Google Maps really came in handy and was also quite accurate.
9. Dark Sky
Dark Sky has in the past helped me get real-time weather updates and plan my road trips.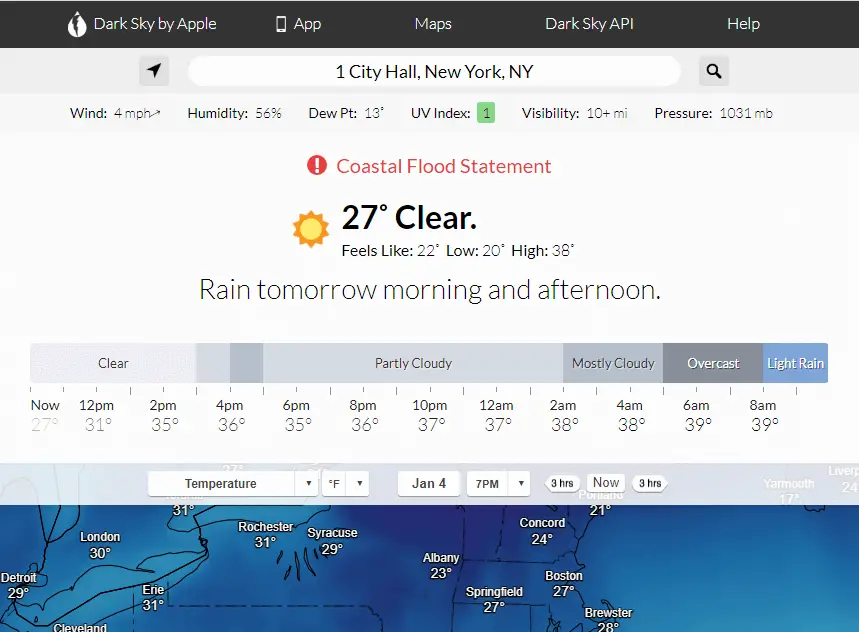 10. GasBuddy
This app will help you find the cheapest gas stations along your route if you are traveling on a budget.