Last Updated on February 24, 2023 by Rose Morah
*This post may contain affiliate links. Please see our disclosure to learn more.
In this article, we are going to discuss the best Model X and S accessories. 
These low-cost accessories will lower your maintenance costs, offer protection to your car, and make you feel good when driving your Model X or S.
I have had the opportunity to use most of these accessories. Some are based on recommendations from people who have bought and used them. 
Related: Cool and Must-Have Tesla Model 3 and Y Accessories.
1. Floor Mats
$108.91
These quality Tesla floor mats will fit your Tesla Model S.
The mats have a great alignment which helps prevent dirt that ends up under the brake and accelerator pedals. 
This saves you the headache of having to vacuum that area all the time.
The mat fits perfectly on all Model S (2015 – 2021) except the 2022 Model S, which might not fit perfectly on the second row.
2. Screen Protector
$34.95
If you are yet to get your Model X or S screen protector, I suggest you do it to avoid exposing it to all kinds of accidents that could ruin the screen.
It protects your screen from scratches, cracks, and chips that make it look old and hard to clearly see when navigating on the touchscreen.
This screen protector fits perfectly on Models X and S.
The good thing is that it has an anti-fingerprint coating, hence doesn't leave fingerprints, and 9H hardness to resist scratches.
3. Center Console Organizer
$19.99
This center console organizer makes good use of the space at the center console.
The center console tray fits perfectly on Tesla Model X and S.
I love it on my Model X because it allows you to organize your stuff as well as use the cupholder when drinking soda or water. 
4. Cup Holder Insert
$19.99
This cup holder insert fits perfectly on Tesla Model X and S.
The cup holder locks in smaller cups, cans, and water bottles to prevent spillage when driving.
It is easy to install.
See also: 6 Must-Have EV Accessories (Best EV Accessories).
5. Cubby Drawer
$19.99
The cubby drawer lets you turn the open space under the touchscreen of Model X and S into a drawer.
This drawer provides you with an extra storage area that is organized and easily accessible.
The best part is that it helps fill that void space under the screen in Tesla Model X and S.
6. Lifting Jack Pad for Tesla Model 3/S/X/Y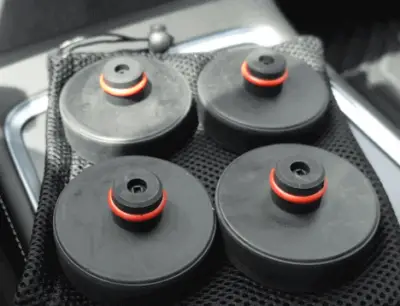 $25.89
You risk damaging your battery when lifting your Tesla for repairs without the jack pads.
The lifting jack pads guarantee you a safe non-slip barrier between the jack and the Tesla.
The jack pads are also safe because they are designed to stay in place.
They are able to support the weight of the vehicle without crashing because they are very sturdy and remain attached once they are plugged in. 
They also come with a sealed bag, which makes it easier to carry and store them when not in use.
7. Key Fob Cover for Tesla
$9.99
The Tesla key fob cover helps protect your car key from scratches or collisions resulting from daily use.
The key fob cover fits perfectly on your tesla key.
It is also very easy to install.
8. Charging Cable Organizer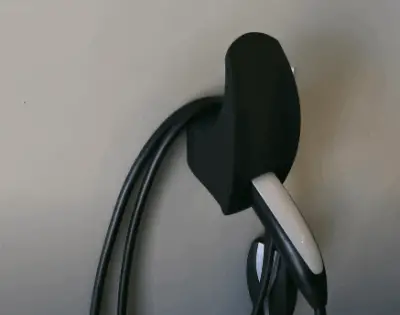 $19.99
The charging cable organizer protects your Tesla charger and keeps your charging cable well organized.
You will definitely need it to make sure that your charging cable stays off the ground when not in use.
9. Charger Adapter Cord
$36.99
If you are yet to install a Tesla home charger, this charger adapter cord will definitely serve you before you install a wall charger.
You will find it very reliable when you are traveling or even at home.
When traveling, you will only need to plug it into a dryer plug at a friend's place, relative, or host in order to add more miles to your car.
10. All-weather Car Cover
$169.95
This all-weather car cover will perfectly fit your Model X.
It protects your car from the hot sun and rain when parked for more than a day outside.
Additionally, if you're traveling for weeks or months, you can just leave your Model X covered and still find it clean and well-protected.
I love the fact that it has a charging port opening section and clips that prevents it from flying off with strong or heavy winds
You might also like:
30 Travel Trailer Must-Have Accessories.
28 Best and Must-have Road Trip Car Accessories.
11. Leather Back Kick Seat Protectors
$59.99
If you frequently travel with kids in the back seat, I recommend getting these leather back-kick protectors.
They help keep your seats protected from damage.
These backseat protectors are definitely a great accessory if you use your Tesla as an uber or on Turo.
They are extremely easy to install and clean.
They will fit the 2019-2022 Tesla Model S and X.
12. Center Console Dashboard Cover Trim
$69.90
If you don't like how the interior of your Tesla Model X looks, use this cover trim to transform the look.
It will certainly transform your dash and give it a very clean look.
It perfectly fits the 2014-2020 Tesla Models X/Y.
It also fits perfectly and is easy to install.