Last Updated on November 1, 2022 by Rose Morah
A successful Tesla winter road trip depends on how well you prepare for it.
My first two winter road trips were a complete disaster. But that was before I figured out how I should plan such a trip.
This article will help you plan a successful Tesla winter tour.
We recently conducted an online survey on Tesla owners with winter driving experiences. The aim was to know their driving experiences during such conditions. Below was the feedback: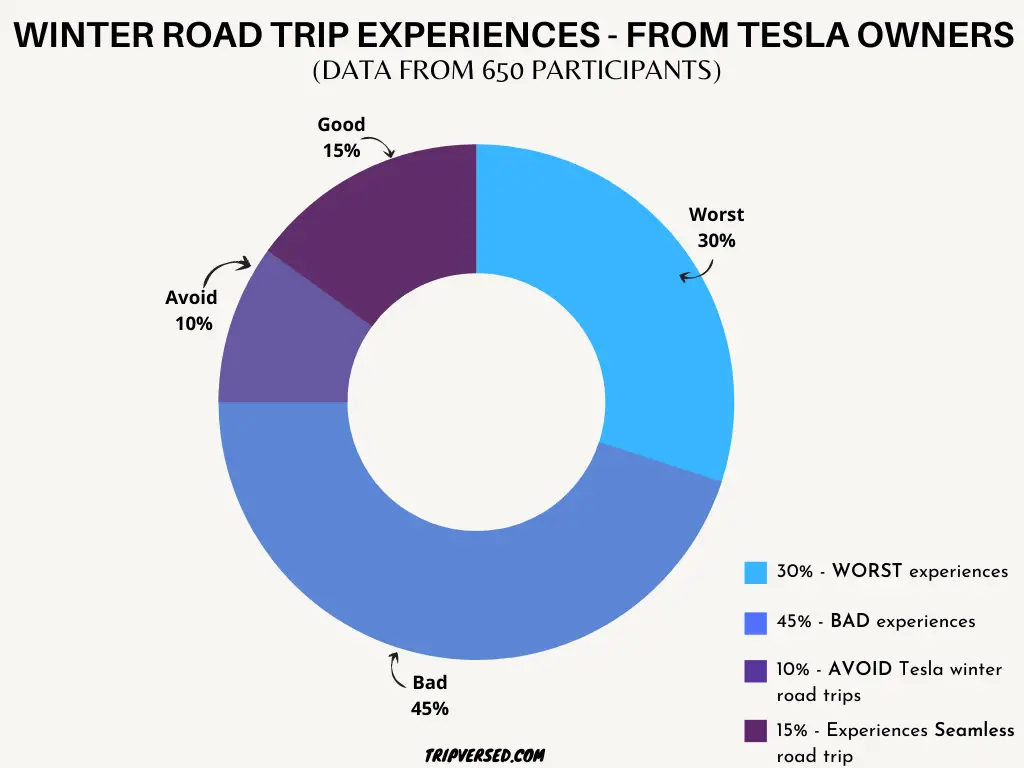 Related: 7 long-distance Tesla road trip tips.
Summary of this report
30% of the Tesla owners who reported the worst winter road trip experiences gave the following reasons:
Their Tesla was out of charge in the middle of nowhere.
It took longer (about 5 hours more) for a trip that would have taken them only a few hours.
45% of the Tesla owners who had bad experiences reported the following as their main reasons:
Constant range anxiety, which hindered their enjoyment.
Inaccurate charging accuracy and predictions. 
So many charging stops. Because of the freezing cold, most of them had to stay locked in the car as it charged, which worsened the situation.
Related:
5 Tesla Supercharging Tips To Speed Up Your Charging Time On A Road Trip.
How to Maximize Tesla Range & Reduce Battery Drain on Tesla.
10% of the drivers who avoided the winter trip gave the following reasons:
They were not sure if the trip would be successful.
They estimated the time it would take for the journey and opted for another alternative.
They did not want to experience range anxiety.
They were scared to take risks based on the experiences of their friends and other people.
The 15% of the Tesla owners who reported having a good road trip experience said it was mainly because they took a lot of time planning and considered several things.
Based on their findings from their feedback, the following tips will help you have a good winter road trip experience on your Tesla:
What to consider before going on a winter road trip
Does the route have enough superchargers? 
Does your Tesla need winter tires?
Where will you be staying at night
How fast do you want to cover your trip? 
See also: Emergency Kit For Your Car In Winter.
1. Does the route have enough superchargers? 
When planning, you need to consider the number of superchargers on a route and how close apart they are. This is very important, especially when you are going on a long road trip. 
The closer the superchargers are to each other, the better.
I remember on my first winter road trip, I had not put this into consideration. Hence, I experienced anxiety range almost throughout my journey because the route had very few superchargers.
Related: Best Tesla Supercharger Trip Planners.
2. Does your Tesla need winter tires?
Investing in a good set of winter tires and snow chains during winter is important.
Why should you get winter tires for your Tesla?
Safety and better control.
For enhanced performance. 
Should every Tesla owner purchase winter chains for winter road trips?
It depends. Not all places will require you to use the winter chains. 
Before the road trip, remember to check if the local regulations recommend them in areas that you will be driving in or if it is a requirement to use them during the winter season.
3. Where will you be staying at night
Where you plan on staying overnight during your Tesla winter tour matters!
Whether you plan to sleep in your car or in a hotel, make sure you can charge overnight.
If that option is not available, choose a place that is closest to the next charging stop.
4. How fast do you want to cover your trip?
Do you want to get to your destination fast, or don't mind as long as you arrive safely at your destination?
My Tesla winter road trip from Destin, Florida, to Dallas on my Lexus took me about 10 hr 55 min. The same trip on my Tesla took about 13hr 50 min.
We also got similar feedback from other Tesla owners in the survey. 
If you are not sure how long is too long on your trip, A Better Route Planner (ABRP) can help you calculate. In most cases, it is usually very accurate.
See how to use A Better Route Planner.
You can also check out our article on the Best Tesla Planner app based on the experiences of other Tesla drivers.
Before going on a winter road trip:
Don't forget to create a winter profile
Creating a winter profile is easy and saves you time because you will not have to change the settings when going on a winter road trip.
The following table shows what to include in the Tesla winter profile.
Feature
Purpose
1.
Use the "Chill Mode" feature.
Before I mention anything about the "Chill mode" Tesla feature, I have to say that contrary to what some Tesla owners think, it does not help preserve energy.

However, you should use the feature when driving in winter due to the following reasons:

1. It helps keep your car under control when driving on slippery surfaces (icy or wet roads).
2. It will prevent your car from burning your winter tires.

How to activate Chill Mode:
Go to the "Driving" section on the touch screen. Under Acceleration, activate "Chill Mode."
2.
Turn the "Range Mode" on.
To reduce the battery energy consumption during winter, you will need to turn on the Range mode. This will help limit the heat on the cabin and battery pack.

You can alternatively use seat heaters as they don't consume much energy.

How to turn the range mode on:
On Tesla's touch screen "Driving" section, turn on "range Mode."
3.
Turn OFF the "Auto-Fold."
I recommend that you turn the "Auto-Fold" OFF because when the mirrors auto-fold, they might get stuck when folded.
4.
Set Regen to low.

If you are driving on roads that are covered by snow, consider changing your settings to low.

Why? Icy roads may cause your car to lose traction and possibly skid, especially when applying the brakes. 

Therefore, changing the settings to low will help reduce the braking force whenever you lift off the accelerator, hence giving you a more effortless driving experience on such roads.
2. Tesla winter range
While on a road trip in Canada, I had a 35% reduction in range. However, there are some tips that Tesla recommends, which helped immensely.
Here are a few things that you shouldn't take for granted:
Applying this feature helps bring back the range. 
Use the new Scheduled Departure feature
The schedule departure feature is the best way to precondition a Tesla battery when driving during the winter.
This feature allows you to precondition your car to warm the battery before departure.
The best thing about this feature is that it does not use the car's stored energy to warm it up before departure. 
BONUS TIPS FOR THE TESLA WINTER ROAD TRIP
Watch your speed during the winter
Driving at a reasonable/moderate speed help conserve energy during the winter road trip.
The cabin temperature may use more energy than you think. You don't want that when driving in winter. Be sure to lower the cabin temperature on the settings.
Additionally, according to Tesla recommendations, drivers should instead use seat heaters to add more warmth to the cabin.
Always charge when you have the chance!