Last Updated on January 30, 2023 by Rose Morah
In search of the best travel trailers for the money? 
Well, finding an RV trailer that won't cost more in the future due to other emerging costs can be quite challenging. 
For anyone looking to purchase a travel trailer, this article covers the best travel trailer brands based on our own experience and recommendations from actual travel trailer owners.
But before that, it's worth noting that the overall RV build quality has gone down significantly across the whole industry.
This is because of two main reasons:
Demand for RVs has gone up. 
Supply issues. Thereby sourcing lesser quality materials that are readily available.
NOTE:

Every brand has issues.

You can get problems with any travel trailer brand, especially the ones manufactured post the pandemic

However, this list is for the brands that are doing well in terms of quality compared to the rest in the industry. 

Additionally, it is a guide to help you know where to start when searching for a travel trailer to buy.
What travel trailer brands do most travel trailer owners recommend?
I believe that our experience owning a travel trailer is not enough to give a solid list of the best travel trailer brands. 
Therefore, I went a step further and conducted an online poll in a community of over 800 travel trailer owners to obtain their feedback, and know what their most recommended brands are based on their experiences.
Below were the poll questions.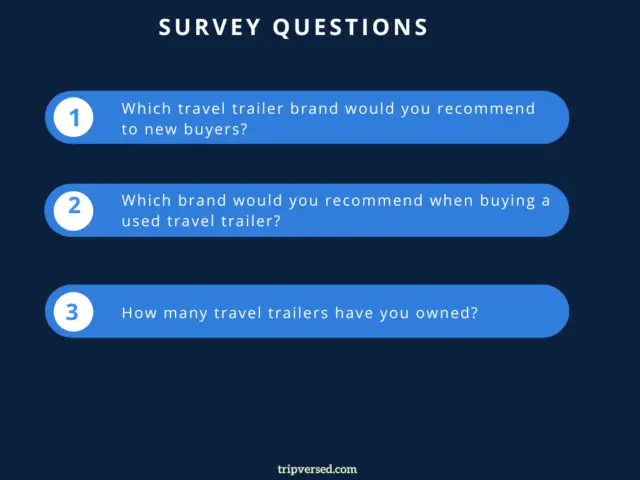 Below is the information I was able to garner from the feedback that I received from 749 members of the community:
60% of the participants have owned more than 3 travel trailers over the years.
54% have bought used travel trailers over the years.
85% have tried more than 2 brands over the years.
Note: It would be unfair to compare the brands that sell different categories of travel trailers. So, each member was supposed to give feedback based on the following categories:
Best high-end/luxury travel trailers brands.
Best mid-cost travel trailers brands
Best entry-level travel trailers brands
That's because you can never compare an entry-level travel trailer with a high-end travel trailer or even with the mid-cost travel trailers.
Best high-end travel trailers brands
I will start off with the most popular high-end travel trailers
The following are the high-end travel trailers that most travel trailer owners recommended:
Airstream
Heartland RV
Grand Design
Winnebago
The chart below shows the popularity of the 4 brands: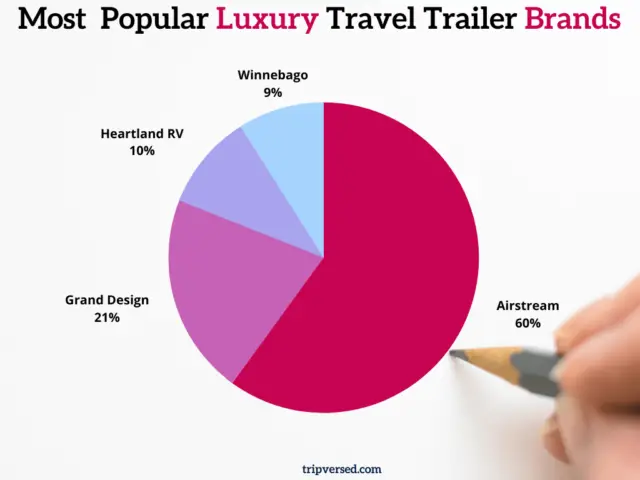 Why Airstream was the most popular luxury travel trailer
70% of the travel trailer owners preferred Airstream travel trailers mainly because of 3 reasons:
Airstream travel trailers have a longer life expectancy
Airstream travel trailers are QW1 built strong and better. They use aluminum and hardwood and not compressed sawdust, which has proven to make them last longer compared to other brands.
This explains why they have a longer lifespan compared to other trailers in the industry. Though they might be expensive, at least you will be paying for what is worth your money.
Airstream travel trailers hold value
These trailers hold value very well. It is a lifetime investment.
You can buy and sell it after years and still make a profit out of it.
Therefore, they are worth restoring and refurbishing.
Airstream is lightweight
This means these travel trailers are fuel-efficient to tow.
You can tow them with smaller vehicles. They are more versatile in the sense that, they minimize the worries about your car's ability to take the weight of the trailer.
However, though most travel trailer owners in the survey preferred Airstream, most of them also complained about storage. 
Well, according to them, other travel trailers have better storage space compared to Airstream's.
Airstream's outside storage space is very limited. Therefore, if you have to carry more items such as grille, chairs, folding bikes, and e.t.c, that can be a challenge.
Why the 21% partipants prefer Grand Design
Though Grand Design has not been in the industry for a long time, they are making very good impressions compared to their competitors.
What makes them stand out is the design of the interior and the use of better products on the interior.
They also make the extra effort to learn their customers' needs and listen to their feedback, constantly redesigning their travel trailers to meet those needs.
Why 9% and 10% prefer Heartland RV and Winnebago
Heartland RV has a good fit and finish.
Both Heartland RV and Winnebago are also building good high-end travel trailers compared to most of their competitors.
Most popular mid-cost travel trailers brands
The following are the mid-cost travel trailers that travel trailer owners most recommended:
Keystone.
KZ
Jayco
Outdoors RV
Lance
The chart below shows the popularity of the 5 brands: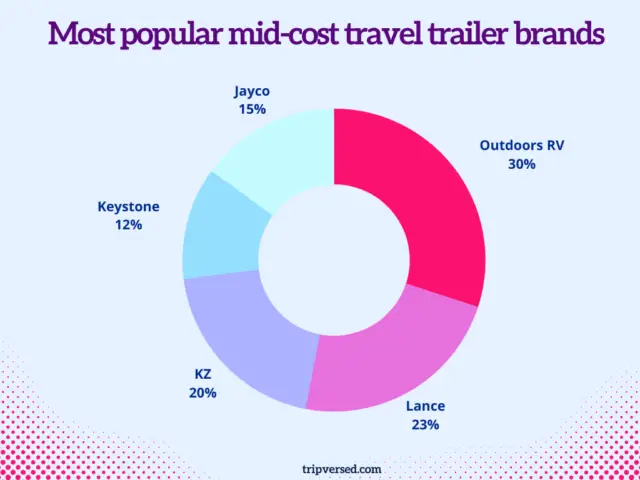 According to most owners, these 5 mid-cost travel trailers were better off than most of the other travel trailers in the market. 
However, they also pointed out that the trailers' quality was not 100%. Some have issues after purchasing and therefore may need future repairs. 
Four key things I noted about these mid-cost travel trailers, based on the feedbacks received:
Keystone used to make very good quality travel trailers 10 years ago. 
However, this cannot be compared to what they are making nowadays. The quality has gone down.
Therefore, most people recommend Keystone only if you plan to buy a used travel trailer that was not recently made.
A majority of travel trailer owners recommended the mid-range Lance trailers but suggested staying away from their entry-level travel trailers.
Well, according to them, the mid-range Lance trailers have high built quality with great long-term value details compared to their entry-level travel trailers.
Jayco and KZ have been in the industry for a long time and they still produce great quality travel trailers up to date.
Many of the people who have owned or currently own Outdoor RV have been happy with their purchase, especially due to it's quality.
Most popular entry-level travel trailers brands
Forest River/Rockwood
Palomino
Dutchmen
N/B: Rockwood is made by Forest River
The chart below shows the popularity of the 3 brands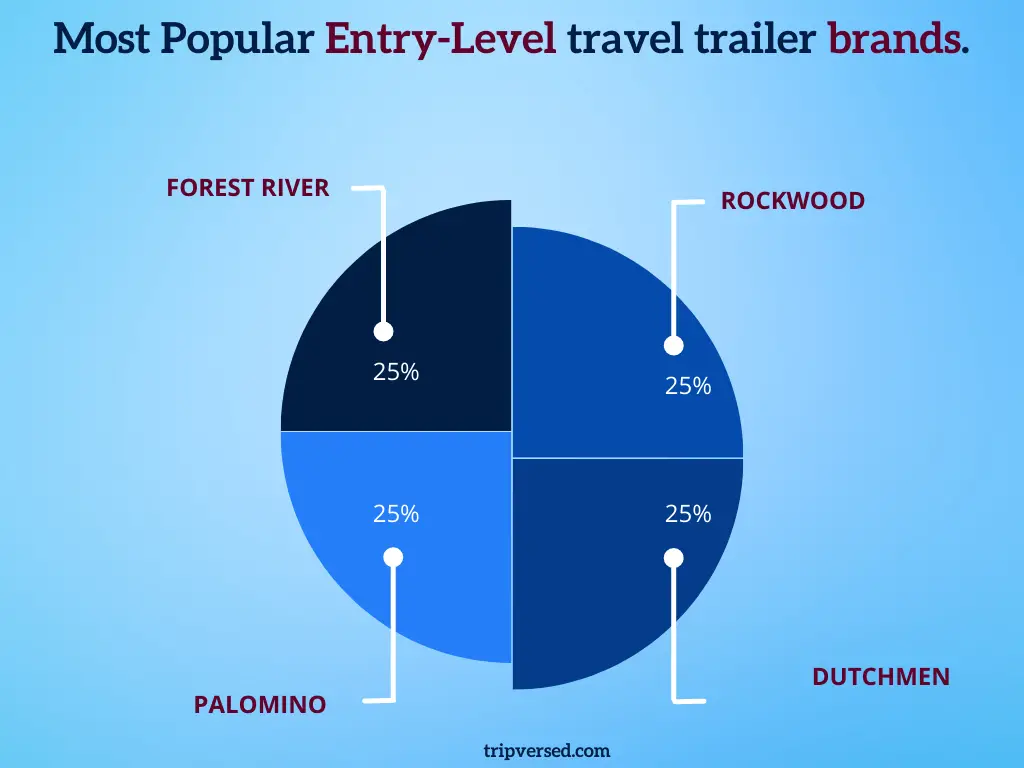 Dutchmen and Palomino were the most recommended brands if you're looking to buy used travel trailers in the entry-level category.
Plus, they make better entry-level travel trailers compared to most brands in the industry that make entry-level travel trailers.
See also: How to Start Overlanding on A Budget (Overlanding Tips for Beginners.
Other travel trailer brands to consider
Northwoods
Based on my own experience and my interactions with people who have owned Northwoods travel trailers, I can comfortably say that it fits to be on the list of best traditional travel trailers for the money.
Northwoods travel trailers have great build quality compared to other travel trailers that I have owned.
Important tips when buying a travel trailer, even from a trust brand
Always do a proper inspection of the used and new RV before you take delivery
Do not trust the dealers. Always do your own inspection
Most RV issues mostly show up in the first year or two of ownership 
Final word
You will get to see the difference between the Travel trailer brands once you go touring a bunch of them.
You will notice those that are cheaply built. For example, if you push some of their walls you will see them buckle or the door handle may feel like it will break off in your hand after a few days of use.
This is why most people recommend buying a used camper and carefully inspecting it. This way you end up with a good and reliable camper.