Last Updated on January 30, 2023 by Rose Morah
Having gone on numerous off-road trips, the best advice I would give anyone looking to buy a second-hand off-road vehicle is to not buy an expensive vehicle if they plan to use it on off-road trips.
The choice of an Overlanding vehicle will also largely depends on your personal taste and needs. 
In this article, we are going to discuss cheap Overlanding vehicles that are off-road capable and ones that suit different types of Overlanders, from the beginners to the most experienced.
Related: 10 Best Off-Roading Tips For Beginners.
1. Toyota Tacoma 1st Generation
The good thing about Toyota vehicles is that they may have many miles on them but perform just fine, unlike most other vehicles. A Toyota vehicle is simply better in every way.
The 1st Gen Toyota Tacoma is from 1995 to 2004. But it is still super reliable when Overlanding because it's like they last forever no matter how old they are.
If you're looking to buy this vehicle make sure it has the TRD package, for better off-road performance.
Well, TRD is the acronym for Toyota Racing Development.
If you do purchase the Toyota Tacoma 1st Generation you can get good tires to beef it up. However, this can also be expensive and really not a must.
On my Overlanding trips with the Toyota Tacoma 1st Generation I've gone through forest roads that have rocks, holes, ruts, climbs, water obstacles, deep mud, snow, and icy roads and the vehicle's performance was great.
Additionally, I have slept comfortably in the truck bed when I didn't feel like setting a camp outside.
Based on research, most 1st Gen Toyota Tacoma owners love the vehicle because it performs exemplary well when off-road, it is able to handle snow and ice very well when driving, and it has great towing capabilities.
If you are just beginning, this is definitely the vehicle for your as it does feel so great when off-roading.
You may also like the 11 Best Cars To Sleep In (Tips From Avid Campers).
2. Toyota 4runner 3rd and 4th Generation
Toyota 4runner 3rd and 4th Gen have great off-road capabilities, especially when you go for the ones that have the TRD package. This is because, just as earlier mentioned, they are more off-road capable. 
And if you are looking for the cheapest Toyota 4runner version, then you need to go for the 3rd Gen Toyota 4runner, which takes us to the next point.
3rd Generation VS. 4th Generation Toyota 4Runner
3rd Generation Toyota 4Runner
4th Generation Toyota 4Runner
1. 
Great if most of your Overlanding adventures are on moderate forest service roads. 
It also drives well on pavements.
It has much better off-road capabilities.
2.
It has a smaller and dated interior compared to the 4th generation.
It has a larger interior which is more updated and roomier compared to the 3rd generation.
3.
It is less comfortable and is not the best choice if you plan on using it on your daily drives compared to the 4th generation.
It is more comfortable when driving for an extended time, which also makes it better for your daily drives.
4.
It has a V6 engine, making it less powerful than the V8 4th generation.
It is more powerful, especially when you go for the one that has the V8 engine.
5. 
It has decent aftermarket.
It has larger aftermarket. 
You will get a ton of spare parts and accessories available.
See also:
Common Issues To Check Before Buying 3rd Gen Toyota 4Runner.
Best 3rd Generation 4Runner Interior & Exterior Mods & Accessories.
The Best and Worst Years For Toyota 4Runner.
3. Toyota Tundra 1st Generation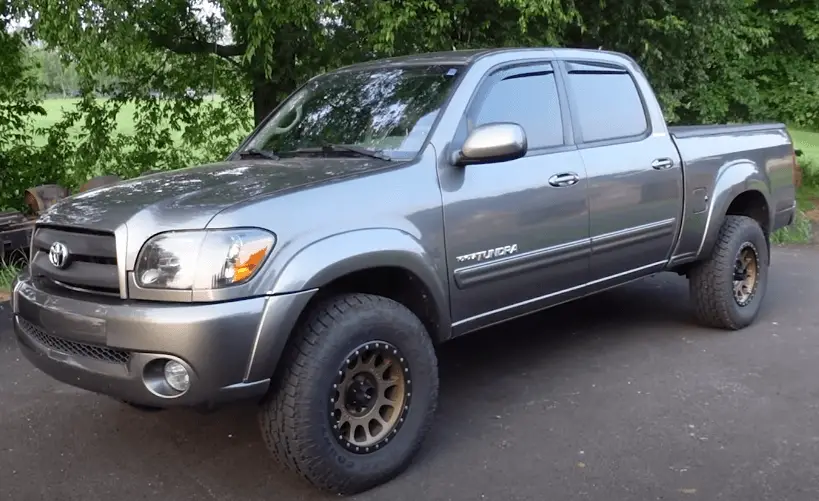 The 1st Generation Toyota Tundra has what I would consider a very reliable engine that can go for thousands of miles and still perform very well. It is quite a great size V8 pickup that is built to last forever and has great aftermarket support.
When shopping for the Toyota Tundra 1st Generation I would highly recommend going for the 2005 and 2006 models and avoiding the 1999 to 2004 models. Why?
The 2005 and 2006 models fixed the common issues that the early 1999 to 2004 models had. The 2005 and 2006 models are also much more powerful V8 with a better speed transmission compared to the earlier models.
I would also advise you to watch out for frame rust before buying. This has been a common issue that I have seen many owners complain about.
Additionally, since you plan on taking it on your Overlanding adventures, you may need to custom fabricate it. This is because most of them are not completely built up.
Buying A Used Jeep Wrangler JK? See What To Know & Look Out For.
You may also like The Difference Between a 2-Door and a 4-Door Jeep Wrangler.
4. Toyota Sequoia 1st Gen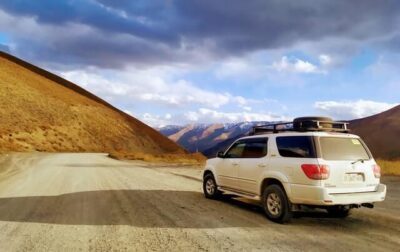 The Toyota Sequoia 1st Generation is a full-size SUV that was sold between 2001 to 2007. In spite of its affordable price, it is a great Overlanding/off-road vehicle because of its super V8 engine which gives it a good performance and power to move its large body. 
This vehicle is also great if you are Overlandering with your dog because you are able to roll down the windows at the back.
You may also like How to Start Overlanding on A Budget (Overlanding Tips for Beginners).
5. Ford F-150 from 10th to 12th Generation
The 10th to 12th Ford F-150 Generation off-road vehicles all come with different configurations and perform very well on off-roads. They are also very reliable and affordable.
When shopping, I recommend going for the 4WD rather than the 2WD obviously because this is going to be an off-road vehicle.
6. Ford Expedition 1st, 2nd, or Early 3rd Generation
I believe this is one of the best cheap Overlanding vehicles that you will ever get. This is because Ford Expedition is a V8 engine vehicle with great performance.
Additionally, it is great in Overlandering due to its plenty of space including the cargo area. This allows you to carry lots of stuff at the back of this vehicle.
See also: 9 Most Important Overlanding Tips and Tricks (A Beginners Guide).
7. Ford Ranger 3rd Generation
Ford Ranger is a small truck version that has been around for quite a while. The 3rd generation is from 1998 to 2012.
What I mostly like about this generation of Ford Ranger is the fact that it has a very reliable engine, and is very strong with off-road capabilities, but it is still dirt cheap. This makes them very popular.
You may also like: Is the Ford Bronco Reliable?
8. Lexus GX 470
Lexus GX 470 runs from 2003 to 2009 It is a great all-around off-road vehicle that is affordable.
It is built to last many years because of its super great engine that can go for millions of miles and still remain efficient with great performance. It also holds value – close to bulletproof.
Additionally, Lexus GX 470 drives like a luxury vehicle compared to most vehicles on this list. It is also an absolute beast when it comes to Overlanding (on off-road trails).
On the downside, most Lexus parts can be expensive. But the good thing is that it shares some parts with Toyota 4Runner.
See also: Best and Worst Used Lexus Models (Buyers Guide).
9. Nissan Xterra
Nissan Xterra is a good reliable V6 vehicle that is pretty underrated.
When shopping for a Nissan Xterra I recommend you look for a Pro 4X, which is the off-road model.
It is dirt cheap, reliable, and also has good aftermarket support. 
Another good thing is that you can comfortably sleep at the back even when you are over 6ft tall.
The 2WD Nissan Xterra is also quite capable of going off-road because of its phenomenal clearance.
I have come across several Overlanders driving the 2WD on dirt, mud, snow, and rocks and it performs quite fine.
But to get even much better performance on the 2WD when driving off-road, I would recommend you get good off-road tires. This will give you more confidence in your ability to take the obstacles.
However, I would avoid driving it on large water bodies or mud pits that are really soft and deep.
I want to also mention that the 4WD Nissan Xterra is not the best fuel-efficient option.
10. Nissan Frontier
Both Nissan Frontier and the Nissan Xterra have pretty similar performance capabilities.
However, the Nissan Frontier has a much better engine for off-roading purposes.
11. Mitsubishi Montero 2nd and 3rd Generation
Mitsubishi Montero is a full-size large SUV.
It is a great option when you are just starting out on Overlanding adventures. You can also modify it to fit your needs. 
But one thing I noted is that Mitsubishi Montero 2nd and 3rd Generation vehicles are quite rare. They are hence extremely hard to find when you are shopping around for cheap Overlanding vehicles.
12. Suzuki Samurai
Suzuki Samurai is another great off-road vehicle that is hard to find in the market.
Other than that, it is fun to drive in the canyons and hills. Most people love Suzuki Samurai vehicles because they are very open to modifications/upgrades.
However, its performance on the highway is not that great – It can be quite slow.
I have seen people buying the Suzuki Samurai and then modifying it with Toyota parts.
13. Chevy Suburban 9th gen
Chevy Suburban is a very popular American SUV that also made it to our list of cheap Overlanding vehicles. 
This vehicle is great in Overlanding because it has plenty of room for your Ovelanding gear, and is also off-road capable.
However, when planning an Overlanding adventure with a Chevy Suburban, I would recommend you avoid trails that are steeper. 
Learn How to Find Overlanding Trails (Best Tools & Resources).
Additionally, when driving off-road, you will need to remember that the Suburban is a heavy and big vehicle, which is its limiting factor. This means that you will need to avoid tough terrains and rear overhangs.
It will hence have a better performance when driven on easy trails when Overlanding.
14. XJ Jeep Cherokee
This is an SUV-style Jeep with plenty of room in the back to carry your gear. Like most other Jeeps, their after-market support is great. This Jeep ran from the year 1984 to 2000.
Quite frankly, one main advantage of the XJ Jeep is that it is super cheap, it is cheaper than all the vehicles on this list. Another advantage is that you can buy it and cheaply build it up to fit your needs and preferences.
Final Word
There are risks in buying second-hand vehicles. What I would recommend is doing some research on the common issues that most owners experience with the vehicle that interests you before making a decision.
This can help you know whether it will still be worth it or not.
And another thing, consider taking the vehicle to a mechanic for a proper inspection before handing over the cash.