Last Updated on September 23, 2022 by Rose Morah
If you're looking for fun places to go on a road trip with friends, this article provides the best road trip destinations that you can take advantage of to help make your trip a fun getaway.
To break it down, in this article, we will cover friends' road trip destinations in the US, fun things to do, and places to visit in those destinations.
Best road trip destinations
Here are some of the best road trip destinations while on a road trip with friends in the US:
Colorado road trip
Montana road trip
South Dakota road trip
California road trip
Michigan road trip
First, to get the most out of a friend's road trip, ensure you set aside some adequate time to plan. This could mean a minimum of 5 days to rent a car or an RV and prepare well before you finally hit the road.
Related: How to prepare and plan a road trip with friends.
Colorado road trip
A Colorado road trip is great if you are looking for some breathtaking scenic views.
TIP: Summer Colorado road trips are the best, but winter road trips are not that great!
Fun places to visit in Colorado on a road trip with friends
Before jumping into the fun places to visit, check out the map below to better understand what a Colorado trip will look like.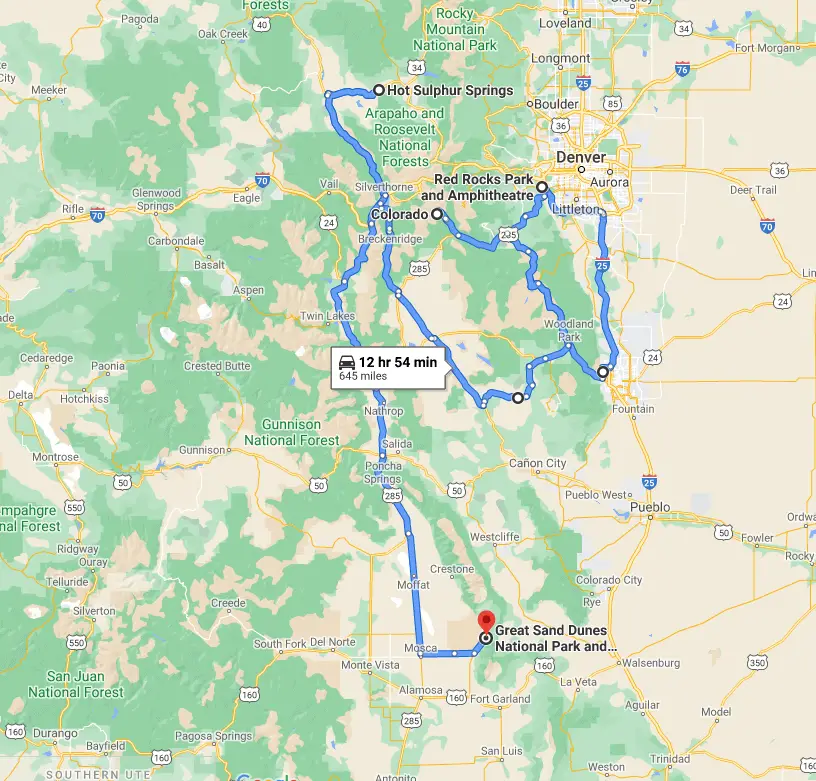 A WIDER OVERVIEW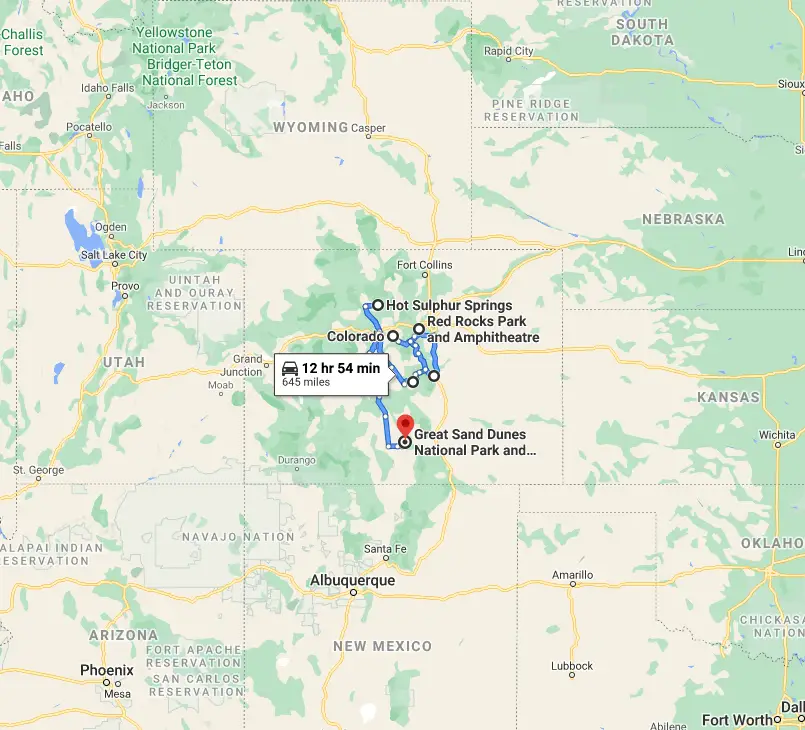 See also:
28 Best and Must-have Road Trip Car Accessories.
How To Entertain and Keep Yourself Busy On A Long Car Ride (10 Tips).
Here are the fun places to visit on your Colorado road trip:
Red Rock Canyon 
The good thing is, there's no entrance fee to Red Rock Canyon. You will enjoy great walking trails and places for picnics and biking. 
Garden of the Gods
If you love walking, Garden of the Gods has beautiful trails for hiking that suit everyone.
These are some of its hiking trails:
SIAMESE TWINS TRAIL is an easy 1-mile round trip (this was my best trail).
RIDGE TRAIL – 1/2 mile.
SCOTSMAN/BUCKSKIN CHARLIE TRAIL 
CHAMBERS/BRETAG/PALMER TRAIL- 3-mile hike
Related: 20 Fun things to do on a road trip with friends.
While you are in the Garden of the Gods park, you can also indulge in other fun activities with friends such as:
Taking a jeep and Segway tour.
Going through the terrain while riding on rented bikes and electric bikes.
Did you know that the Garden of the Gods is the most photographed scenic attraction in Colorado?
So, enjoy the incredible views and don't forget to take pictures.
N/B: You can access the Garden of the Gods park by car from many entrances. Find out more from here.
See also: A Complete Overlanding Trip Checklist.
Paradise Cove Swimming Hole 
I remember having lots of fun at Paradise Cove Hole during our Colorado road trip.
We enjoyed cliff jumping into the water. We were also lucky to find a swimming hole which made the whole experience unforgettable. When traveling with friends in Colorado, this should definitely be on your bucket list!
Other sweet memories that we made in Paradise Cove Hole included an encounter with the chipmunks 🙂 . I remember them coming to steal our fries and feeding on the spilled foods. We also hand-fed them.
Then, while heading back home, we saw a cute baby deer!
If I could turn back time, I definitely would relive those moments once more. I must go back to the Paradise Cove Swimming Hole.
N/B: The best time to visit Paradise Cove Hole is from May to September.
Hot Sulphur Springs 
Hot Sulphur Springs is the perfect place to relax and enjoy the water as you unwind.
And the restaurant food here is also great! 
National Sand dunes 
The experience in Great Sand Dune National Park is breathtaking from its huge dunes. Definitely, a great place to stop and have a good time with friends as you take pictures during a road trip.
Before going on a road trip, get a soft travel blanket. A travel blanket is easy to carry and great for the night, especially if you will be camping outside!
See also: Cheap Warm Winter Vacations In The US.
Montana road trip
A Montana road trip is also quite adventurous, especially in the company of great friends.
The map shows you some of the best routes to take and scenic views that you shouldn't miss out on.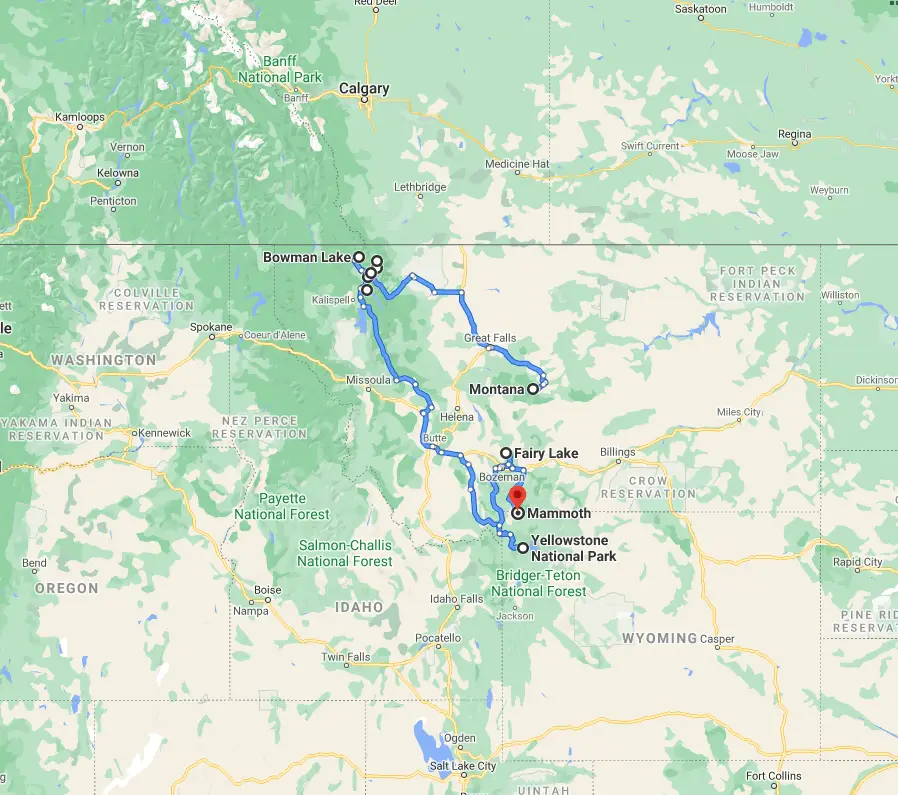 Fun places to visit in Montana on a road trip with friends
1. Glacier National park
While on your way to Glacier National Park, pull over a few times and enjoy the beautiful mother nature. And if you have more time, you can use it to explore the woods to get a better view of nature, the river, and waterfalls.
Here are the things to do at Glacier National Park on your road trip with friends;
Visit Lake McDonald – Remember to carry a hard copy map or offline map. GPS could fail due to poor connections in the place. While in Lake McDonald, you will also get to enjoy the beautiful sunset views in the evening.
Hungry Horse Dam – You can access Hungry Horse Dam from the West or East entrance of the Glacier National Park.
Bowman lake and Polebridge – This is on the West side entrance of the park. If you're traveling in an RV, due to the road condition, some RVs may not fit well on that road and might experience difficulties getting there due to the limited pullouts.
Avalanche Lake – The distance to Avalanche Lake is about a 7-miles-hike, which is not that hard to cover because of the great terrain. On our way there, I remember we found a cool jumping hole.
APGAR Village – Stop and eat some good ice cream at APGAR Village. But, unfortunately,  if you are driving an RV it may be hard to find a parking spot.
Downtown Whitefish – This is a great place to eat and spend the night. Whitefish also has a beautiful scenic view of the snow-capped mountain. 
2. Yellowstone National Park
Here are things to do in Yellowstone National Park;
Artists Paintpots – This place is quite colorful. While you are here, you'll get to see mud pots and colored bubbling hot springs. Artists Paintpots is definitely worth your time!
Fairy lake – You get to see its spectacular waterfall.
Mammoth hot spring – Mammoth hot spring has a very unique scenic view. It is located at the far south of the Yellowstone North entrance.
Lamar Valley – Lamar Valley is located on the northern side of Yellowstone. It is mostly inhabited by wildlife. You will hence spot herds of bison, pronghorn, deer, elk, wolves, and many more animal species.
South Dakota road trip with friends
The best thing about a South Dakota road trip for me was getting to see animals by the roadside. Additionally, I enjoyed the beauty of nature and the air that smelled so fresh.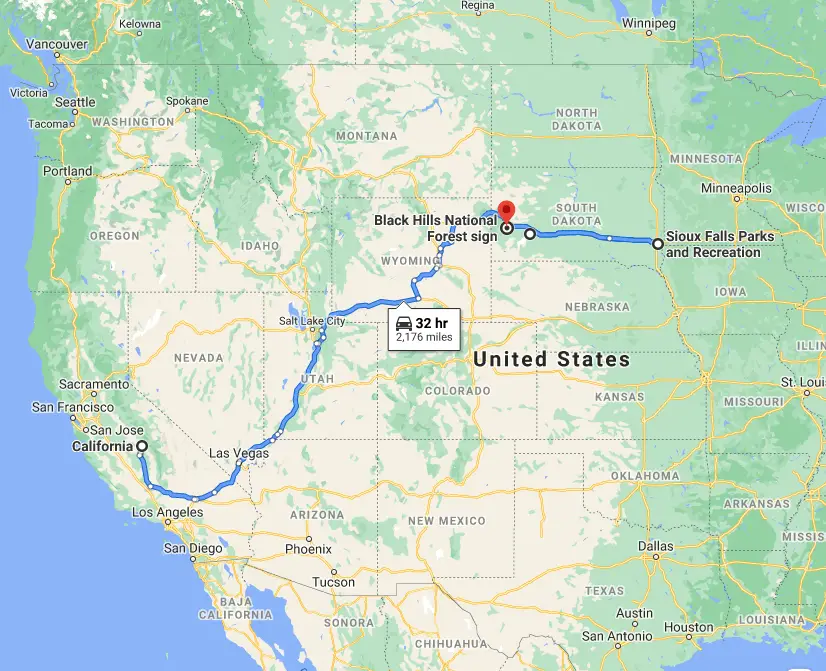 Fun places to visit in South Dakota road trip with friends
SIOUX Falls – in South Dakota.
Badlands National Park – in South Dakota.
Black Hills National forest – South Dakota, northeastern Wyoming. Go hiking and get to see the Devil's tower and the waterfalls.
California road trip
Nothing like a California road trip along The Pacific Coast Highway with friends. The highway stretches along the coast of California, which gives you a spectacular view of the ocean and breathtaking attractions along the way as you drive on this road.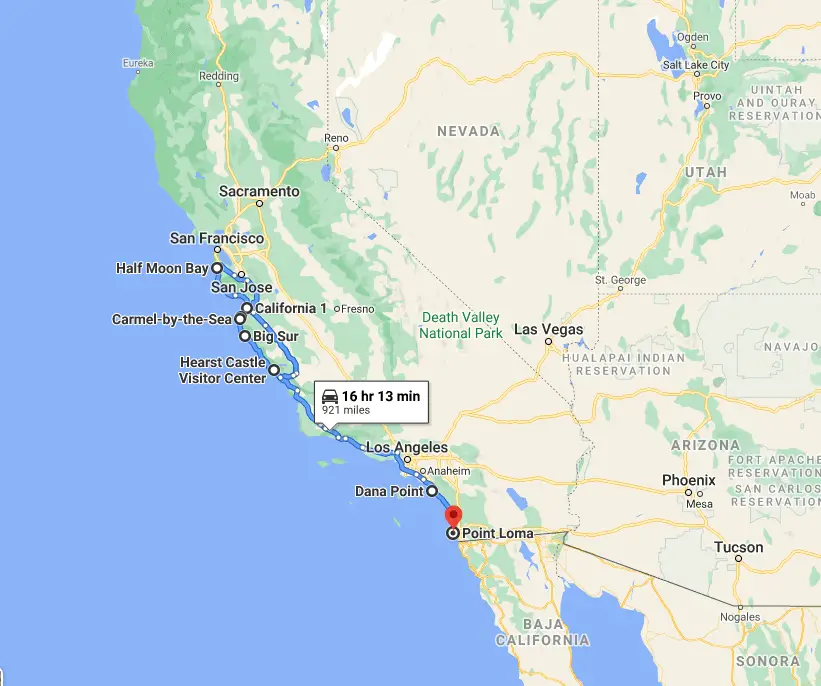 Fun places to visit on a California road trip with friends
Hearst Castle
Monterey 
Greyhound Rock Beach 
Big Sur 
Pfeiffer State Beach 
Dana Point
Point Loma 
Michigan Road Trip
If you do not have much time on your road trip with friends, a Michigan road trip will be perfect for you. Take a trip to Torch lake and spend a few days there. It never gets boring.
BONUS TIPS
If you are going on a road trip in an RV check out Kampground of America, to get the best camping grounds.
Carry food that is easy to cook while on the road.