Here are the top 10 fun things to do in palm springs at night.
Soak in Mineral Springs

Stargazing

Enjoy great night views

Golf after dark

Enjoy live music bands

Attend Street Festivals

Play fun games

Night pool parties and swim clubs

Go dancing parties/dance clubs

Go to cocktail parties
Related: Things to do in the greater Palm Springs area
1. Soak in Mineral Springs
Imagine cleansing your body, mind, and even soul while at the same time staring off into a sky with a clear view of the stars after dark.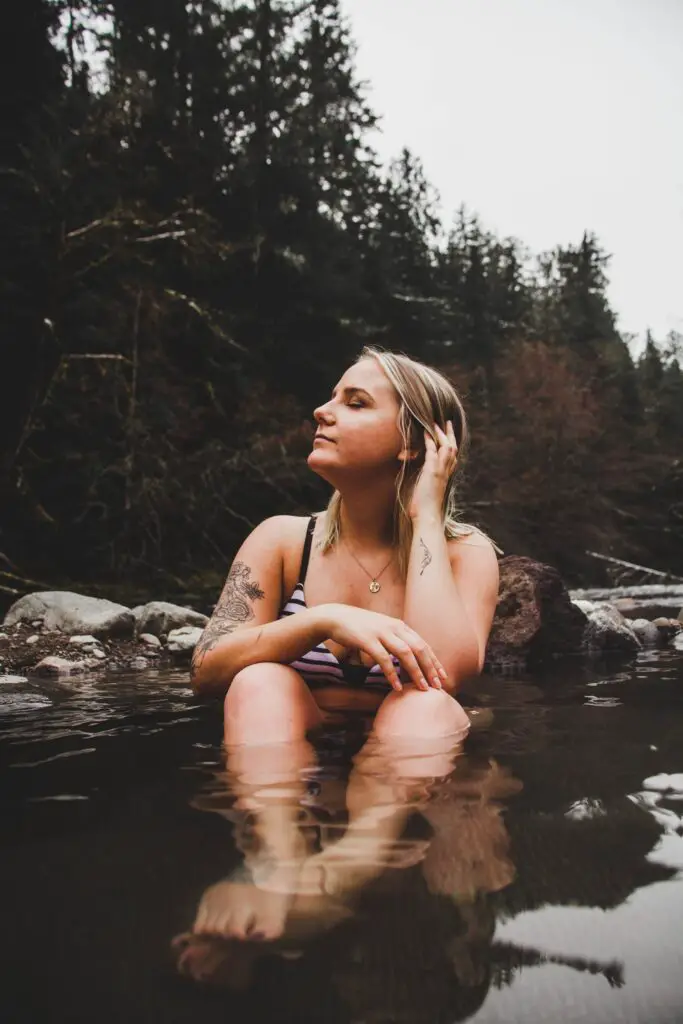 Palm springs will give you this lifetime opportunity and makes you feel fully rejuvenated from its hot springs. 
You get to immerse yourself deep in the hot springs, healing waters and enjoy a relaxing night. And this is what makes Palm Springs a feel-good destination for many travelers.
Hot spring water has been known over the century for its soothing and detoxifying properties. 
Soaking in mineral springs no doubt remains one of my best and most fun things to do when you visit Palm Springs.
How the Hot Spring Waters Work.
1st.
The water is first formed from snowmelt and rain.
2nd 
It goes for 1.5 miles into a reservoir beneath the earth, where it is warmed up to about160-180 degrees Fahrenheit.
3rd
After that, it is then pushed above the earth's surface with tremendous pressure.
4th
The water emerges about 105 degrees. 
This water is usually dense with potassium, sodium, calcium, magnesium, and sulfate.
2. Stargazing
This is my second 'nightlife' fun thing to do in Palm Springs on my to-do list.
Palm Springs has always been a haven for beautiful stars and astronomy wonders.
Related: what is so special about Palm Springs vacation.
Here are some of the best places for stargazing in Palm Springs:
Rancho Mirage Library and Observatory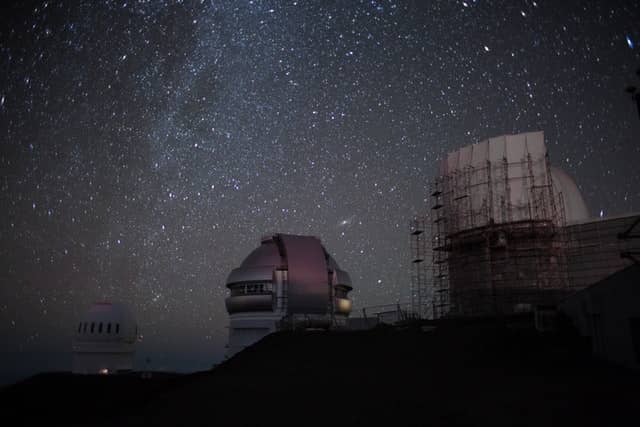 Rancho Mirage Observatory is the best place to go for stargazing if:
You're trying for the first time.
You want to stargaze as a family.
It is great for first-timers because they teach you every unique thing about the night sky.
Distance from Palm Springs: 20 minutes
Address: CA-111, Rancho Mirage, CA
Google Maps link to Rancho Mirage Library and Observatory.
Corn Spring Campsite
This is an excellent place for going sky-gazing if you want to avoid the large crowds. It is a very remote area within the Chuckwalla Mountains.
Distance from Palm Springs: 100 minutes
Address: Corn Springs Rd, California
Google Maps link to Corn Spring Campsite.
Joshua Tree National Park
Joshua Tree National Park is one of the best places for stargazing for both locals and travelers.
However, I recommend that you plan an overnight stargazing trip because of the distance and time it will take you to get there.
Distance from Palm Springs: 60-90 minutes
Google Maps link to Joshua Tree National Park
See also: Top 15 Cheapest Destinations to Travel Internationally Even on a Tight Budget.
Salton Sea State Recreation Area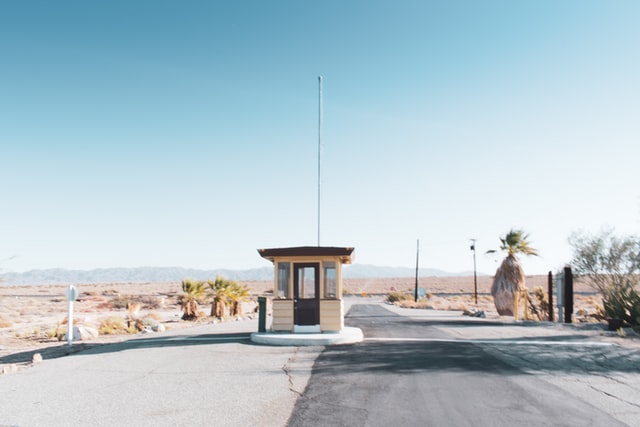 This area is the best for those who love to watch the sunset and the stars appear after dark. 
Distance from Palm Springs: 55-60 minutes
Address: 100225 State Park Rd, Mecca, CA
Google Maps link to Salton Sea State Recreation Area
Sky Valley
This will not give you the perfect view. However, it is an excellent spot for those looking to explore new places in the area.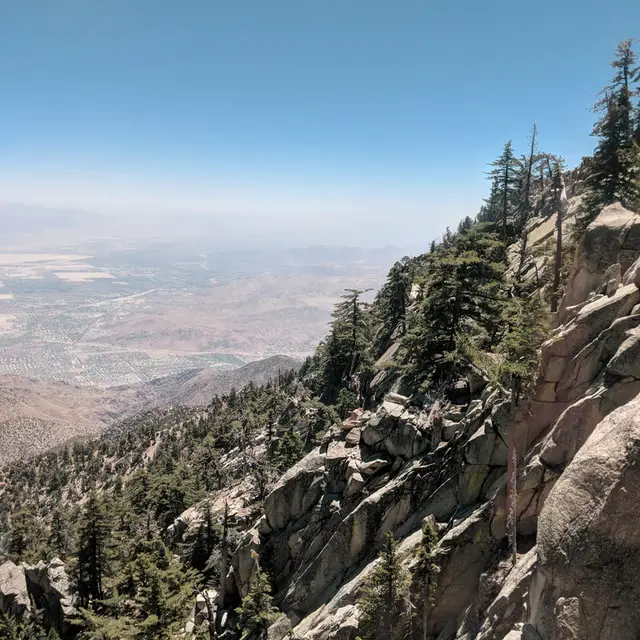 Other stargazing suggestions:
You can also enjoy the great nightlife in Palm Springs through stargazing tours.
Some of these tours include:
You can choose between going for astronomy tours and astronomy history lessons tours.
It is just 30 minutes outside Palm Springs. This tour guarantees you a minimum of six deep space objects.
3. Enjoy great night views
It's no doubt that Palm Springs has the most beautiful golden views during the day. But have you seen what it looks like at night when the sun tucks behind the mountains?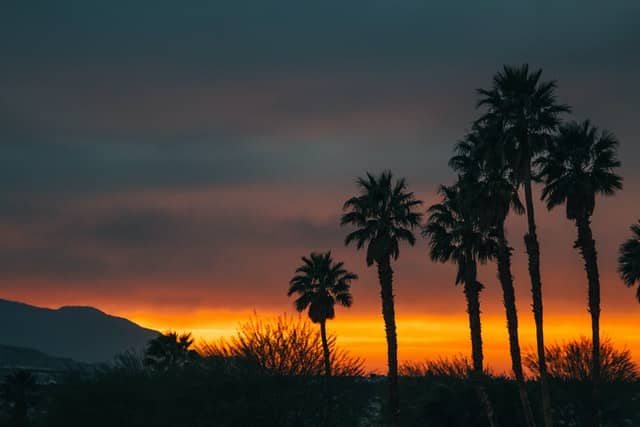 I have only one word for that, SPECTACULAR!
The view is spectacular during the night.
If you want to have a great experience of this, I suggest you go on Palm Springs Aerial Tramway's last ride, which is usually around 8 pm. This view is just breathtaking.
4. Golf after dark
Most Palm Springs resorts have impressive technology that makes it very possible to play golf at night with no challenges of proper lighting for all levels of players.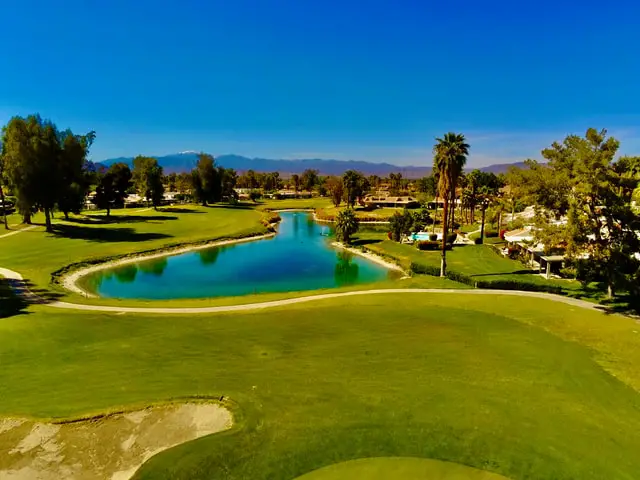 You play golf while having fun, enjoying the scenery around, the food, and the drinks.
Here are the best places to golf after dark palm springs:
Indio Municipal Golf Course
Indian Wells Golf2
5. Enjoy live music bands
At Palm Springs, you can get to enjoy great live bands, concerts e.t.c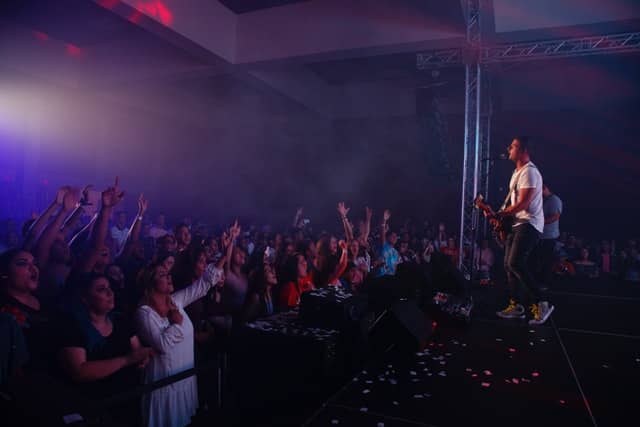 One of the places I have personally visited while in Palm Springs is The Date Shed– a great place to watch the live bands. 
The Date Shed is a great music venue for Coachella Music. I loved their indoor and outdoor seating. 
Another place is The Village Pub which offers live music every day.
6. Attend Street Festivals
Palm Springs is also known for its street festivals. My best street festival was the Villagefest.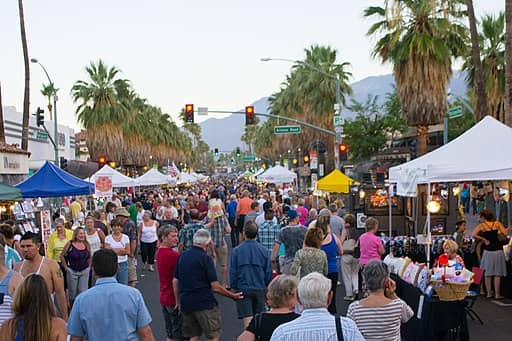 Villagefest happens every Thursday in Palm Springs downtown. The streets are closed, and local vendors set up their shops.
Some of the fun things to do at Villagefest, Palm Springs, include:
Taste different delicious foods and drinks.
Explore different talents, from breakdancers, singers to artists around the corners.
Hang around different vendors (offering beautiful jewelry, great photography e.t.c).
Draw inspiration.
This is generally a fun place to be but can get crowded too.
7. Play fun games
You may be wondering, fun games at night? Hmm, not what you are thinking!
There are great fun night activities to do at Palm Springs. 
I enjoyed the ROBOLIGHTS and Escape rooms!
There is always something for everyone In Palm Springs, any day or any night :).
8. Enjoy night pool parties and swim clubs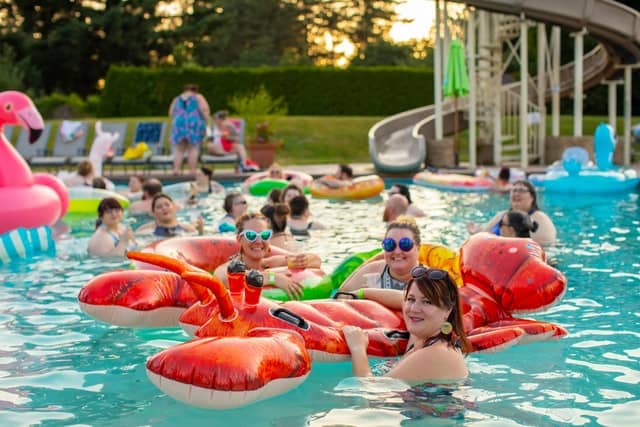 These kinda parties/clubs are great when you are in a party mood. You also get an opportunity to be entertained by the best and most famous DJs or artists.
Well, as I mentioned earlier, Palm Springs always has something for everyone. So, if you are not into that kind of fun, no worries, you can still go to pool parties and watch your favorite movies as you swim.
9. Go to dance parties/dance clubs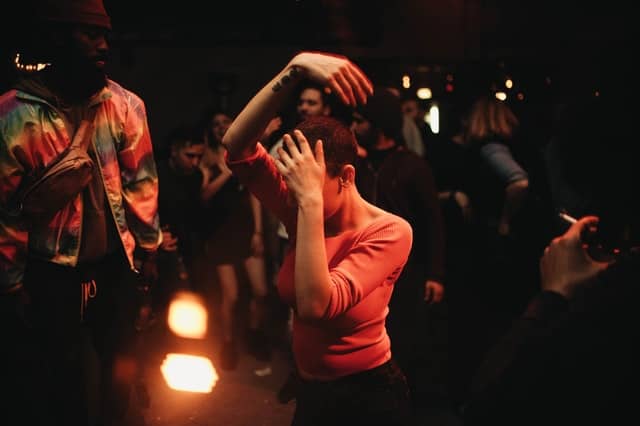 The streets of Palm Springs offer great dance clubs and dance party events. 
You will not miss finding a good dance club, such as Zelda's nightclub.
But perhaps it's worth mentioning that, if you are straight, there are also several LGBT clubs, so you may need to check before you plan your Palm Spring nightlife.
10. Go to cocktail parties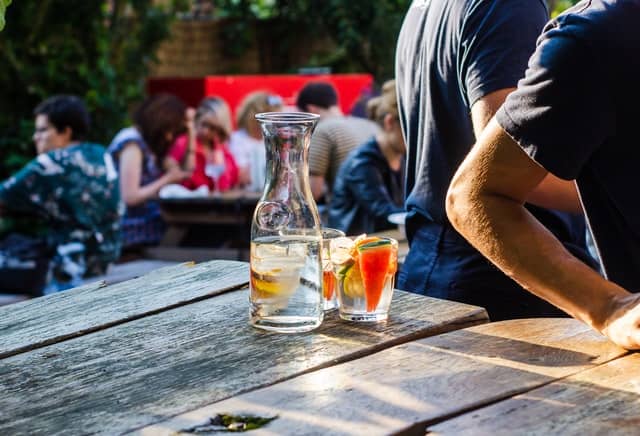 As you may have already guessed, there are a wide variety of cocktail bars in Palm Springs. You can choose from a wide range of varieties, from the poolside lounges to the old-school clubs.