Last Updated on January 30, 2023 by Rose Morah
There is a common misconception that it's impossible to ride a sportbike on a long road trip.
A few years back, I grew curious and wanted to find out if it was possible to ride a sport bike on a long road tour. So, I took time and did some research.
But after many trials and errors, I decided to seek help from experienced riders and mechanics. Our main aim was to find out what it really takes to comfortably ride a sportbike on a long-distance road trip.
So, stick around to find out our discoveries and conclusions.
Is it possible to ride a sportbike on a long road tour?
I discovered that yes indeed it is possible to comfortably ride a sportbike on a long-distance road trip!
Although a sportbike is not designed for long-distance trips, it doesn't necessarily mean you can't comfortably ride it to your desired destination.
When well prepared, sportbikes can be as good as other motorcycles that are great for long road trips.
And yes, I know this might sound crazy, especially to riders who swear by cruisers for long-distance trips.
If you think I'm exaggerating, hold on to your hat because I am about to explain.
To prepare for a long road tour on your sportbike, you'll need to modify and make a few adjustments to your bike. In other words, you will need to modify your seat, upgrade your grips, install raisers, cruise assists, adjustable rearsets, and the tank bag.
And to ride your bike more comfortably on a long road tour, there are also a few essential tips and tricks that you can apply without having to upgrade your ride. These involve proper elbow, back, and thigh posture, as well as being physically fit.
So, pull up a seat and make yourself comfortable as we go into more details about how you need to prepare and ride your sportbike on a long road tour.
Sportbike modifications for long road trips
1. Seat
Upgrading to a comfortable seat is one of the essential mods that your sportbike will require if you intend to go on a long motorcycle road trip.
If you are serious about the trip, you will want to consider upgrading it to a well-made, gel cushion seat. This is crucial because it will enable you to sit and ride comfortably for an extended duration.
And to my fellow male riders, you can opt to go for gel-cushioned seats with a channel in the base foam. This will help ease the pressure placed on the perineal area while riding.
How can I make my motorcycle seat more comfortable?
Gel pads help distribute the rider's weight evenly across the seat. They also provide more comfort than a normal sportbike's seat.
Padded shorts will help protect your bum from getting too sore while riding.
A padded seat cover will be a great alternative if padded shorts are not your thing. 
2. Risers
The riding position of the sportbike can get uncomfortable when going on a long motorcycle road tour.
The standard way of riding that involves your upper body leaning in, arms bent, and knees tucked forward makes a long-distance tour, not one to be desired.
To remedy that, here is what you need to do:
You need to install risers to raise the handlebars. This will allow you to sit more upright and hence make your long rides more comfortable.
So, are bar risers helpful?
Yes, bar risers help relieve lower back pains and provide a more relaxed posture when riding on a sportbike.
3. Grips
Upgrading your grips to cushioned grips helps alleviate the strains experienced when taking long-distance rides.
If you are familiar with the experience of hands and fingers fatigue resulting from body and wrist pressure, you probably know the feeling.
The added layer of cushion acts as a shock absorber, reducing the impact and strain felt on rough terrains.
4. Cruise assists and throttle locks
You can install cruise assists to help minimize the pressure needed to grip the throttle while maintaining control and speed.
And on the other hand, throttle locks are pretty similar to cruise assists, but they physically lock throttles, allowing the rider to relax their grip.
Random Tip: Remember to carry a rain suit and multi-use tools for basic bike maintenance before you head out for a long road trip. 
See also: Best Motorcycle Trip Planner.
5. Adjustable Rearsets
One of the main downsides of riding a sportbike on a long distance is the aching knees that result from being in a crouch position for a long time.
But to remedy this, sportbike riders should install adjustable rearsets.
Adjustable rearsets allow you to relocate the pegs and controls, thus providing you with more legroom. Additionally, they help increase the comfort level, provide a more stable base, and boost the rider's stamina.
Other benefits of installing motorcycle rearsets are:
They allow the rider has a better grip on the bike, (from the aftermarket pegs that come with them).
They increase ground clearance for the rider.
6. Tank bag
You can use a tank bag for support as well as storage.
Riders going on a long road trip can use the tank bag to lean and reduce the amount of strain and pressure on their wrist and arms.
So, after testing and tweaking ten different sportbikes, with an aim of making them comfortable for long-distance riding, the results were fascinating.
The table below shows a summary of the pros and cons of modifying a sportbike for long-distance riding.
PROS (after Sportbike Modification)
CONS (after Sportbike Modification)
1.
Installing bar risers, peg lowering kits, and bar set-backs played a significant helped achieve the riders' perfect riding position.
Installing risers on a sportbike defeats its purpose.
2.
The riders enjoyed long-distance rides after we installed straight drag bars and highway pegs that allowed them to stretch their legs.
In most sportbikes, you'll have to touch other things on the bike if you modify one part.
For example, if you swap the handlebars, you will probably need to cut the front fairing and other things depending on the type of bike.
3.
Installing HeliBars on some sportbikes and cutting down the seat vertically for about 2.5″ made long-distance rides very comfortable.
In some other sportbikes, installing risers will, in turn, mess up everything else in your motorcycle. 
Therefore, you may have to cut crawling, and install new clutch lines and brakes.
4.
All the riders reported that having heated grips helped them when riding in cold weather.
But still, when it comes to long-distance road tours, you need to know how long is "long"?
Most riders experience sore butt and body aches after riding their bike for varying distances, before modification. 
It is essential to know how long is really "long" for you before modifying your superbike.
This will help you determine whether or not you need modification before going on a long ride. 
For instance, some of our riders were able to manage 3000 miles/5000 km in a ten days tour without modification.
Related: What is the reasonable daily mileage on a motorcycle road trip?
The data below shows the percentage of riders who enjoyed their sportbike rides before and after modification.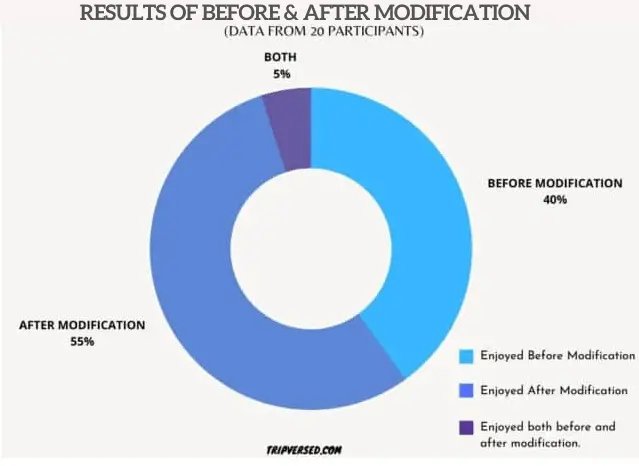 How To Comfortably Ride a Sport Bike on a Long Road Tour (Without Upgrading Your Ride)
Finding the best posture, especially when going on a long road trip, can be very difficult.
The following are tips and techniques to help you improve your comfort on your next road trip:
1. Proper elbow posture
The best way to ride a sportbike is by keeping your arms slightly bent to absorb the shocks and bumps while riding.
2. Always keep your back straight – don't hunch.
Riders need to ride with their backs straight and avoid hunching to prevent the soreness resulting from that.
3. Use your thighs to hug the fuel tank
This technique can significantly help reduce wrist pains as it takes the weight off your hands.
4. Keep fit
A comfortable road tour experience calls for a fit rider.
An excellent place to start would be doing some core exercises to help boost your stamina. This way, you're able to ride for extended hours without experiencing body aches.
Always find a comfortable sitting position each time you feel uncomfortable when riding.



Wear compression clothing that is purposefully designed for motorcycle racing to boost your endurance levels.
You may also like: How to backpack when overweight or out of shape.
Your bike is almost ready to hit the road, but there is one major thing we're yet to solve, and that is how to pack.
You're probably wondering how you'll pack your sportbike because it doesn't give you enough luggage space. 
I'll tell you what, though, the trick lies in keeping it relatively simple. Don't overpack. Pack light!
Not over-packing means a rider carrying less weight on a sportbike for better handling.
Here are a few ways of packing smart when going on a long road tour on a sportbike:
Today, many tank bags have made packing and carrying luggage on a sportbike a lot easier.
When shopping for a tank bag, go for those with holders and built-in pockets for carrying tablets, phones, and GPS.
Remember, the goal is to maximize the storage and, at the same time, make the riding experience more comfortable.
The pockets should preferably be located in places that are easy to view and access while riding. Additionally, ensure the tank bags that have enough space for your essentials.
I generally find medium-sized tank bags extremely versatile when taking a long-distance road trip on a sportbike.
Though saddlebags are a great alternative for many riders, tank bags are still my personal favorite.
Why?
There's just one problem. Saddlebags can be limiting when riding on city streets and twisties.
However, they are a great option when riding on long stretchy highways.
Additionally, more companies are now creating new modern designs that are more aerodynamic for sports bikes.
Ready to take your first long motorcycle road tour? Check out the best tips and trips for beginners.