Are you planning to take a motorcycle road tour across America?
Well, let me guess:
You are probably sick and tired of taking local trips, and you're now thinking that it's time to try a new challenge, like taking a motorcycle ride across America.
But you're also probably wondering how.
Look: I know the feeling. But, one thing's for sure. You'll be glad you did it.
Yes, that's right.
There's something uniquely special and satisfying about embarking on a motorcycle road trip across different states in the United States. First of all, you don't come back the same person.
Secondly, the experience will totally blow your mind. There is no doubt about that.
I mean, think about this for a moment:
The heightened adventure of riding across different terrains, through the intense heat, bitter cold, and rain.
Then having the opportunity to experience the best, most beautiful places, downright to the ugliest.
This is no doubt an experience that every motorcycle enthusiast would die for.
The truth is, when taking a motorcycle road tour across America, there's a lot to consider, like:
How to choose your route when touring across the United States
Law and rules of riding a motorcycle across America
The best states for a motorcycle road tour in North America
The best routes to take on a motorcycle road tour across the US
The best routes for die-hard sportbike riders in the US
The good news is, we're going to cover all that in this article:
But before we jump right into more details, here are a few essential questions to consider and tips to help you plan.
Tips when taking a Motorcycle road tour in the US:
Always ensure that you have great quality tires that have at least 3-4 miles of life left in them.
Download apps that will help you find free or cheap campgrounds.
Most gas stations and truck rest stops will allow you to camp overnight for free.
Take your time – do not be in a hurry to reach your final destination. The journey is also equally as important
If you are on a tight budget, try to avoid gas stations that are located at the National parks and entrance of cities.
You can opt to carry a portable kitchen on your bike to help save up some pennies while maintaining a healthy diet.
Pack as light as possible.
Some places will have poor cell reception. Therefore, you can install offline apps that will not require any connection to function, such as weather app and maps.
The best month to go on a road trip on a motorcycle across the USA is from May to October.
Carry all-weather clothes when traveling to different states. This is because of the different altitudes. At higher altitudes such as the Grand Canyon or the Appalachian Mountains, it can be quite cool, even in the summer. On the other hand, further to the south can be extremely hot especially in or around August.
How to choose your route while traveling across the United States:
Before embarking on your road trip, you should decide on your starting and ending point. Whether to start East going West or vice versa. Mark the routes that you plan on taking on your road trip.
And to a great extent, altitude is also a significant factor to consider while planning your routes.
In other words, would you prefer starting on lower altitudes going towards a higher altitude or vice versa?
Laws and rules of riding a motorcycle across United States:
Most importantly, when planning for your road trip across the United States with your motorbike, it would be wise if you'd be aware of each state's laws for riders.
General Rules
Take a look at these general rules:
Don't cross the white line even when you are turning on the other side of the road.
Never pack your motorcycle against the flow of the traffic.
Only motorcycles that are over 50cc are permitted to use the interstate highways.
Riding between lanes of traffic is prohibited in all states.
Find out more detailed information on Lane discipline and overtaking, traffic signs, and speed limits in the United States.
Motorcycle Helmet Laws across different states in the United States
As required by law
Only 19 states in the U.S require a certified helmet to be used on any motorcycle.
The helmet should be D.O.T certified with the manufacturer's name, the text FMVSS218, model, and DOT on it.
The mandates apply to both the passengers and the operators.
Here is a list of states that require the use of a helmet when riding your motorcycle:
| | | |
| --- | --- | --- |
| Alabama                                        | Missouri | Oregon  |
| California  | Mississippi  | Tennessee  |
| District of Columbia  |   Nebraska  | Vermont.  |
| Georgia  | Nevada  | Virginia.  |
|   Louisiana  | New Jersey  | Washington.  |
| Massachusetts  | New York  | West Virginia  |
| Maryland  | North Carolina  |   |
Required by law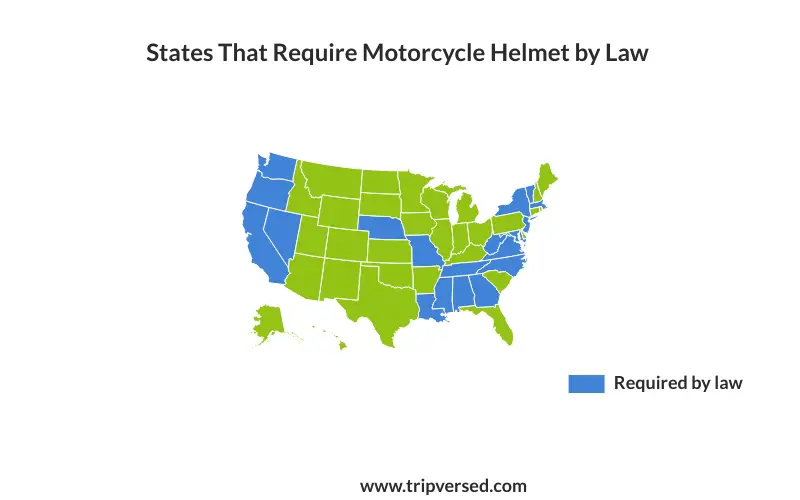 Age restrictions as Required by law
Some states in the United States require the use of a helmet up to a certain age.
Let's take a look:
| | | | |
| --- | --- | --- | --- |
| 17 and younger | 18 and younger.  | 20 and younger.  | Not required by law.  |
| Alaska | Delaware  | Arkansas | Illinois  |
| Arizona |    | Florida   | Iowa  |
| Colorado |    | Kentucky | New Hampshire  |
| Connecticut |    | Michigan |   |
| Hawaii |    | Pennsylvania |   |
| Idaho   |   | Rhode Island  |   |
| Indiana  |   | South Carolina  |   |
| Kansas   |   | Texas  |   |
| Maine  |   |   |   |
| Minnesota  |   |   |   |
| Montana  |   |   |   |
| New Mexico  |   |   |   |
| North Dakota  |   |   |   |
| Ohio |   |   |   |
| Oklahoma  |   |   |   |
| South Dakota  |   |   |   |
| Utah |   |   |   |
| Wisconsin |   |   |   |
| Wyoming  |   |   |   |
Motorcycle Eye Protection Laws in the United States
Only 12 states require both the passenger and operator to wear approved eye protection when riding a motorcycle.
Some states will require you to wear eyewear unless you have a windscreen, while others have no requirements at all.
Only three states require riders to wear eye protection based on criteria. South Carolina requires riders to use eye protection if they are under 21 years and don't have a windscreen. Indiana requires eye protection for those riders who are under 18. 
Massachusetts requires instructional permit holders to use eye protection, but no need if you have a windshield.
Motorcycle Daytime Headlight Laws in the United States
Only 18 states in the United States require riders to have headlights when riding. Most states allow modulation as the headlights are a must. Modulation means that riders are allowed to change between dimming, low beam, and full power.
Very few states in the United States will not require headlights during the day, while only seven states will require headlights to be used during certain times of the year.
Motorcycle Lane Splitting Laws in the US
Lane splitting is riding a motorbike between vehicles. It helps save time, especially in congested traffic, but it can also be dangerous.
California is the only state that allows lane splitting. 
The Best States for a Motorcycle Road Tour in North America
Different factors come into play when selecting the best states that would be great for a motorcycle road trip.
These includes :
Weather
Traffic
Personal experience
America West (the Far West)
These are the westernmost states in the United States. Most riders enjoy traveling through these states because of the long stretches of the open road and many natural wonders.
Colorado
This state is surrounded by breathtaking sceneries for riders. Most of the cities in Colorado are not congested. It also has some of the lowest gas taxes in the United States.
Idaho
Idaho boasts of being one of the country's most beautiful and majestic scenic landscapes. You can begin your day riding through the desert landscapes with surreal volcano lava fields and rocky formations.
You'll pass through the fertile valleys and hot springs on the further east as you approach Wyoming.  And on the northern section, you enjoy the thick forest and the cobalt blue beautiful lakes.
South California
This state has the best motorcycling weather for travelers planning to go on a road trip. Most cities in this state have warm and dry year-all round.
Check out these 25 Mistakes to Avoid on a Motorcycle Road Trip.
Best routes to take on a motorcycle road tour across the US
The USA has many breathtaking roads that would make a great memorable experience for riders planning to go on a road trip across different states.
The following are my personal best scenic routes for motorcycle rides across America:
The Pacific Coast Highway
The Pacific Coast Highway is undoubtedly one of the most famous and scenic roadways in the world.
Riding along this highway comes with a remarkably breathtaking experience. In fact, worth being on every rider's bucket list.
You get to see stunning coastal views, untouched forests, seaside villages, Golden Gate Bridge, Golden Gate Park, and the Big Sur.
A motorcycle trip on this road is not only an ambitious road trip but also an exciting one. It has something for everyone – animal lovers, riders who love the nightlife, food lovers, to name a few, will totally enjoy everything about this road.
Where is the Pacific Coast Highway?
This highway is located in the states of California, Oregon, and Washington.
It runs along two major highways in California Highway 1 and Washington, Oregon, and some parts of California.
The road has different starting and ending points for your motorcycle road trip:
From San Francisco to San Diego (Or vice versa)
From Crescent City to San Diego (Or vice versa)
From Seattle to San Diego
Pacific Coast Highway best direction
South or northbound?
I would personally recommend riding the Pacific Coast Highway southbound. This is because when riding your motorcycle from north to south, you will be on the coastal side of the road. You will thus be enjoying a great view of the landscape that you would want to remember for years to come.
Make sure you stop to see elephant seals in San Simeon.
What is the best time of the year to ride the Pacific Coast Highway?
September is the best recommended time to ride on this route.
Why?
Because the best weather in North Carolina usually is between September and October, Oregon and Washington have the best weather between June and September.
South Carolina usually has great weather throughout the year.
U.S. Route 50 (From Coast to Coast)
U.S Route 50 passes across 12 states.
It begins in San Francisco, California, passing through Nevada, and ends at the Chesapeake Bay in Ocean City, Maryland. Most riders popularly know it as "The Loneliest Road in America."
Riders riding on this route get to enjoy different fascinating sceneries and major tourist destinations that include: 
The St.Louis Gateway Arch

Royal Gorge

The Colorado National Monument

Lake Tahoe

Nevada's Great Basin National Park

Black Canyon of the Gunnison National Park

Historic Dodge City
The route also immerses riders in the beautiful, fascinating urban Midwest to the east coast.
The best route for die-hard sport-bike riders in the US
The tail of the Dragon
Embarking on this route would be considered by many motorcycle riders as the ride of your life.
Where is Tail of the Dragon located?
It is located in North Carolina and Tennessee.
The road requires full attention because of its many twists and turns. It skirts the mountains at Tennessee's western border with North Carolina.
The road may entice you to ride fast! However, it is very, very important to take extra caution by first familiarizing yourself with it.
Tips for Riding the Dragon's Tail
When riding always be on the lookout for wandering deer, turkeys, and bears
If you want the road all for yourself, ride mid-week when there are fewer riders on the road
If you want a more challenging ride, then try the Devil's Triangle
Be prepared to change your line. Do this by leaving enough margin to adjust your line in a corner
Stay in your lane
Ride at your skill level
Why accidents occur on the tail of the dragon:
Too much braking
Excessive speed
Inattentiveness
When is the best time of the year to ride the Tail of the Dragon?
The best time to go on a motorcycle road trip to the Tail of Dragon route is April to October.
This is because the mountain temperatures are mild compared to March and November, which can be snowy.
Final word:
Going on a motorcycle road trip across different states in the US can be extremely gratifying. You just need to plan wisely, set realistic goals, and don't let anything stop you.