Are you looking for the best Tesla route planner OR the best EV route planner? 
A Better Route Planner (ABRP) has so far been my best trip planner whenever I'm going on long road trips. 
Not only is it fast, but I also find it very accurate.
And additionally, I always arrive at my set destination with more charge than when I'm using the Tesla in-built trip planner. 
The good thing is, A Better Route Planner also works great in other electric cars in the market. You can use it in the following list of EVs to plan your trips.
| | | | |
| --- | --- | --- | --- |
| Audi | Ford | Mercedes-Benz | Skoda |
| Aptera | GMC | MG | Smart |
| Aiways | Harley-Davidson | Mini | Sono |
| BMW | Honda | Mitsubishi | Toyota |
| Byton | Hyundai | Nissan | Twike |
| Cadillac | JAC | Opel | Vauxhall |
| Chevrolet | Jaguar | Peugeot | Volkswagen |
| Citroen | Kia | Polestar | Volvo |
| Dacia | Lexus | Porsche | Xpeng |
| DS | Lucid | Renault | Zero |
| Energica | Maxwell | Rivian | |
| Fiat | Mazda | SEAT | |
We have written a detailed guide about the Best EV cars for road trips. Be sure to check it out.
Related:
In this article, we'll show you how to use A better Route Planner by following the guides below:
How to plan a route on ABRP.
Guide on how to use the settings on ABRP.
How to avoid certain route.
The hidden features of ABRP.
A Better Route Planner FAQs.
So, let's get started.
How to plan a route on ABRP
Go to the ABRP homepage.
On the top left, click "select your vehicle". 
Select your car model– You will see a pop up (see the screenshot below).
Enter your starting point.
Then add your destination.
You should see something like this; (see the image below).
When you're done, you will be able to see the below popup.
See also: 25 Cool and Must-have Tesla Model 3 and Y Accessories.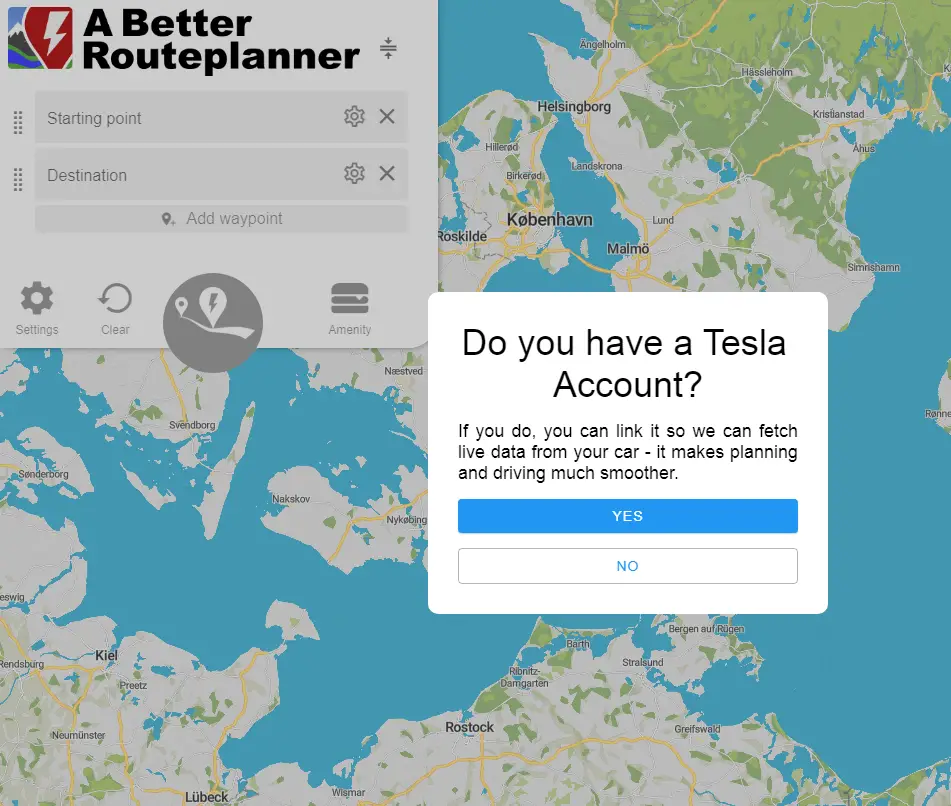 Then proceed to add your starting point. You have two alternatives 
From home or work (Here you have to add your physical address).
Or your position.
See also: 5 Tesla Supercharging Tips To Speed Up Your Charging Time On A Road Trip.
Where to find more details of your planned route (including cost)
Once you are done creating your route, including adding your stopovers. Click on the table to see:
The departure and arrival SoC.
Charging cost.
Charge duration.
Distance between the chargers.
See the screenshot below;
How to use the settings on ABRP
The screenshots below illustrate how you can easily use/change the settings on ABRP.
So, first, click on the settings.
ABRP Battery and charger settings 
This setting allows you to do the following;
Enable real-time charger availability (only available on premium membership).
If you want to avoid or use your preferred networks, click on "Network Preferences".
You can easily manage the chargers that you had selected to avoid. 
You have the option of adding the minimum number of chargers stalls at your preferred charging locations.
Set the minimum battery charge on arrival to your destination, charging point, and waypoints.
Add battery degradation and charging overhead.
ABRP Speed settings 
The speed settings on this route planner allow you to:
Track real-time traffic speed. (Only available to premium members).
Add reference speed. This is the speed limit or the estimated speed while you are on the road.
Add a maximum speed.
Adjust speed.
ABRP Road Conditions settings 
This trip planner setting allows users to;
Enable real-time weather (Only available to ABRP premium members).
Add temperature and wind. 
Other 'hidden' ABRP settings
How to avoid certain routes
If you want to avoid certain routes, A Better Route Planner makes this easy and possible. 
Here is how you can change your settings on your route planner to avoid routes such as highways, tolls, country border crossing, and ferries.
On to the main settings, scroll down and click on the "Avoid on route" option.
A dialog box will pop up to allow you to pick the routes you want to avoid. The dialog box should look like this:
Related: How Accurate Is The Tesla Trip Planner After The Recent Update?
How to add extra weight to the trip planner
For better accuracy, add any additional weight to your car. For example;
If you are not driving solo, the weight of you passenger(s) should be accounted for.
Also add the weight of your luggage(s).
And the weight of the roof rack.
To add, head on to the main settings and scroll down to the "Extra Weight" option.
You should see something like this;
How to change language settings on ABRP
A Better Route Planner supports 18 languages, as shown in the table below:
| | |
| --- | --- |
| English | Suomalainen |
| Deutsch | Pусский |
| Français | Magyar |
| Nederlands | Română |
| Español | Eaanvika |
| Italiano | Catalá |
| Português | Galgeo |
| Svenska | |
| Norsk | |
N/B: ABRP keeps on adding new languages. If your local language has not been added, check on their website after some time.
To change the language settings, 
Go to settings. 
Scroll down to language option.
How to change units on ABRP
ABRP allows users to change the units to their most preferred measures. With ABRP, you have the following options;
You can find these options far down the settings page.
How to view the direction while driving on ABRP
On the settings, click on the navigation and enable the "Route Directions."
Got Stuck? Common Tesla Road Trip Questions.
A Better Route Planner FAQs 
How to save trips on ABRP
When you are done planning your trip on this EV route planner, click on "Save Plan" on the plan page.
How to reload trips on ABRP
To edit your saved trip plan;
Go to the waypoint listings.
Click on the "Saved Plans".
You will be able to see the already saved plan on the list.
You can then edit and save it with a different name.
How to register my Tesla for data gathering. 
ABRP allows users to gather data for their EVs. So, if you have a Tesla, this is how you can do it.
Go to "Show Settings".
Click on "Show more Settings".
Go to "Live Car Connection".
Click on "Mytesla Login"
Add your credentials.
How to synchronize ABRP to your Tesla. 
You can easily synchronize by following these steps;
Go to "Show Settings".
Click on "Show More Settings".
Click onto "Synchronize Settings".
Then click on "ABRP Login".
N/B: You will have access to your saved plans and last settings from whichever device you choose to log in to your ABRP account.
Some of the accessories you might need during your Tesla road trip