Last Updated on June 25, 2022 by Rose Morah
Wondering why you received a charge on your card weeks or months after hiring a car?
Getting unexpected car rental charges months after using a rental service is everyone's worst nightmare.
We're going to discuss some of the car rental charges you may likely get when using a rental car and how to avoid them. This is in order to avoid being caught off guard with unexpected bills later after hiring a car.
1. Admin fee charges
The admin fees are charges that a rental company charges the client when dealing with charges resulting from a trip.
Here are reasons why rental companies charge an admin fee:
Speed and traffic fines
Parking fines
Cleaning of the rental car
Handling damages
Refueling of the vehicle
Speed and traffic fines– if you are caught committing a traffic offense, the traffic authorities will contact the rental company. The rental company will thus charge you an admin fee.
Handling Damages – If the car is damaged during your rental period, you are likely to pay an admin fee on top of any repair costs. This is to cover for the car being off the road (unable to be rented out while being repaired).
The actual admin fee price varies depending on the company.
Admin fees are charged on top of the actual violation fee charged by the traffic authorities.
If you ever want to dispute the charge, feel free to contact the rental agency.
And for a partial or full refund, be sure to provide sufficient proof of why they may have charged you wrongly.
See also: 10 Cheapest Ways to Rent a Car.
2. Refueling charges
These are charges by the rental company for not adhering to their fuel policies when dropping off the car.
For instance, a 'full to full' policy requires that you fill up the tank before dropping off the car.
Failure to which the rental agency will impose a refueling charge, but at a cost more than the current price per gallon.
And on top of that, they will also charge you an admin fee for refueling it on your behalf and for saving you the trouble of having to refuel it yourself.
To save your wallet, ensure you go through the fuel policy before signing.
Different companies have different fuel options. Some require you to pay upfront.
Related: How to deal with rental car red lights cameras, parking, and traffic tickets.
3. Toll charges
After signing the rental agreement, you are responsible for the toll charges on any toll roads you use with the rental car.
Many toll stations have a manual booth on the toll roads, where the vehicle has to stop for a manual payment with cash or a card.
This is not the case with the electronic toll. You could hence accidentally go through E-ZPass.
If that is the case, the car owner ( the rental company) will be charged. But the company will pass the charge to you. The fine will then be mailed to you.
This might take time to process, but you will eventually get the fines from the traffic authorities. 
To minimize the toll charges, you could pay a transponder fee upfront.
You could also bring your own transponder and switch off the one in the rental car. Be sure to add the rental license plate to your account and the dates of travel online.
Alternatively, you could purchase a new transponder for use in any place or state with toll roads.
And if you can, avoid using toll roads altogether. 
Be sure to seek more information about the local tolls at the rental counter if you are unsure of the toll roads.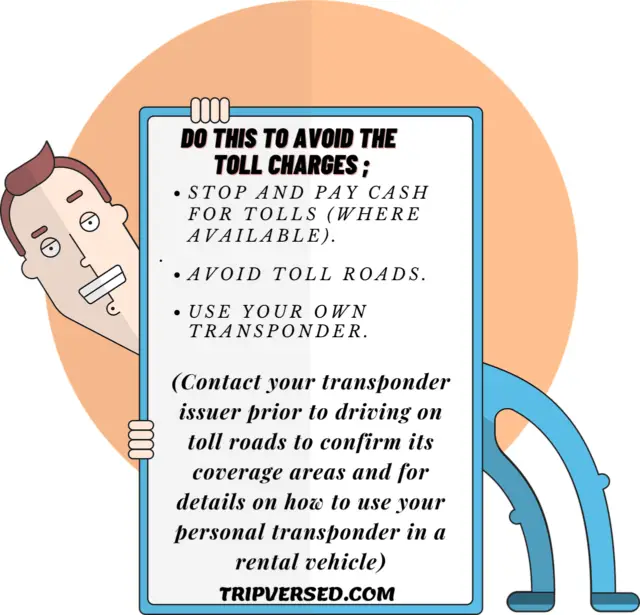 4. Damage charges
Most rental agencies in the EU come with a basic Collision Damage Waiver (CDW) plus a Theft Protection.
CDW exempts you from all charges resulting from the car damages. This is except for a few exceptions, such as gross negligence or tire damage.
Be sure to check the terms and conditions of the collision damage waiver. 
To avoid the costs that come with rental vehicle damage in the event of an accident, and for the sake of your peace of mind, it would be worth paying for the CDW. 
Keep in mind that if you don't pay, the rental company may charge you more than just the cost of damage.
For instance, the extra charges may include:
loss of use while the car is out of service 
Towing charges
Loss of car resale value due to damages – diminished value
Admin fees.
If you don't want to pay for insurance, you may seek other alternatives such as your business credit card or car insurance.
Don't buy extra rental insurance if you have a personal car insurance policy coverage that extends to your rental car, or if your credit card provides collision coverage for rental cars.
But most of these insurance benefits are limited to the US and Canada and are not applicable in the EU or Mexico.
So, check your insurance coverage beforehand. 
Related: 10 essential questions to ask before renting a car.
5. Young and senior drivers charges
Most rentals will charge you an extra fee if you are a driver below 25 years or a senior above 65 or 70 years.
This is because of the liabilities that they will likely pose on the rental properties due to their age.
Why do car rental companies charge young drivers an extra fee?
1. The risk- They are less experienced.
2. Statistics- Statistically, they make more insurance claims, which also tend to be bigger.
If you fall under this category, you could consider joining membership programs such as AAA and USAA. 
Hertz has a waiver that excludes AAA members between 20-24 ages from paying Young Renters Fees.
Avis does not charge an under-age fee to USAA members between the ages of 18-24 years.
Are there other exceptions to the young driver's fee? Yes.
Government and military personnel as young as 18 years in need of a car rental service can rent for official assignment at special military or government rates.
6. Extra day charges
These are charges for dropping off the rental car later than the required time or date. You can receive a full day's worth of an extra charge for exceeding your rented time, even just by a few hours.
Fortunately, most rental companies will offer you a grace period of 30 minutes on rental car returns.
Let's take a look at a few of them. 
1. Alamo. They will offer you 29 minutes grace period for your daily rentals.
Returning the car 2 hours late from the expected time on a subsequent day might cost you an additional cost of a whole day's rental charge.
An hourly charge will apply when you are late by 30 minutes up to 2 hours from the expected return time.
2. Avis. Like Alamo, they offer you a 29 minutes grace period. However, they will charge an hourly rate from 30 minutes up to 90 minutes. Then beyond 90 minutes, a full day charge will be applied.
3. Budget. They offer 29 minutes grace period for returns, then hourly rates after 30 minutes. An extra day rate will apply on any return made beyond 90 minutes. You will also incur an additional $10 a day late fee if you fail to contact them after 7 hours of your rental hour extension.
4. Enterprise. They have a 29 minutes grace period. An hourly rate will apply if you fail to return the car within two and a half hours from the expected return time. A daily rate will also apply if you exceed two and a half hours of the rented time on a subsequent day. 
5. Herts. They, too, have a grace period of 29 minutes and an hourly charge past 29 minutes of your rented time with the rental car.
The bottom line is that hourly or daily charges will apply depending on the time taken to return the vehicle after your rented time on a subsequent day.
To avoid incurring extra daily charges, know the grace period of the rental company.
But if you suspect that you will extend the rented duration, try to make those changes earlier before picking up the rental car.
There are no extra charges for dropping off the car earlier than your rented time.
See also: Read This Before Renting A Car In Ireland (For Tourists).
7. Car upgrade charges
While at the car rental counters, their staff may suggest a better car than the one you originally booked. 
It may likely come with better features, but it will certainly be pricier or have extra daily fees.
They may also likely quote only the daily cost of the upgrade and not the total cost.
You will need to multiply the price by the number of days you will have the car to get the estimated amount you will spend.
You can either take it or stick to your original booking. The decision will entirely depend on your needs and budget.
You might have been offered an upgrade that seems bigger and better, but bigger is not only better. Bigger SUVs also tend to consume more fuel.
Upgrading the car will also likely increase your rental costs due increase in your rental charges, such as insurance and security deposits. 
Sometimes your original booking may be unavailable at the pick-up time, and you may hence be given a bigger model as a replacement.
In this case, you should never pay more, even if it's an upgrade of the previous booking.
The rental company should offer you an equal or a better car than what you had booked if the original booking is unavailable. 
8. Drop off charges
The rental company charges a drop-off or a one-way fee for picking up the car at one location and dropping it off at another location.
It covers the cost of bringing the car back to its original pick-up location.
The rental drop-off charges will depend on the rental company, the drop-off location, and the time of the year.
Companies move their fleet from one location to another around certain times of the year.
Hence, expect to get good rates if you are headed in the same direction.
If you're connecting between airports on a long trip or want to go on a long journey without putting miles on your car, then I suggest you use one-way car rentals.
9. Insurance charges
Insurance charges add a considerable amount to your total rental budget.
They are charged for damages caused to the rental car while driving.
These charges are added to your total rental booking price.
The number of insurance charges will depend on your destination, the rental price, and rental company terms and conditions.