Last Updated on January 30, 2023 by Rose Morah
*This post may contain affiliate links. Please see our disclosure to learn more.
If you are looking for RV accessories, this article provides 30 must-have accessories for your travel trailer.
NOTE: The products recommended here are only the products that we have used before.
Let's get started.
Safety and comfort RV accessories
1. Weight Distribution Hitch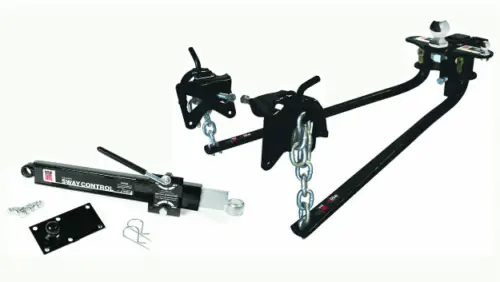 $334.62
A weight distribution hitch helps with the weight distribution between your travel trailer and vehicle. 
It controls sway by distributing the weight to the front axle of the truck and back to the axle of the travel trailer.
When buying a weight-distribution hitch, ensure that it has a sway control in it.
This helps prevent the travel trailer from swaying around while driving.
PRO-TIP

1. Always ensure you have proper weight distribution and tire pressure.

2. Ensure that you understand how to properly use the weight distribution hitch. (You can read the manual or watch online tutorials.)

This is not only a safety precaution but will also improve your towing experience.

See also: What Causes Low Tire Pressure (And The Solutions).
NB: You don't need to get a weight-distribution hitch if you are going to be using a big heavy-duty truck to tow an extremely lightweight travel trailer.
When it comes to the distribution of weight between your truck and camper trailer, I recommended this Eaz Lift weight distribution hitch.
I have been using it since 2020 on our 6000-pound camper and it has worked very well.
You might also like these Must-Have Hi-Lift Jack Accessories.
2. Brake Controller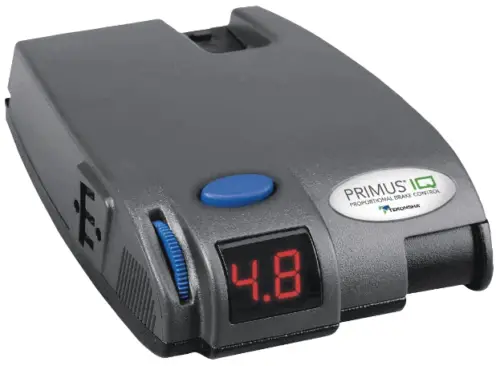 $93.50
If your towing vehicle does not have a brake controller, I'd highly recommend you install one.
Additionally, I would get a brake controller if I'm going to be towing a trailer that weighs more than my truck.
Why?
Because you will need to be able to safely stop it.
I actually consider it a must-have accessory because without the brake controller you could be putting yourself and others at risk while driving.
Also, be sure you know how to properly use and adjust the brake controller.
The good thing is that it is easy to install and set up. I've also had no issues with it in the past.
3. Leveling Blocks
$36.04
Sometimes it can get very uncomfortable when you are working or moving around your camper when it is sloped. 
To stay comfortable in your travel trailer, you need to use leveling blocks if you do not have an automatic leveling system.
This is definitely essential for your safety and comfort.
The good thing is, there are different options available, including wood DIY blocks.
4. X Chocks
$80.67
X chocks help prevent the trailer from making any movements when parked.
It does a good job of preventing the side-to-side movements of the camper because it chocks and stabilizes the RV.  
It also stabilizes the movement inside the travel trailer when you are walking around.
How does it work?
If you have a dual/triple axle travel trailer you put X chocks between the tires and tighten it down.
You can also use them in conjunction with your stabilizer jacks because you should never fully rely on your X chocks only to chock your RV.
Stabilizer jacks prevent the rocking around of your trailer.
See also: 6 Must-Have EV Accessories (Best EV Accessories).
5. Surge protector
$39.97
A surge protector help protect your electronic equipment against electrical surges and other issues related to electricity.
If you plug in your power lead directly at an RV campsite or power block without a surge protector, this exposes your camper and could blow out the different electrical appliances in your trailer, including your inverter.
To prevent this, you need to first plug in the surge protector before plugging in your power lead.
If you are renting an RV, then this accessory is a must-have if you don't want to return a "fried" RV to the owner.
You could either get a surge protector that is either hard-wired (more advanced) or portable (only protects against electrical surges).
You may also like 12 Best Tesla Model X and S Accessories.
6. Road Markers and High Visibility Vest
These are very essential in case you get stuck on the road.
You should actually always have them because anything could happen along the way.
Convenient Travel Trailer Accessories
7. Vent Covers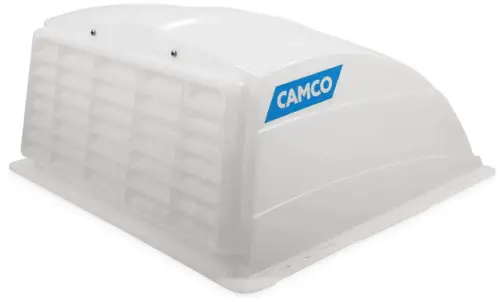 $40.50
The vent cover goes over your vent, which is important for a nice breeze, especially when you want to open your vents when driving.
This Camco RV roof vent cover allows great airflow into the RV and works perfectly fine even when it rains when you are driving.
8. RV Vent Insulator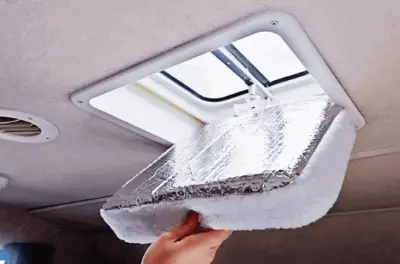 $12.37
The vent insulator help covers your RV vents to block UV rays during summer.
During the winter/cold season, its foam helps keep the interior of the camper warm.
9. Water Splitter
$11.97
A water splitter works best when you are using a water connection coming from the hook-up at an RV campsite because it creates two tap outlets.
This is important, especially if you need to use water to do different things at the same time.
For instance, you can use one side to fill bottles and the other to hook up your hose or whatever you need to do.
10. Adjustable Water Pressure Regulator
$28.80
An adjustable water pressure regulator is absolutely essential because sometimes the campsites' water pressure may be higher than what your RV/travel trailer is rated for. 
An adjustable water pressure regulator allows you to adjust the water pressure.
It also comes in handy when taking showers. This is because the water pressure at the RV park may sometimes be so high for the hot water heater to effectively heat it.
11. Cordless Drill
 $69.33
When camping in a travel trailer, many people go through the headache of raising and lowering the jack every time they need to set up the trailer for camping.
You, therefore, need a scissor jack drill attachment to save you the headache instead of relying on the hand jack. 
However, a cordless drill is a great alternative to the hand jack because it is quick and easy to use when putting down the stabilizer.
12. Backup Camera
$139.99
A backup camera helps you when:
Driving and need see what's going on behind the trailer.
When you need to safely change lanes.
When you need to see if the vehicles from behind are too close, and how the traffic looks like.
Additionally, a backup camera helps spot obstacles and understand your angles when you are backing the trailer, especially at a campsite. 
13. Tubular Cam Lock
$9.95
The tubular cam lock helps keep your things safe and secure.
I love the feeling that it gives me when I know my things are safe.
I have used this Kingsley tubular cam lock for years and still works perfectly.
14. Tarp
$259.99
This is an important accessory because you can use it to cover your generator, gear, and e.t.c in case it starts raining.
I have used this King Bird trailer cover for a year now and it still looks like it will serve me for more years to come. 
Other than its durability I also love it because it covers my battery, electric jack, and propane tanks.
15. Portable Solar Panel
$179.99
Solar panels are cost-effective and produce no noise.
The good thing about a portable solar panel is, you can move it to where there is more sunlight for more efficiency when camping.
If you are new to solar, I'd recommend you start with this Jackery 60W solar panel. It works great.
16. Power Inverter 
A power inverter converts the DC power to AC for charging your phones, Go Pro batteries, run microwaves, and e.t.c.
The power inverter and the solar panel works in collaboration to provide power in your RV and serve your energy needs. You, therefore, may not require a generator
17. Glue Gun
The glue gun helps you when you need to quickly fix/stick something that has broken down.
18. Black tank treatment products and accessories
Black tank maintenance is important in preventing clogs and backups when you are on the road.
Black tank treatment is a lifesaver for every camper traveler owner.
Therefore, you need to make sure you have black tank treatment on your camping checklist.
The following are some of the best RV black tank treatments and gear:
Camco RV Toilet Treatment -It effectively eliminates odor and breaks down tissue and waste in the RV's black tank.
$19.54
Walex Porta-Pak RV Black Holding Tank Deodorizer – It gives the RV a fresh smell and deals perfectly with strong odors.
$10.44
Camco 20 Ft (43051) Sidewinder RV Sewer Hose Support- I love it because it helps prevent the sewer hose pipe from disconnecting. It also helps keep it off the ground to protect it from damage and ensure that all the matter inside is drained out.
$47.97
Camco Dual Flush Pro Holding Tank Rinser with Gate Valve – It helps clean the entire septic system. It breaks up clogs in pipes by forcing water back up into the plumbing lines. It definitely does the trick.
$38.18
19. Hydroflush attachment (clear adapter)
$22.32
The hydroflush attachment is important to help you check if your black tank is clean. Additionally, it helps you clean the pipe, tank, and drain hose, and break up plugged tanks.
It is 45 degrees angled for easier draining and has clear walls to allow you to see when the water is clearing.
It works perfectly and I would recommend it to any RV owner.
The Valterra 45-degree hydro flush attachment also comes with a removable anti-siphon valve.
20. Fresh Water Hose
A freshwater hose is a must-have RV accessory.
When buying a water hose that you are going to be using for drinking water:
Make sure it is marked "drinking water safe". 
It should be at least 50ft.
Get an expandable hose as they don't kink and are much easier to set up and put in place when done using.
21. Water filter
$15.47
It is always a good idea to have a water filter in your camper trailer as you are not 100% sure the water you are using at the campsites is pure and clean from bacteria.
A good water filter should help reduce bad water tastes, odor, lead, and chlorine.
You also have peace of mind knowing that you are drinking clean water.
22. Space Heater
$47.18
Getting a good heater ensures that you are comfortable while camping, especially during the winter season.
Kitchen RV accessories
23. Mini Coffee Maker
$49.99
The mini coffee maker allows you to make your coffee from literally anywhere.
24. Automatic ice maker
An automatic ice maker comes in handy if you are camping on a hot sunny day or need to stay cool throughout the day. 
The good thing is, it is possible to get an automatic ice maker that can produce lots of ice cubes.
25. Collapsible Dish Drying Rack
$15.83
The collapsible dish drying rack is most helpful when you have limited space to place the dishes after washing them.
26. Dish Drying Mat
$10.99
It is great for placing your utensils on after you are done washing them to prevent water from dripping on the floor of your RV.
27. Hooks
Hooks help you hang your keys, hand towels, clothes, and e.t.c. Door hook hangers are also great for hanging your towels in your travel trailer.
28. Dollar Store Tubs
$74.99
The dollar store tubs help you keep things organized in your trailer. You can fold your clothes in them, paper, games, gloves, and e.t.c.
I also love the fact that due to their see-through design, it is easy to find what you are looking for.
Outdoor RV accessories
29. Outdoor Carpet
$89.99
An entry mat is important if you want to keep the interior of your travel trailer clean when camping.
You simply need to dust your shoes before you enter the trailer, or remove your shoes and step on the entry mat to avoid carrying all the dirt in the trailer.
The outdoor carpet is also convenient if you're camping in a dirty site. 
It also looks great outdoors.
30. Solar Lights
Solar lights make any camping experience beautiful and unique when you get to set them around your camper. 
They are also great when camping with family and friends. You can comfortably just hang out outside while playing games and having fun.
The following are great solar lights ideas for outdoor camping on your travel trailer:
Outdoor Solar Motion Sensor Camping Lights – These solar lights can be put anywhere. They are great solar security emergency lights.
$86.66
TomCare Solar Lights – I mostly love their unique dancing flame design. They resemble real flames which makes them absolutely attractive.
$34.99
KYEKIO 12Pack Torches, Solar Lights – They perfectly light the camp pathways, yard, garden, and e.t.c. They are a safe alternative to the real flames.
$65.99