Last Updated on January 29, 2023 by Rose Morah
We travel for different reasons and with the sole aim of achieving each of our own special ambitions.
The travel reasons or purposes play a significant role in determining the type of travelers we are.
Do you know what kind of traveler you are?
Well, why don't you pull up a seat and make yourself comfortable as I tell you all about the different types of travel for different types of travelers?
1. Pilgrim travel
This is the type of travel where the traveler travels with the sole purpose of visiting local shrines of the gods they worship. These travelers love to follow pilgrimage trails for religious nourishments.
You will find pilgrims in sacred places for religious reasons.
You can also expect to find them in places associated with their favorite sports like football stadiums or famous movie scene locations.
See also: How to Plan A Trip For Someone Else (Steps Involved).
2. Thrill-seeking travel
Thrill-seekers let their imagination run wild.
Thrill-seekers are full of energy and have some serious passion.
They are more into adventure experience than the destination.
You can call them the daredevils or extreme life junkies.
They love to explore off the beaten paths where no one wants to go or has heard of. Or rather 'the unsafe path.'
You will find them climbing the world's tallest mountains, skydiving, canyon-swinging, and high lining, to name but a few.
You will rarely find these travelers engaging in safe activities like going on safaris, culture tours, horse riding, or staying in comfortable hotels.
What's even more interesting about thrill-seekers is that they will likely take road trips or ride bikes to their destinations.
3. Long-term travel
Long-term travel is the type of travel where the traveler falls in love with their destinations and never wants to go back to their homes. So, they end up settling in a destination.
Well, settlers are pretty fearless and seem to have an answer to all questions.
They also tend to be very calm, relaxed, and firm.
In fact, they will naturally let their inner convictions drive them to their destiny.
Hence, they will have no set destinations, no particular schedules for their trip, or how long they intend to stay
4. Solo travel
Solo travel is the type of travel where the traveler wants to venture into new surroundings all alone.
Solo travelers rely on forces of nature which gives them the desire to travel alone.
You might as well call them the soul seekers.
They travel to unload baggage and for self-actualization.
To them, this is a journey whose sole purpose is self-discovery.
You would say that they are brave amidst their fears since they are willing to travel to face their deepest fears.
Traveling solo doesn't necessarily mean they are lonely. As a manner of fact, the solo travelers are quite independent, strong, and courageous.
See also: How To Plan A Solo Road Trip (Solo Road Trip Tips).
5. Romantic travel
Romantic travelers travel with a desire to connect with their partners or meet someone new.
They are the type that loves to visit a place to get pampered for a while before getting back to their normal lives.
They particularly will be on the lookout for romantic destinations to spoil their partners or places with a high likelihood of meeting a new love.
And if you're probably wondering, you would likely fall in this category if you are one of those people who love waking up at the sight of a perfect sunset on a secluded beach.
Or better yet, if you have always desired a memorable honeymoon on a mysterious island.
You may also like these 5 Best Road Trip Blogs To Follow in 2022.
6. Backpacking
Backpackers comprise mostly the young who love to explore different destinations off the beaten path on a low budget.
They travel throughout the year, and most of their time is spent taking trips to different destinations on just a backpack.
Many backpackers may not have thoroughly planned their trip down to the last minute, but they generally know what they want on a trip.
What is really interesting about backpackers is that they are interested in seeing their destinations in the eye of the locals. They will want to taste the local foods, participate in cultural events, and even experience the nightlife.
In other words, you will find them deeply soaked up in local activities.
And when it comes to accommodation…
Hostels and cheap hotels with essentials like free Wi-Fi are their primary accommodation targets.
They also tend to be quite price-sensitive when it comes to travel expenses and will not mind staying in shared accommodations and Airbnbs.
In a nutshell, backpackers love freedom, flexibility, and comfort while traveling. This is evident from their backpack identity, a travel tool that enables them to travel far and light.
You may also like:
A Complete Backpacking Checklist (And How to Pack a Backpack).
11 Backpacking & Hiking Tips When Out of Shape or Overweight.
7. Casual travel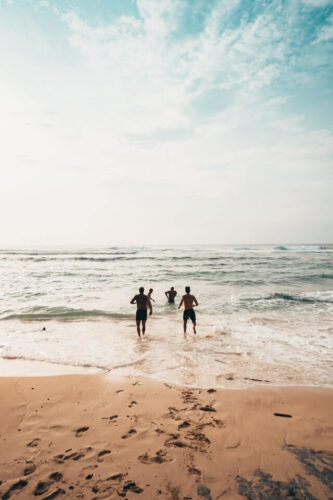 Much like the name suggests, this is the type of travel where you rarely travel through the year.
Casual travelers mostly travel in individuals or groups and will likely make their trips once or twice a year.
In addition to that, they will also likely have a decent amount of money to spend during their vacation.
Well, don't be surprised, this type of traveler has reasonably done quite an amount of research about their destinations and knows what to expect.
Most casual travelers are attracted to well-known major attractions.
In fact, they will be looking out for guides and maps of major attractions in the local areas when they arrive at their destinations.
8. Luxury travel
This is another interesting type of travel.
How much the luxury traveler spends on their travel is the least of their concern. Actually, their main concern is the value and getting the most out of the trip.
These travelers have moderately researched their destinations and have a rough idea of what to expect in their destinations.
As a matter of fact, they know the kind of activities they like as they take more trips than casual travelers.
They also love visiting popular destinations both privately and in group tours.
In most cases, luxury travelers are old but not always – almost 80% will be married, in pairs or groups.
And another thing, they also tend to have quite a higher expectation of the quality of the hotels they book and the services they are offering.
They, in fact, won't mind paying more and will even trade their valuable time for a memorable experience.
9. Family travel
Family travelers will be in the company of children of different ages and will mostly have a proper-laid-out plan for their trip.
They also like to operate on a strict budget and want to get the best out of their trip.
Quite as you might expect, you will find them engaged in organized travel activities suitable for the whole family, like a visit to the theme parks or at the beach together.
Well, expect to also find them in family-friendly hotels with large rooms and decent amenities such as independent hotels or places that offer family discounts.
10. Business travel
This is the type of travel where travelers travel to fulfill various business needs such as brand loyalty promotions. Since they don't get to foot their travel bills(sponsored mainly by their companies), these travelers are not price-sensitive when it comes to travel expenses.
Rather than traveling to holiday resorts, the vast majority of them will likely travel to major cities to promote their businesses, art, skills, and expertise.
Business travelers also spend most of their time working and rarely make local site visits due to their tight schedules.
You will find most of them in branded hotels and restaurants with laundry and pressing services.
They also love it when they can easily access business services such as FedEx, and Kinkos.
See My Secret to Traveling the World for Free (Step by Step guide).
11. Senior people travel
These are individuals over 50 years, with a decent amount of money to spend, and will likely be traveling in pairs, or groups, and with no children.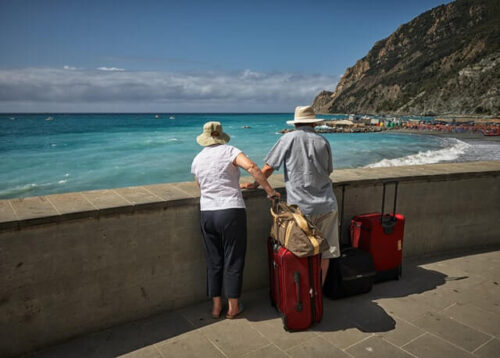 This is not an adventurous type of travel. Travelers in this category tend to avoid unbeaten paths.
You will find them in more comfortable hotels, inns, and cruises with many amenities and great accessibility.
12. Planned travel
Much as the name suggests, this is the type of travel where the traveler has researched and planned their whole trip from beginning to end.
Don't be surprised they know a destination better than those who have been there.
And another thing, they love traveling to various destinations and will be looking to get the most out of it since they have a limited amount of time to spend.
You will hence find them traveling with family or as a group and will rarely travel alone.
They are likely to stay in good hotels, prior planned and well researched.
Although they don't have a particular favorite hotel, you can be sure that the one they end up in had been thoroughly researched.
13. Flexible travel
Flexible travelers are flexible, quite like the name suggests.
They will be open to changes in destinations and are the type who will travel with no rigid plans.
They will also not be in a hurry to book accommodations and will, in fact, embrace any good recommendations you might offer them along the way. They will hence grab any enticing last-minute deals and will go with the flow.
But that's not all…
They willfully maximize any opportunity they get and will keep their options and plans open.
Flexible travelers enjoy traveling alone or in small groups.
And when it comes to accommodations, the independent hotels and hostels with last-minute rooms and beds seem to best work for them. As a matter of fact, expect to find them in a wide variety of guest spaces.
Flexible travelers love to engage in local activities, and hence any local recommendations or guides will come in handy.
14. Party & leisure travel
This is the type of travel where the traveler just travels for entertainment. Party travelers don't like to miss a party event. They travel to destinations where the party and the fun is.
You are likely to spot them in popular bars and around the 'meet and chill' kind of events.
And as you might expect, they are usually fun to be around and will be comfortable around anyone no matter the language.
And another thing, they are primarily young, full of life, and like to travel in packs leaving trails of beer and good friends.
They will find any lit nightlife recommendation helpful.