Last Updated on January 9, 2023 by Rose Morah
If you rented a car recently (2022), you probably might have noticed the sudden increase in rental car rates this year. There is an absurd increase in rental car rates everywhere!
I was recently checking the rental rates of different rental companies and realized that the prices had doubled compared to what was there the previous years!
After contacting a few rental companies to get more information, almost all of them responded with a statement similar to this:
– 'The covid pandemic hit us hard. Right now we are trying to recover after traveling started to pick up since more and more people are getting vaccinated.'
But should you lighten your wallet just because the rental companies are struggling to make a comeback?
The short answer is no! 
Luckily, today there are many ways to get rent a car without breaking your wallet.
We are going to cover tips for getting the cheapest car rental prices online.
1. Choose your pick-up days wisely
Did you know that the pick-up day may determine how much you save on the rental price? If you are flexible, try playing around with your pick-up date.
Some rental companies have cheaper rates on weekends. Others have cheaper rental rates during the week.
Check out the screenshots below;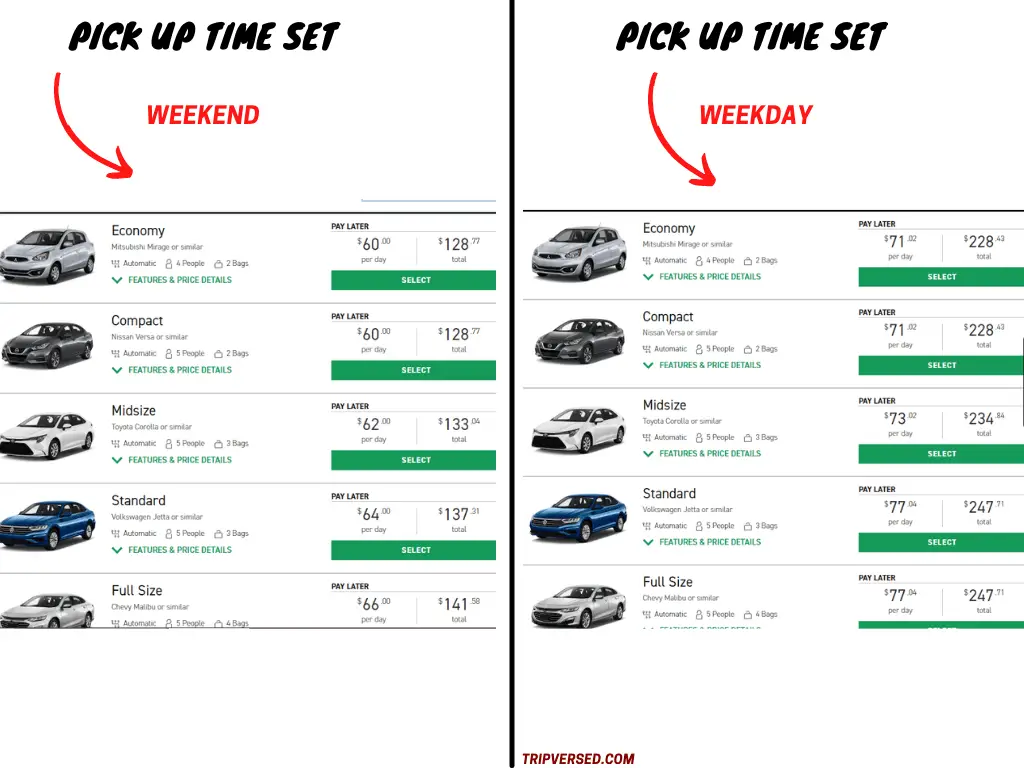 The pick-up time also matters. I have always found that I tend to get different prices when I play around with the pickup time. 
See the screenshot below;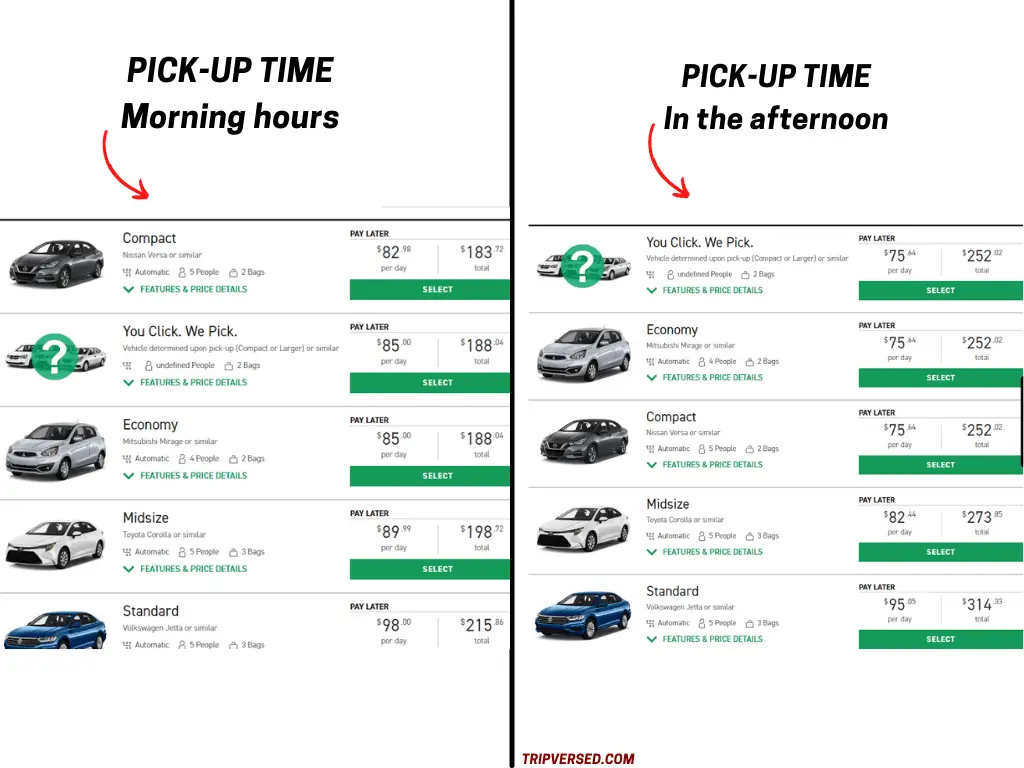 See also: Read This Before Renting A Car In Iceland.
2. Book directly through a car rental website
Before going to a 3rd party online booking company like Expedia, visit the rental company's website. Many of them have great deals when booking directly from their websites.
See the screenshots below. It gives a comparison of prices between the rental website and a third-party website.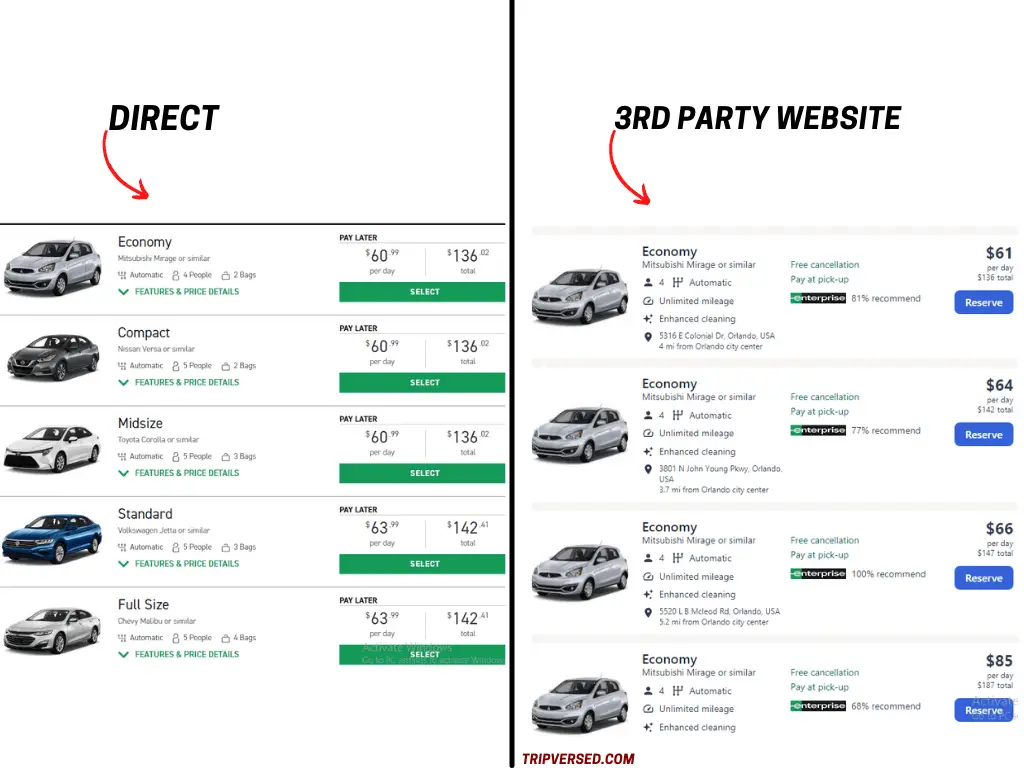 3. Change your location
When looking for cheap car rental rates, you will realize that locations play a significant role in determining the prices of a rental car. So, always check out the prices of the different car rental locations around you.
You may find cheaper rentals in locations just a few miles away from you, which will save tens or hundreds of dollars in rental prices. 
In the screenshot below, I just tried to book from different locations. The rental prices were very different!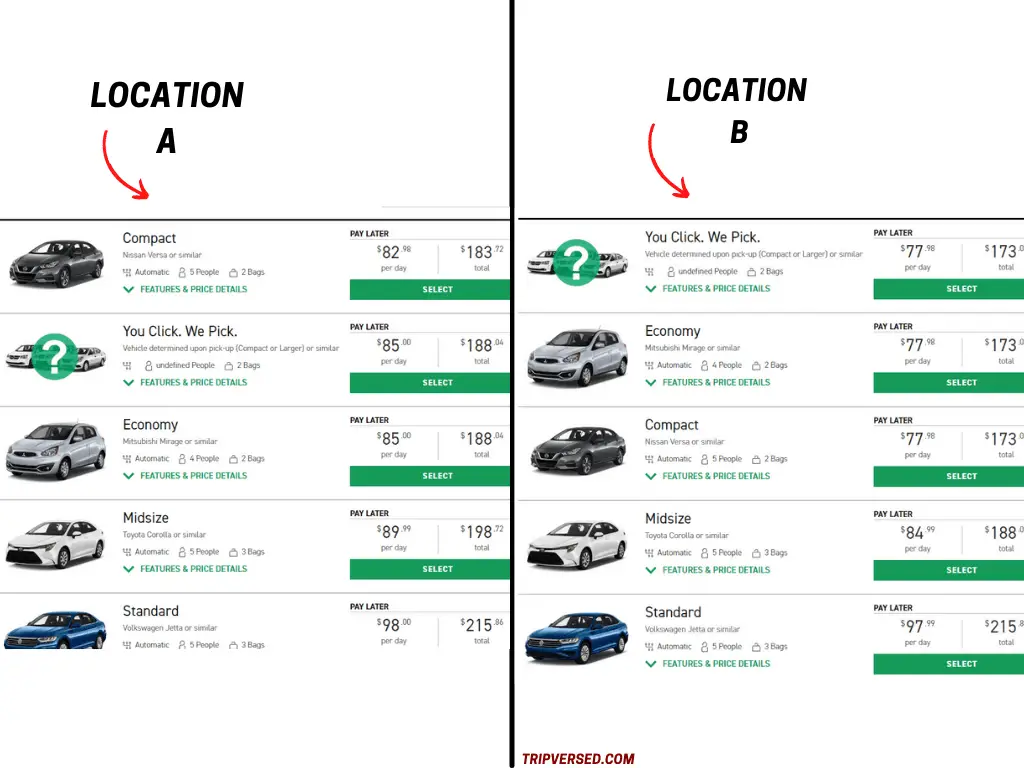 Additionally, stay away from airport rentals or those near the airport.
If you are flying in, you need to do a quick search of the car rentals outside the airport.
In the screenshot below, I only changed the location to one that is near the airport. Notice the change in prices!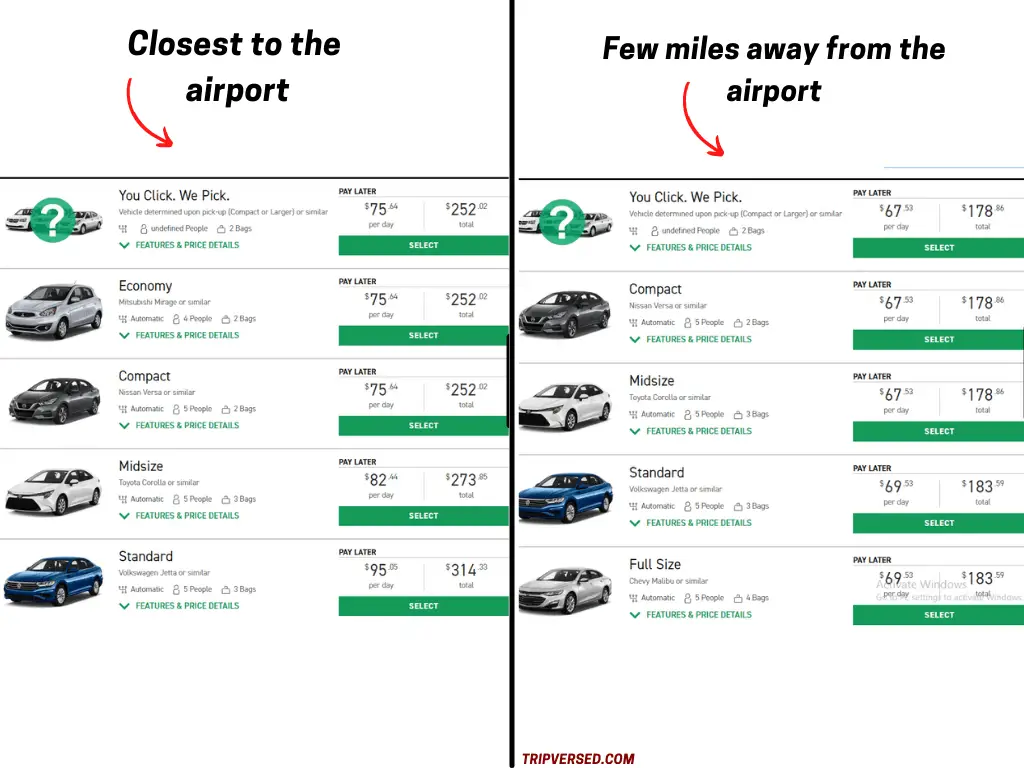 You may also like: When Does It Make Sense To Fly VS Drive?
4. Browse in incognito
Search on a private browser if you have been searching for car rental deals online.  
This is a better way of avoiding websites raising prices based on your recent searches.
But if you are searching now, then there is no need to browse in private.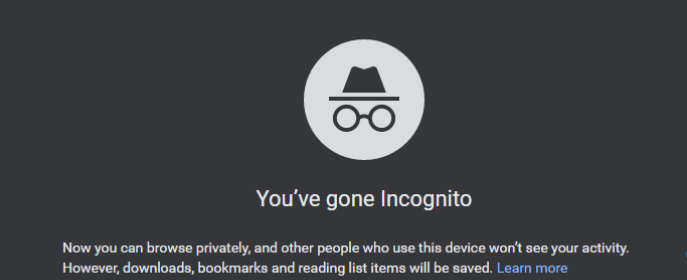 5. Book through your insurance provider
I always get amazing deals and even free upgrades from my insurance provider's (AAA) website instead of booking directly through the car rental website. 
Additionally, some insurance providers have fuel discount offers and let you return the car with an empty tank! This is cheaper than having to refuel the car before returning it.
6. Join gas rewards programs
You save on rental when you join the gas reward programs. Some of the best gas reward programs are Costco travel and Sams.
Personally, I have been a Costco travel member for a few years now. I have always gotten great deals when booking rental cars through them. 
Here is what I love most about them:
Flat cost.
Waives the second driver fee.
No mileage fees.
Unlimited miles.
This dramatically cuts down your car rental charges!
But you will have to pay a Costco Membership fee.
7. Subscribe to car rental email promotions
You get great discounts on promo codes that rental companies send in emails.
I recently ended up paying $400 less than what was quoted online ( The minimum quoted amount was $1000 – Maximum $1400) after using the promo code sent to my email. 
8. Check with your employer
If you work for a large corporation, you can get great car rental deals (employer discount) that you can use for personal use.
To get the corporate rates, you will have to check with your employer.
I have a friend who has enjoyed the corporate discounts for years combined with the Costco membership discounted rates. The savings are incredible!
9. Try monthly rentals
If you plan to use the rental car for a month, you will find monthly rentals surprisingly cheap.
I have done monthly rentals twice, and in both, it was very cheap. However, if you are not going to be using it daily or just using it for only a few days of the week, it might turn out expensive.
For example;
If you are going to pay $600 per month, this means you will spend around $20 per day. 
Let's say you will only be driving the car for only 3 days a week. This will come to $50 per day.
3(days) x 4 (weeks) = 12 days in a month
12 ÷ $600 = $50 per day
10. Compare prices of different 3rd party websites
Today, many websites will help you get the best car rental deals.
Some of these websites include;
To get the best prices through these sites, take advantage of the daily fluctuating rental car prices. 
You can reserve the rental car early, then keep checking back to see if better deals are available on different days using the incognito mode, as explained earlier. 
NOTE!
Make sure there are no cancellation charges before you apply this method. It should be free to cancel!
Tips when booking cheap car rental
What happens if all these fail? Try Turo.
Turo is a car-sharing marketplace. 
It is like an Airbnb for cars. You may land yourself a better deal, but you will have to do some digging!
Always compare rental prices through the following websites.
Costco Travel.
BJ's Travel.
Before picking up the rental car, always check for damages. We have a detailed article on Things To Check Before Picking Your Rental Car.
Otherwise, you may spend a lot of time finding rental deals, only to be hit by the damage fees when returning the car.
Beware of the extra day charges. Don't drop off the car after the expected time or date to avoid extra day charges for returning it late or the following day. 
Before you pay for the car rental insurance, first check your credit card benefits.
Some credit cards will cover your rental car insurance. You will hence decline the rental car insurance.