Last Updated on October 20, 2022 by Rose Morah
If you've been wanting to travel around the world for free, this article will give you a complete step-by-step guide to traveling with no money.
First off, most people tend to think that traveling for free is all about asking for favors, free rides, free food, sleeping at shelters or church benches, and visiting the cheapest destinations. 
Well, yes that is traveling for free. But I will show you more dignified ways to travel around the world for free!
If you have used credit cards before, you are probably aware that they do offer different rewards to new members. These rewards can be in form of bonuses, free hotel stays, cashback, and so on, for just signing up and meeting the set requirements.
Now, this is where I derive most of the benefit!
Without further ado, the following are simple steps that I have always used to travel for free around the globe that you can also replicate.
Step 1: Do some online research 
In as much as it might sound cliche, the first step involves doing online research. I have in the past discovered some of the best credit card deals on the following platforms:
Blogs
Blogs such as The Points Guy and Nerd Wallet are constantly updating readers on the best travel credit cards. They list out cards' advantages and disadvantages to help users choose the best ones that suit them.
Social media
Reddit – r/churning is among the best platforms for the best recommendations if you are searching for the best travel credit cards, depending on your needs and credit score.
YouTube channels are also a great alternative. For instance, I have discovered great YouTube channels, such as The Credit Shifu, that offer great credit card recommendations.
You may also use their referrals, which I noted to have better deals and more bonuses than when you apply directly from the credit card's website. 
See also: Top 15 Cheapest Destinations to Travel Internationally Even on a Tight Budget.
STEP 2: Check flight costs
After getting a great travel credit card sign-up offer that suits my needs, next, I dive into airfare deals to the places that I would like to visit.
Assuming, I want to visit Asia, I will go search for the best flight deals that match the number of points/miles/cash I will get back after spending on that specific credit card.
Take, for instance, the image below. The credit card will give me a new sign-up bonus of 60,000 miles, equivalent to a flight ticket of $600.

This means I will have to look for a round trip that is not over $600. So, in my case, I found that a roundtrip to Japan would cost me about a similar amount.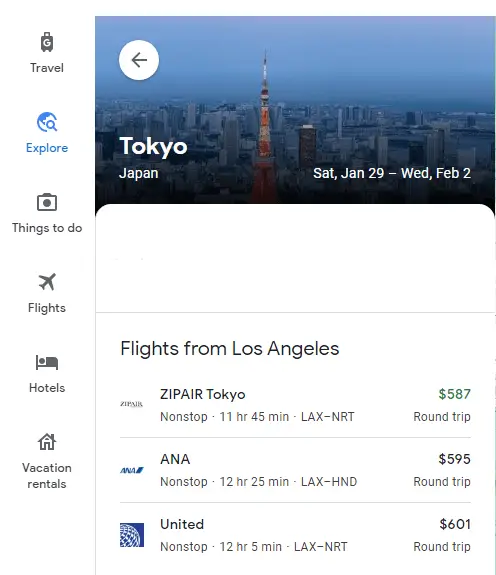 Additionally, it is important to take note of the following when searching for the flights:
Use incognito to search for flights.
Travel during the off-peak season.
Book early in advance.
For more tips on getting the best airfare deals, be sure to read our article on cheap last-minute flights.
STEP 3: Get a credit card
Remember, once you get the credit card, you have to beat the minimum requirements to qualify for the credit card rewards.
So, to avoid messing yourself up and ending up regretting it, here are some general rules to follow when using this method to make sure that you indeed travel the world for free:
1. Do not spend extra money on your credit card
After getting the credit card, don't spend money that you wouldn't ordinarily spend on a daily or monthly basis.
This means that you are only spending what you normally spend every day/month on the credit card until you reach the required amount.
If you follow this rule, you will end up getting the bonus points for the money that you were going to spend anyway at no extra cost.
2. Never pay for credit card interests
Credit card interests can mess this up for you. So, you will have to avoid paying the interest.
Remember, you will only be charged interest if you do not pay off your balance before the due date. 
This takes us again to the first point. If you only spend what you would normally use on a daily basis, then paying off the balance in full shouldn't be a problem.
3. Don't get a credit card if you are about to get a car or home loan
This is not recommended for individuals who are looking to get a loan. Getting a credit card would temporarily lower your credit score by 3 to10 points. However, if your credit score is not going to temporarily drop below 720 then you are okay.
Additionally, if you are planning to get a car or a mortgage loan in the next 8 to 12 months, then that's okay because it is not going to make any difference.
So, you might be wondering, what if the monthly expenses don't reach the minimum required amount?
Well, there are many tricks you can use to reach the minimum spending requirement. Some of them include:
1. If you go out with friends, you could ask them to give you cash and pay for their meals with your card. (If you have friends who won't take advantage).
2. If you and your colleagues order food daily from the office, you could ask to pay for their orders with your card and have them pay you back.
3. Some people buy gifts card for themselves using credit cards at grocery stores, only to go and deposit the money back to their accounts in cash. However, you should do it at your own risk.
These are some of the tricks that you use. But always make sure that the money you spend on others is paid back in full!
STEP 4: Accommodation plans
So, you now have a free flight already, but nowhere to stay for the few days you will be traveling.
 What's next?
I usually go for hotel credit cards. In this example, I will use Hilton Honors American Surpass Card.

Note that, there are many hotel credit cards that you can use, but it depends on your personal preferences. 
Some hotels will give you:
Complimentary hotel stays only.
Complimentary stay + free breakfast
Complimentary stay + free meals.
Free weekend nights.
Complimentary stay + free continental breakfast.
Free nights.
Other benefits.
But apart from using the credit card rewards to pay for my hotel accommodations, I also use one other method, which I will talk about shortly.
See also: 10 Things To Know Before Buying A Travel Trailer.
STEP 5: Activities
 Now, you might be wondering; I'm I just going to be hanging around the hotel or exploring the destination? 
Well, No. Look for fun things to do in your destination of choice!
There are two ways I go about looking for fun things to do in a destination:
Search for free guided tours or free activities in my traveling destination.
Content creation.
Content creation is among the best ways of enjoying your trip. It is at least how I am able to get the best experience when traveling for free.
Whether or not you have a good following on social media, you can still enjoy free activities through content creation.
Well, of course, it will be a lot easier for those with a large following. Because most brands will be contacting them for offers in exchange for services.  
So, what if you do not have a large following?
You can always start by creating strong authentic travel content from your local area (which will be free / cheaper). 
However, I do agree that it's not easy. But a journey of a thousand miles starts with one step. You need to be willing to learn from others who have already made it and focus on skill growth rather than followers. 
Once you have something to show for your work, you can then start doing email outreach to related brands. 
Let's assume you plan to visit a certain place, in my case Japan. Go ahead and research things to do in that place, then contact the brands in the area you will be visiting. And they should not be far, so you do not end up spending more money on transport.
I would also recommend contacting lots of brands offering the services you are interested in. This way you won't miss some who will be interested in your offer. 
Here is an example of email outreach: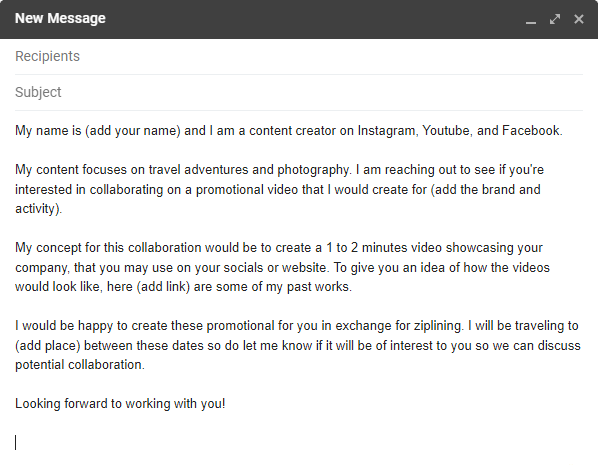 Be sure to attach some of your best content. 
Also, make sure that the content: 
Is inform of a video
Is not very long 
Showcases your best skills, and you are not just talking throughout the whole video.
Additionally, other than email outreach, you can also DM(Direct message) the brands. Most of them will reply immediately through DM's.
What happens to the credit card after traveling?
You got what you wanted from your credit card, so, do you cancel it or what next?
Well, it depends if the credit card has an annual fee or not. If it does not have an annual fee, then there's no need to cancel it.
If it does have an annual fee, does it offer you any value? If not, cancel it!
One more thing before I conclude, if you are planning a wedding, you and your partner can team up to pay off all your wedding expenses with your new travel credit cards and get the travel rewards, in exchange for a free honeymoon.
And that is basically how to travel the world for free.