Last Updated on March 13, 2023 by Rose Morah
Finding cheap last minute flight deals can be stressful and time-consuming. 
Therefore, it's important to always have a few tricks up your sleeve to help you quickly get last-minute airfare deals without wasting much of your time.
For instance, let's assume today you stumbled upon a one-way ticket that would cost you $215.
But the next day, you again bump into a better deal ($150) but decide to wait for an even better deal, only for the ticket price to go back to $215 the following day.
Well, if that sounds familiar, this article will help steer you in the right direction so you won't have to keep second-guessing yourself every time you want to purchase a ticket.
In addition to that, we've shared some of the best sites for last-minute airfare deals.
This's especially if you have a schedule that won't allow you to plan a few months in advance.
How to get cheap last-minute flights:
1. Ditch your browser
You could be deeply immersed in the web searching for cheap flights, but your browser might also be stabbing you in the back!
If you have searched online for low prices before, you may have noted that at some point, airfare prices keep changing (with an increase) every time you perform your web searches.
This is because when the search engines realize that a specific route is repeatedly being searched through your browser's cookies, the prices automatically tend to go up. 
Why?
Because you show the need to travel.
And then again, this happens to trick and instill fear of future price increases and provoke you into reacting immediately by purchasing the ticket before the prices go higher.
So, to avoid this, you could either search on private browsing mode – incognito or visit some of the websites discussed below in this article for cheap last-minute deals.
To enable incognito on your PC, press Ctrl-Shift-N (Windows) or Command-Shift-N (macOS).
2. Install Hopper
Hopper analysis billion prices of hotels, cars, and flights and tells you whether to book/buy, or wait.
They do the hard work for you so don't have to pay more for your next flight.
It scans the time and tells you to book the flight around a particular time. You get to save up to 40% on your next flight.
You only need to download and install the app on your phone.
3. Use Skiplagged
Skiplagged claims to have a unique algorithm that shows you some of the cheapest regular flights faster than other sites.
It exposes inefficiencies in airline pricing such as hidden-city flights to get you the best deals. In other words, it shows you flights that have a layover in the city that you want to travel to.
This saves you a ton of money when you get off on that layover instead of proceeding to the final destination.
You might also like: Clever Ways To Keep Your Money Safe When Traveling (Money Hiding Hacks).
4. Study the ideal booking times
Flights are usually slightly cheaper early in the week compared to the rest of the days.
For instance, Tuesdays at 3 PM (ET) is the ideal booking time for weekend flights.
More than 30% of travelers save up to 24% on flight tickets just by booking at the right time of the day.
Most airlines that still have empty seats for an upcoming weekend trip often start reducing their prices on Tuesdays.
This is, however, not a hard-and-fast rule.
And just to put a disclaimer, this does not necessarily mean you only wait for Tuesdays to book a flight. Deals vary frequently, and there's no one specific day or time to purchase air tickets.
Are plane tickets cheaper at midnight?
I normally get cheaper plane tickets when I book my international flights a few hours before midnight on Tuesdays.
Additionally, according to skyscanner.com, it is cheaper to buy plane tickets in the afternoon than in the morning hours.
Check out how to go through the airport faster.
See also:
DFW Airport Parking Rates & Best DFW Offsite Parking.
SeaTac Airport Parking Rates & Best SeaTac Offsite Parking.
5. Travel Mid Week
If you are flexible, you can travel during the middle of the week because most business travelers are not traveling on this day of the week.
According to FareCompare.com, Wednesday is the cheapest day to travel, especially if you are taking a domestic flight.
Why is that so?
Because most airlines have more empty seats that require discounting to fill the plane. So that means they'll have to release more seats at the cheapest price points.
But then again, some travelers swear by Sunday as the cheapest day to book flights. However, some experts advise travelers to avoid booking on Fridays because it tends to be expensive.
Check out also: Top 15 Cheapest Destinations to Travel Internationally Even on a Tight Budget.
So, what's the most expensive day of the week to fly?
Thursday is the most expensive day to buy airline tickets for international flights. On the other hand, Sunday is the most expensive day to buy airline tickets for domestic flights.
If you are trying to get a last-minute cheap airfare, then try as much as possible to avoid these days of the week. See the images below.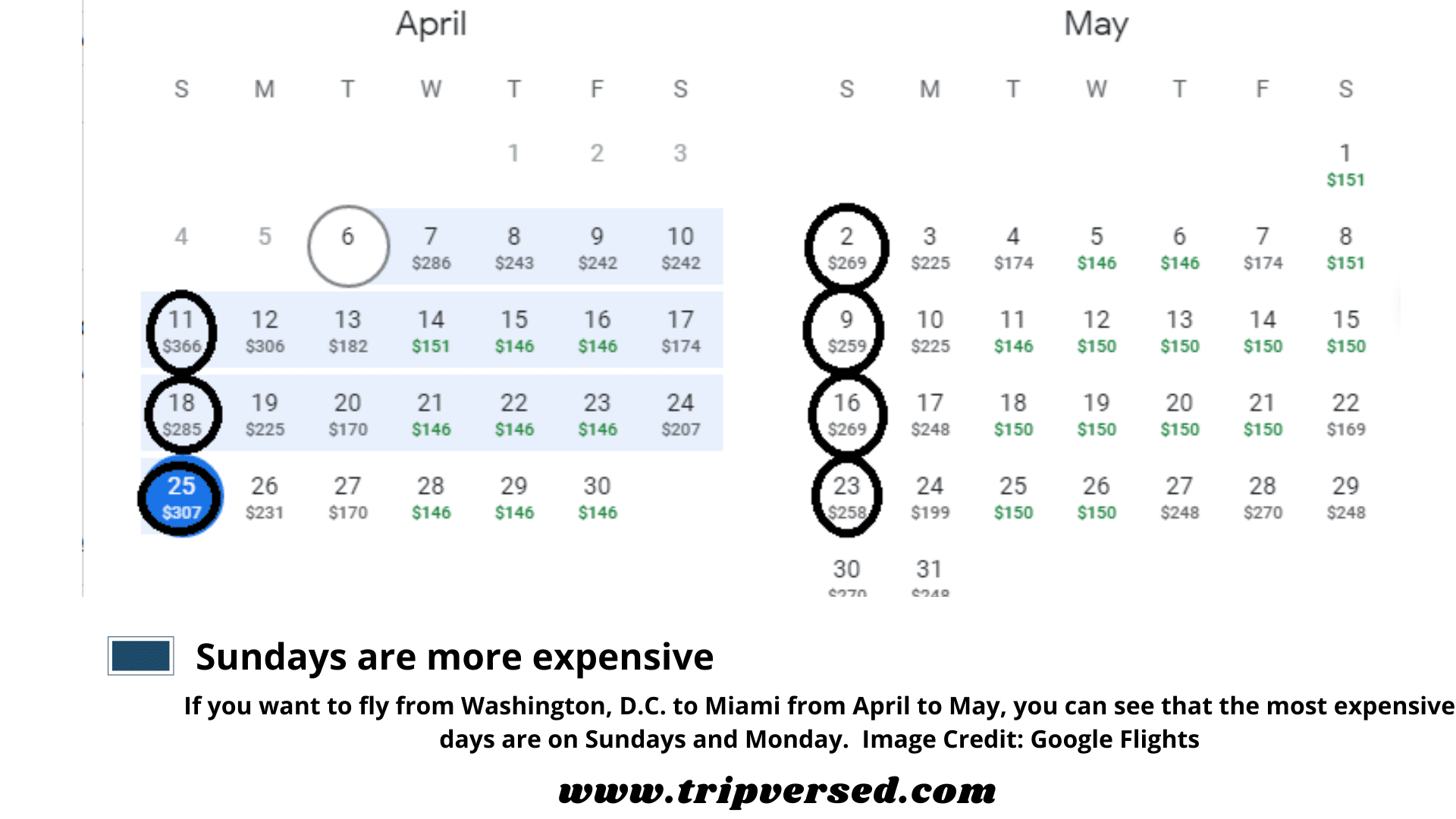 Booking International Flights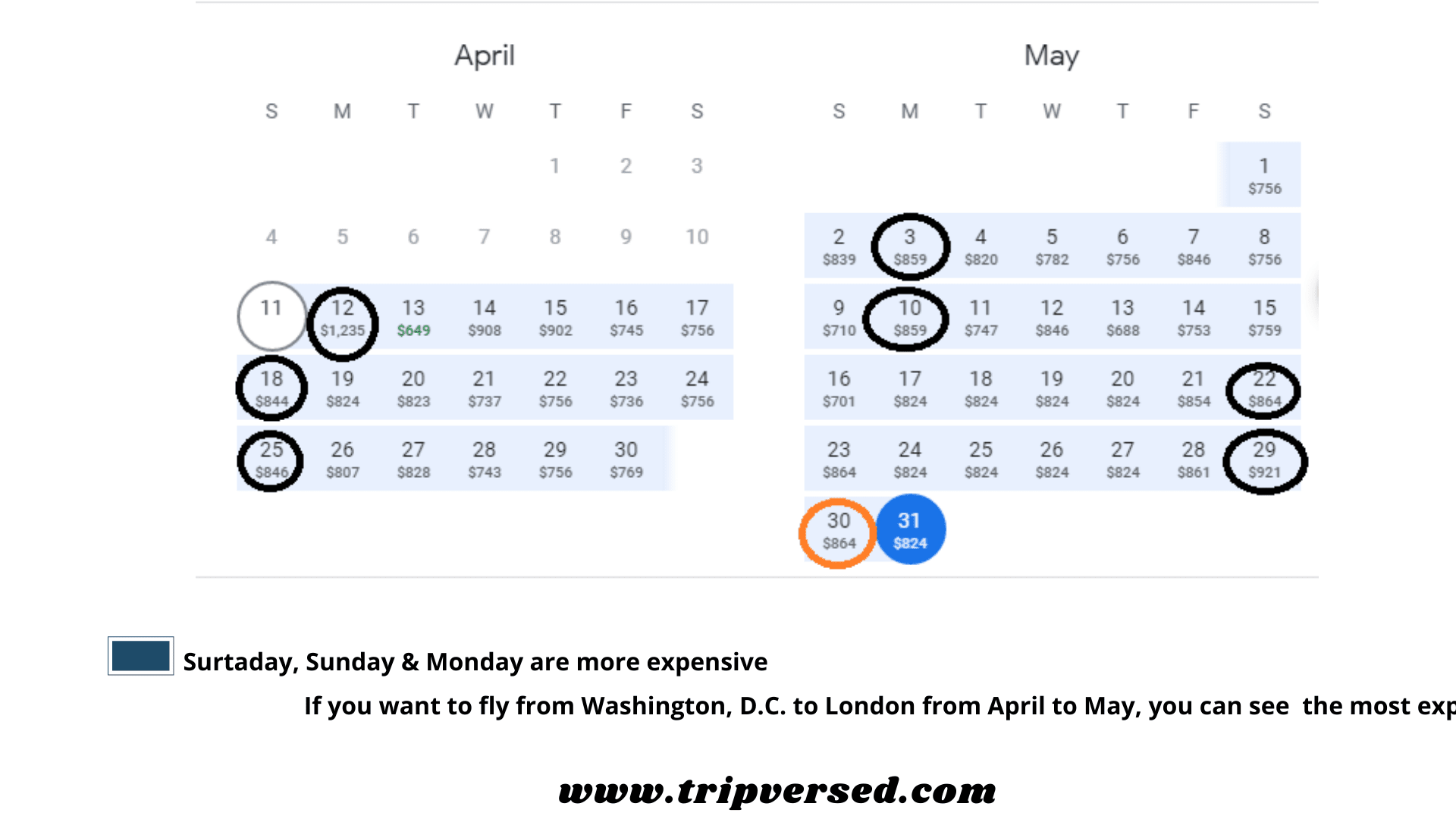 However, when it comes to the most expensive and cheapest days to book, no one straight rule can be applied when booking.
See the below image.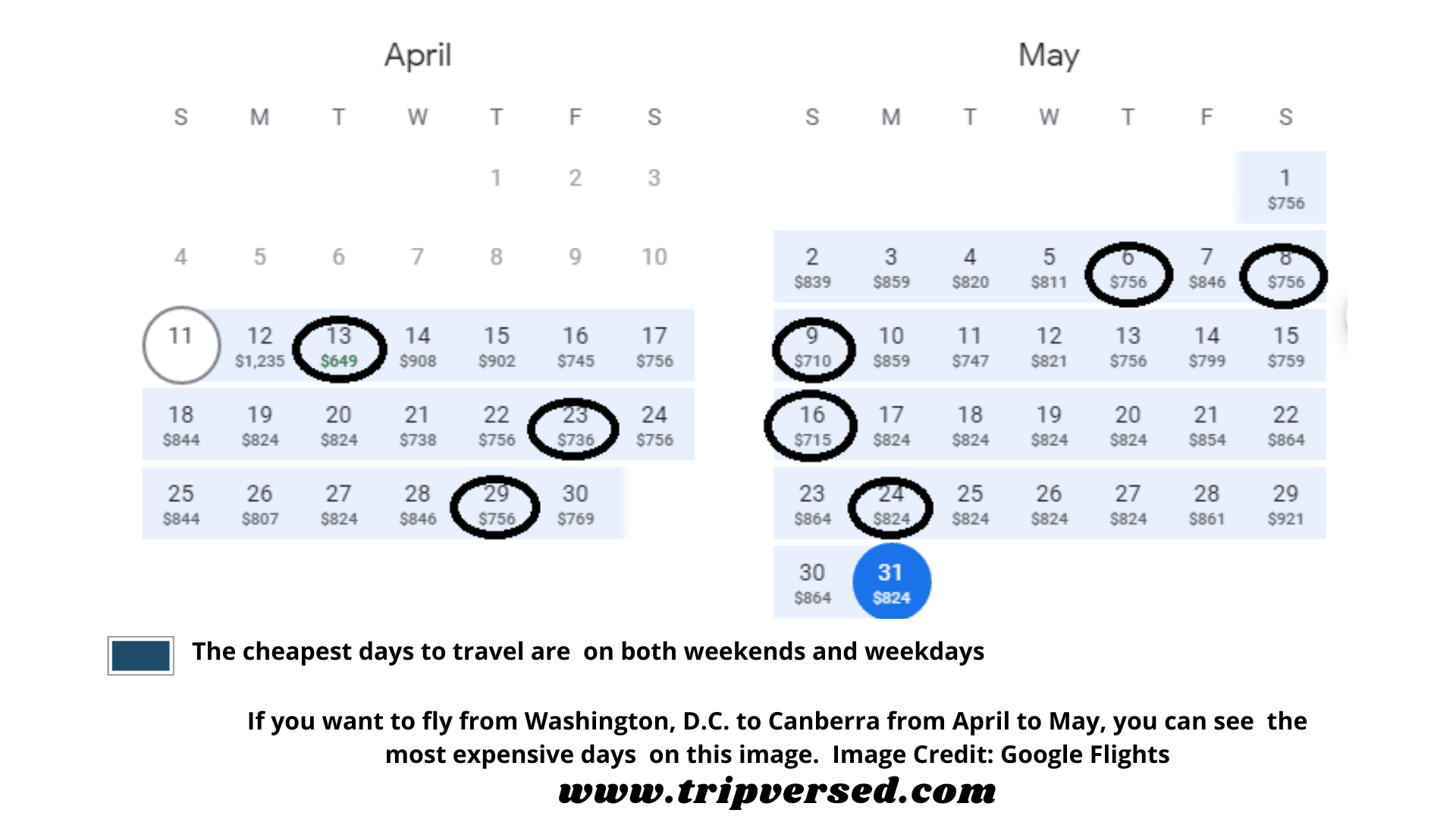 And this is why having a good travel app that instantly notifies you when cheap flights are available comes in handy.
More than 32% of travelers save up to 20% on flight tickets just by booking on the right day of the week.
See also: When Does It Make Sense To Fly VS Drive?
6. Fly with different airlines
Most airlines sell one-way tickets at reasonable prices. Therefore, it is possible to get cheaper one-way flight tickets via different airlines that offer cheaper rates.
That being said, Kiwi.com does a great job of combining many different flights and then creating alternative routes that will be cheaper when booked with other airlines.
You can save up to 28% of the total airfare when you travel to your destination on different airlines.
7. Take red-eye flights
Red-eye flights usually take off late at night and arrive early in the morning – taking off after 9 p.m. and arriving by 5 or 6 a.m.
These are the cheapest times to fly since they're on limited routes.
8. Be flexible
Booking connecting flights could potentially save you as much as $100 on a round-trip. However, you need to make sure that you leave enough time in between the flights just in case the first flight is delayed.
It is also worth mentioning that booking with different airlines may come with its fair share of risks. 
For instance, there could be risks of rescheduling or cancellation flights, resulting in the loss of more money along the way.
Allow me to explain further:
Let's assume you booked your first flight with Delta Air Lines, and for some reason, the flight got delayed, so you ended up missing your connecting flight with United Airlines. 
You would end up losing money in booked tickets because United Airlines has no obligation whatsoever to reschedule your flight for free.
Sometimes back, I used to wonder why some people preferred booking flights separately.
Which begged the question, Is it cheaper to book flights separately?
I, later on, discovered that, indeed, it could be cheaper to book flights separately. However, you will need to dedicate some time to researching the best airfares on different websites, to make a good decision.
Below is a comparison of booking round trips vs. One-way flights.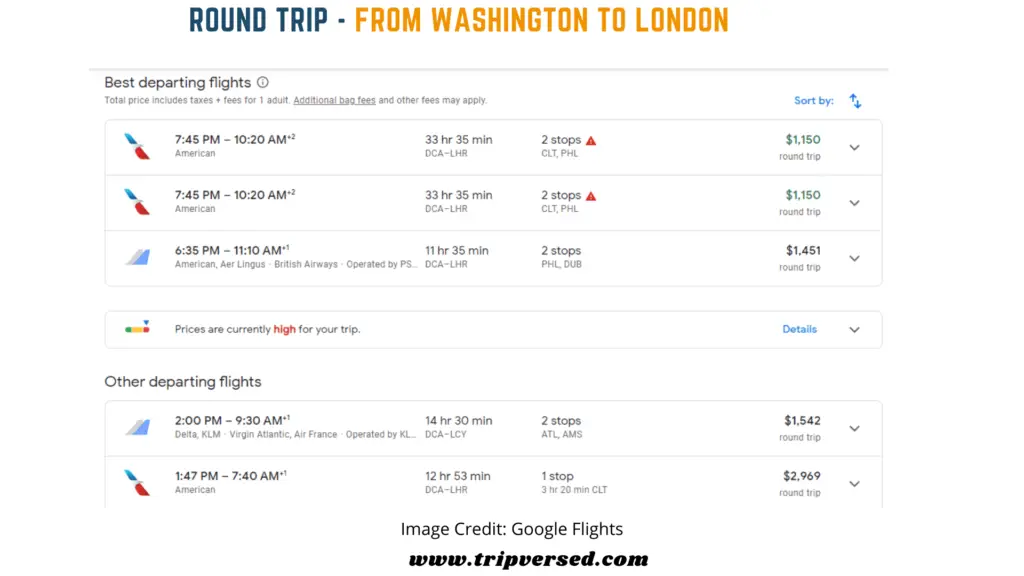 The cheapest flight for this trip starts at $1,451. Now, let's look at the other alternative of a one-way ticket for the same route and dates.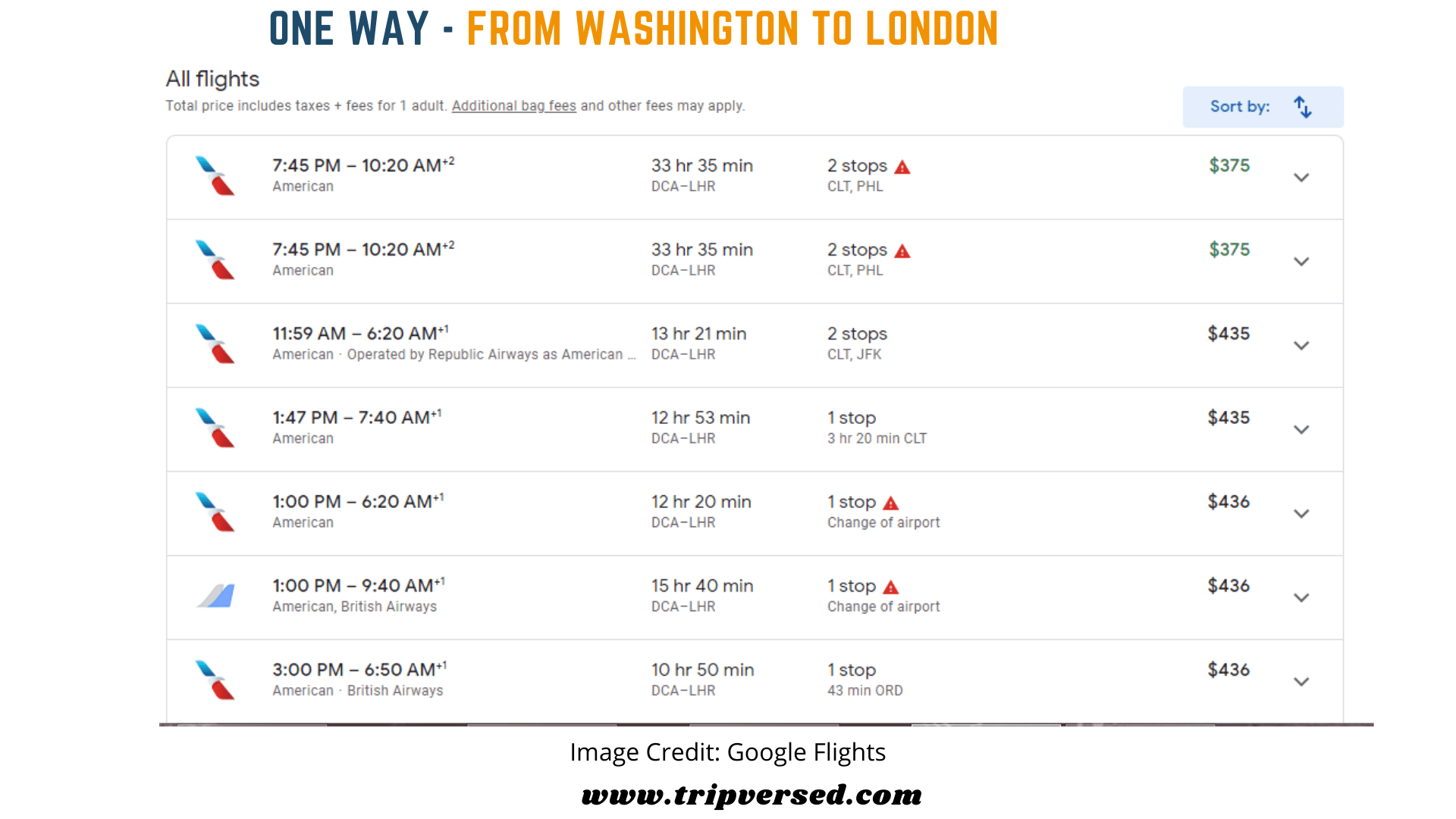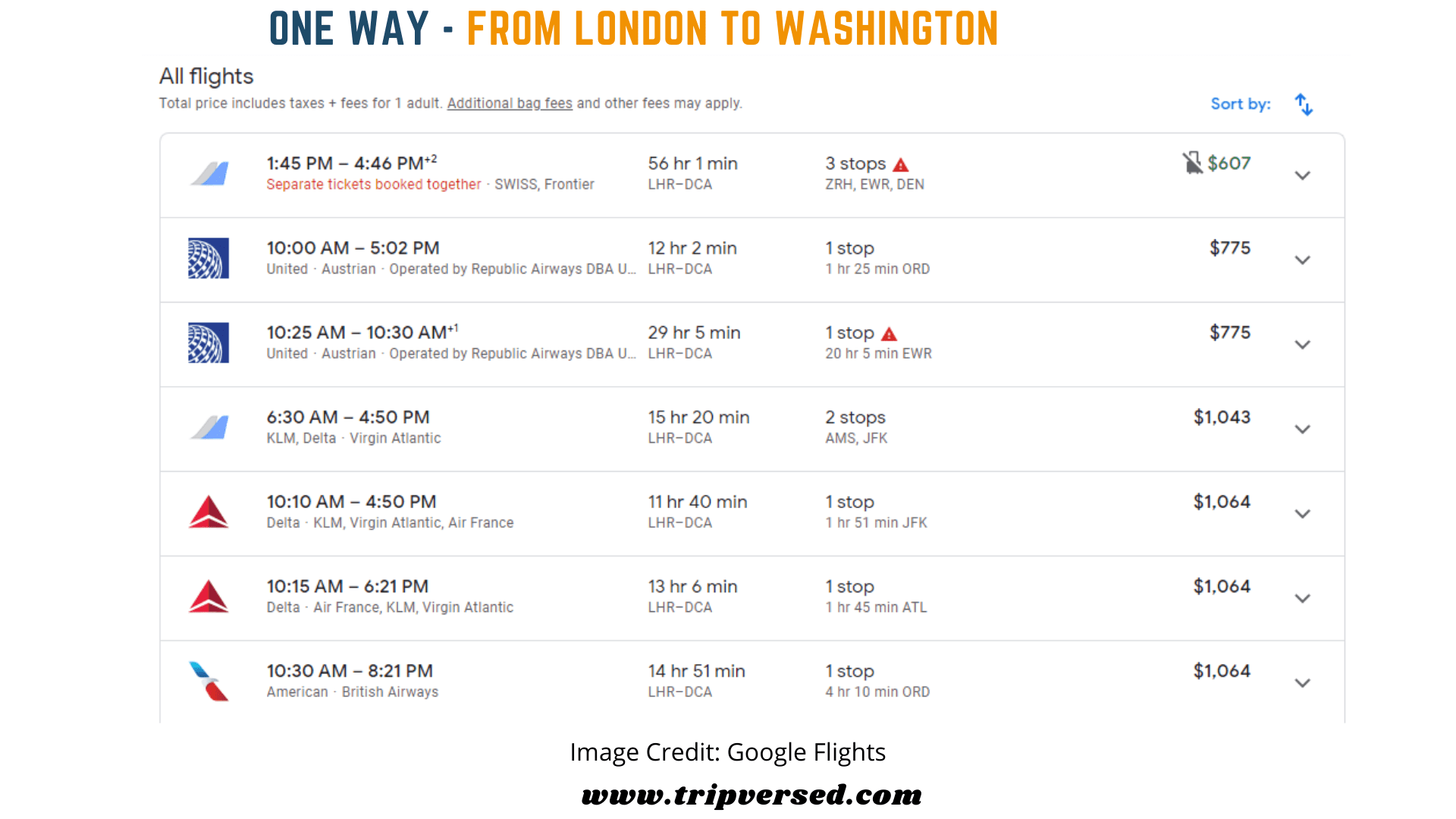 Summary
When you take the cheapest prices for the trip, that is;
From Washington to London = $375
From London to Washington = $607
Total Airfare = $982
Total Airfare for round trip = $1,451
Total Airfare for One-way = $982
So, you save: $1,451 – $982 = $469
This will require you to be flexible and be able to travel at any time (late at night or even very early in the morning).
You may also like How To Plan A Trip To Europe On A Budget (10 Top Tips).
9. Fly Early
According to the chief executive of FareCompare.com, Rick Seaney, the cheapest flight is typically the first flight of the morning.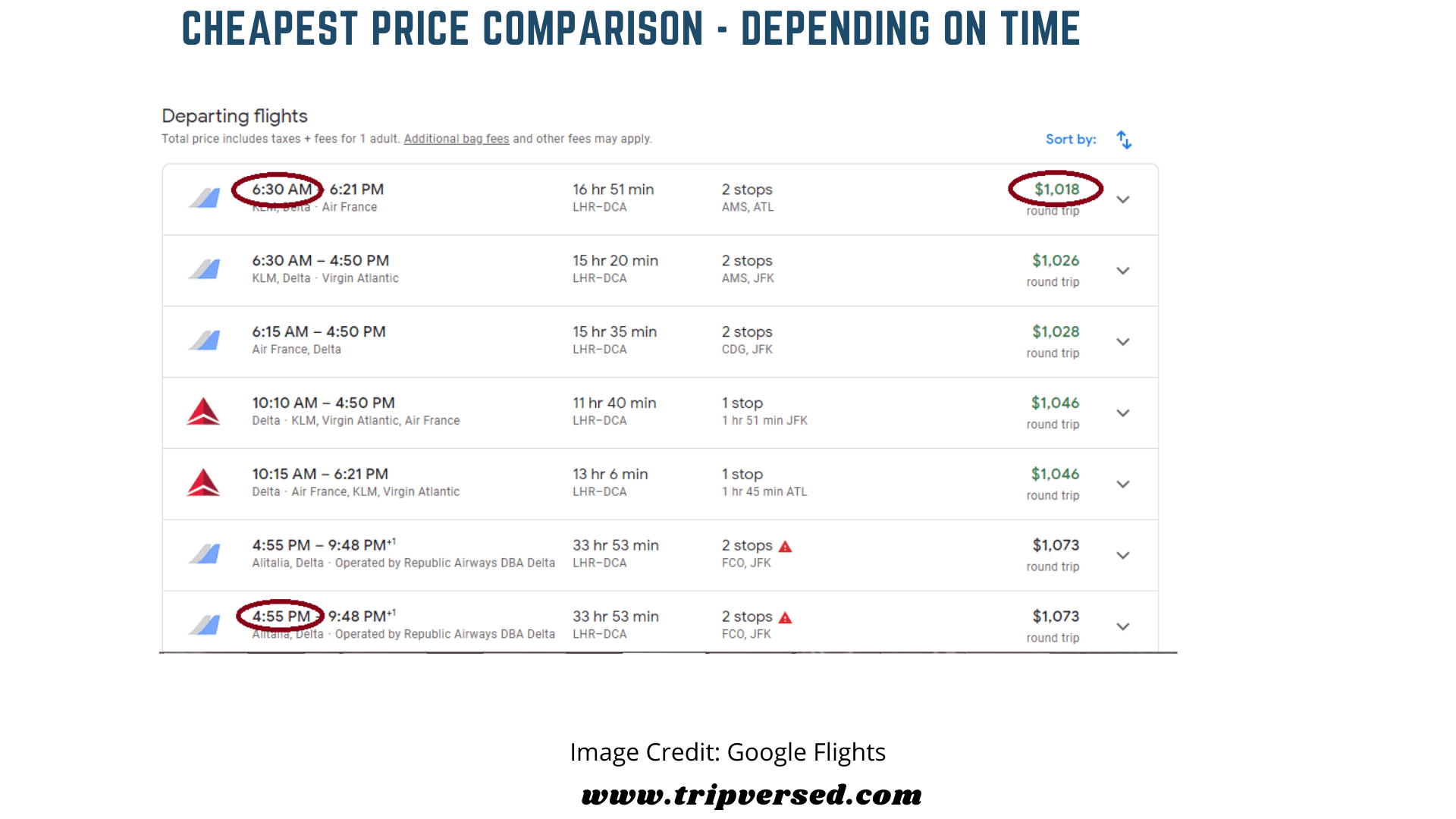 10. Book within 24 Hours from Departure
Sometimes, if a flight has many seats left within 24 hours from departure, airlines may most likely release a new batch of low ticket prices.
This mostly tends to happen on routes that have limited demand. However, the probability of this happening is 2 out of 10.
And in addition to that, this strategy is not always recommended because you also tend to have a limited time window to book the flight.
11. Stay alert for airline errors
Surprisingly, airlines sometimes make mistakes when posting their fares, which leads to seriously discounted flights.
This could happen due to various reasons, which include:
Currency conversion mishaps
Human error
Technical glitches
Omitted fuel fees and surcharges
The best and simplest way of finding these errors is by stalking the experts.
This involves conducting broad airfare searches, stalking discussion forums for the best deals, and signing up for flight email alerts.
Secret Flying, Scott's Cheap Flights, and Jack's Flights Club, to name a few, are some of the few that provide travelers with these airline errors.
About 3 in 10 people have at some point saved hundreds of dollars in tickets from airline error fares.
12. Book via Budget Airlines
To get cheap airfare, you could consider booking your flight tickets through budget airlines.
However, it's worth noting that booking via budget airlines may come with some disadvantages.
Some of the disadvantages of booking via budget airlines include:
Less legroom.
Less luxury as compared to traditional airlines.
You may incur extra charges, such as taxes, surcharges, and so on.
Some are located far from the big cities. Therefore, before booking always check the airport location. You don't want to end up spending more money to drive to the city.
It is also worth mentioning that if you decide to book via budget airlines, always make sure that you've also booked and paid for the luggage allowance, and beware of what you have paid for.
This is to avoid any surprises at the airport.
13. Stalk the airlines on social media
Some airlines post last-minute airfare deals on social media.
Stay alert and always watch out for these and other deals by following them on their social media pages.
For instance, check out this tweet from American Airlines.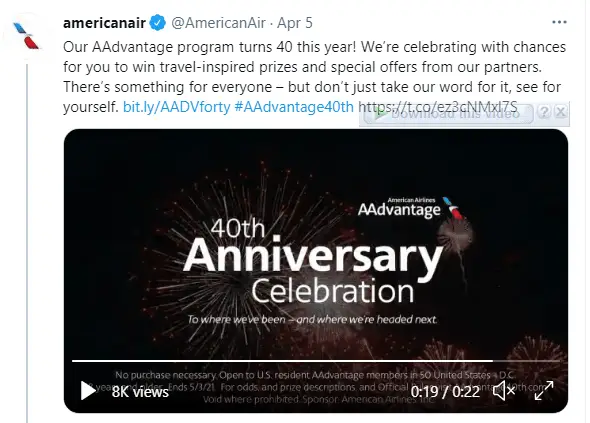 Quick Note:
Nowadays, there are so many fake

social

media accounts. So, to visit their genuine social media accounts, visit their websites and click on the social media icons provided.
14. Book via different currencies
Sometimes, it is cheaper when you pay for your air tickets using a different currency.
However, you should ensure that you're using a credit card that will not charge you any foreign transaction fees.
Best sites for last-minute flights
Google Flights
Secret Flying
Airfare Watchdog
Expedia
Last minute travel
Skyscanner
Scott's Cheap Flights
Jack's Flights Club
Kiwi.com

Secret Flying is a perfect site for last-minute travelers. This site helps you find unbelievable last-minute airfare deals across the globe nearly every day. 
And another thing, you don't need to sign up, pay for their services or worry about your online safety – it is safe to browse through the website.
Google flights allow you to get cheap last-minute flights in a matter of seconds.
All you need to do is visit Google flights and fill in your travel dates, departure, and destination.
You'll then need to scroll to find the cheapest flights to your specific travel destination.
The good news is, you get results in only a matter of seconds.
Airfare watchdog comes in handy when it comes to listing the last-minute travel deals from your home airport to any other preferred airport of your choosing. 
The website also notifies you of the last-minute airfare deals you may have been waiting for from their fare watcher alerts.
Additionally, the Airfare watchdog gives you an inside scoop on worldwide airfare deals.
But here is the thing, these deals usually last no longer than a few days. So it would be best if you typically travel within a few weeks of booking.
Expedia offers last-minute airfare deals to some domestic big city hubs. 
Not only is it free to become a member of Expedia, but you also get a chance of winning rewards on every booking you make through their site. 
And in addition to that, they also offer several ways to spend less while traveling, including a selection of cheap flight and hotel packages to help you save.
Last Minute Travel
This site does just like the name suggests – offer last-minute travel deals.
However, it does come with a membership fee of $50 per year for you to get access to exclusive members-only rates on airfares, best hotel deals, members-only rewards plans, and 24/7 assistance from travel experts.
And another good thing is that you can get airfare deals worth up to 60% off from this site.
But here is the thing, these great airfare deals do come with a catch, in that you have to book within 24 hours and travel within weeks.
Lastly, it is worth noting that these websites are not entirely or 'single-handedly' perfect for finding cheap last-minute airfare prices. Hence, it would be wise to rely upon different methods or websites for much better airfare comparisons.
Best apps for last-minute travelers
Hitlist.
Hitlist searches millions of flight prices in seconds to find you the cheapest flight from your local airport to your destination and gives you an automatic notification.
Next Flight (Supports iOS, Windows Phone, and Android)
This app is ideal for anyone looking to travel immediately. Next Flight allows you to fill in your in-flight details such as your origin, destination, and departure date.
The app then generates a list of all the available flights to that locale, along with the departure and arrival times.
The app also goes the extra mile to provide you with crucial terminal and gate information, especially when you're in a hurry.
Flight Board (Supports Android and iOS).
FlightBoard is great for last-minute travelers rushing to catch a plane, especially those looking for the next available flight out of a nearby airport.
FlightBoard allows travelers access to real-time flight status. It displays all the arrival and departure flights from more than 3000 airports.
The good thing is that FlightBoard updates their information every 5 minutes, thereby allowing travelers to get the real-time status of any flight.
mTrip (Supports Android and iOS).
mTrip offers travelers in-depth digital travel guides for dozens of popular destinations ranging from the fare, accommodations, restaurants, shops, and attractions.
Additionally, it gives them directions to local destinations on foot and by public transit, which can be accessed even when you are offline.
mTrip has unique features that allow you to create personalized itineraries, add notes and photos while traveling, and send digital podcasts to friends and family.
Travelzoo (Supports Android and iOS).
Travelzoo is mainly helpful to last-minute travelers looking for a local experience in a new town/city.
The good thing about Travelzoo is, the available local deals vouchers are sent directly to your phone.