Last Updated on January 9, 2023 by Rose Morah
Looking for a good travel app for your European travel in 2023?
This article provides a list of the best travel apps that will help you travel easily around Europe.
Related: Best European Train Booking Sites (Traveling By Train In Europe).
Best Travel apps for Europe
1. Rome2Rio
During my European tour, I found the Rome2Rio travel app very useful in finding routes. It also had many travel options – planes, trains, buses, cars, ferries, bikes, and so on.
It is a great planning tool that will help you get from point A to B without feeling overwhelmed.
The app is quite handy. It helped me choose between different transport options, plan my routes and get an idea of how much I would to spend on ticket prices.
For instance, as you can see in the image below if I wanted to travel from Paris to Rome, Rome2Rio gives me the fastest and cheapest ways to get there.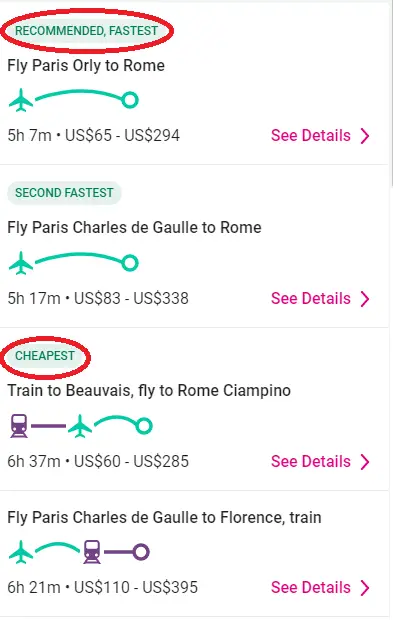 Additionally, they also give you places to stay at your destination together with the ratings.
See also:
Traveling By Bus To Mexico From The US – Best Tips.
Worst Transportation Means In South America For Tourists And Backpackers.
2. Citymapper app
Citymapper app is another great travel app that makes it easy for you to travel to different cities by buses, trams, subways, and e.t.c in Europe.
It is great for navigating public transport as it covers all of Europe.
For instance, let's assume you are in Instanbul and want to go from Paris Garden Hotel Istanbul to Paris Oto.
You just need to add your starting and endpoint. In this case, our starting point will be Paris Garden Hotel Istanbul and Paris Oto will be the endpoint.
The app will give you the number of minutes it will take you to walk, cycle, or take a cab to Paris Oto. Additionally, it has a map view of the direction.
See the below images.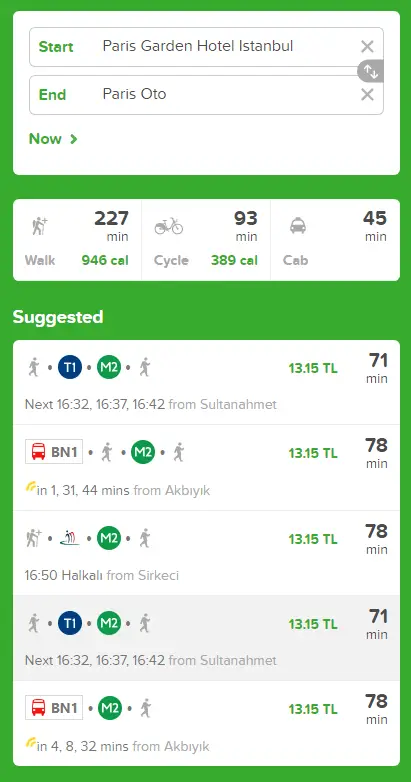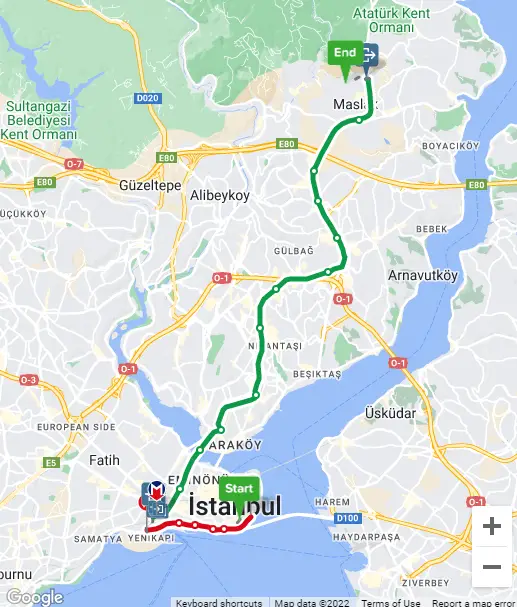 3. Trainline
If you plan to use trains and buses to travel across different cities, towns, and countries in Europe, Trainline is a great apps for that purpose.
You can use Trainline to book train tickets from the different rail companies in Europe and to compare the prices.
4. TrainPal 
TrainPal is another great alternative to Trainline. However, TrainPal is different because you can book trains and coaches at a cheaper price when you search for tickets through their split tickets feature.
And for better prices, I recommend that you book early in advance, like 3 weeks before.
You may also like:
Which Japan Rail Pass Should You Get (Complete Guide)?
Where to Buy a Japan Rail Pass (A Tourist Guide).
5. TripIt
I have used TripIt when traveling to so many destinations because it is one of those travel apps that helps you stay organized when traveling.
In fact, it is the best app for travelers with many details to keep track of such as trains, flights, buses, car rental, accommodation, and other activities.
It basically keeps all your travel information in one place and the best part is that you don't have to enter all the information manually. You only need to forward the confirmation emails of your bookings.
Additionally, I also love the fact that you can set reminders and alerts. I consider this a great feature in a travel app, especially if you are a busy person who tends to forget easily.
All the best!