Last Updated on November 2, 2022 by Rose Morah
The following are some of the best motorcycle trip planner apps/ websites to help you plan your motorcycle road trips.
1. Motorcycle Roads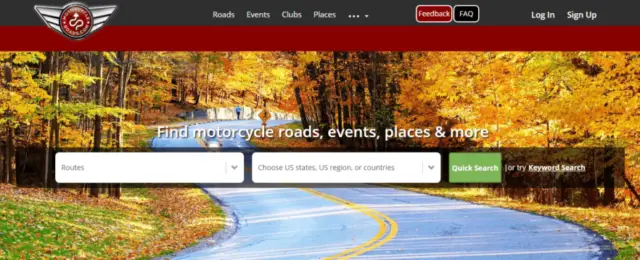 If you want to get great riding routes inspiration for your next motorcycle road trip, you need to visit motorcycleroads.com. 
As a rider, nothing feels more inspiring than discovering new great routes for your motorcycle road tours.
So what makes motorcycleroads.com different?
They don't just give you the best routes for your road trip. They allow you to choose the state or country you intend to tour, then they give you a list of motorcycle routes.
Here are the main 3 things that I love about the site:
You can easily filter the best motorcycle routes from their overall ratings based on scenery, ride enjoyment, and tourism opportunities.
Personally, I consider this a great aspect because every rider knows what they want on a motorcycle road trip.
For instance, if you are looking to enjoy beautiful scenery, you'd choose routes with excellent scenery ratings. 
And if you're looking for great and comfortable riding roads for motorcycles, you'll then go for the riding enjoyment.
For those riders who prefer camping out on a motorcycle road tour, Motorcycle Roads got you covered.
You only need to do a quick search of your routes for the best camping grounds.
Anything can happen while riding your motorcycle. By anything, I mean punctures or accidents that may damage your bike.
No need to panic as within just a few minutes, you can do a quick search on their site indicating where you are, and it will give you a list of dealers/mechanics near you.
You may also like:
How To Prepare And Ride a Sportbike on a Long Road Trip.
Motorcycle‌ ‌Road Tour Across‌ ‌America‌‌-Best‌ ‌Advice‌ ‌And‌ ‌Tips‌ ‌
2. Eagle Rider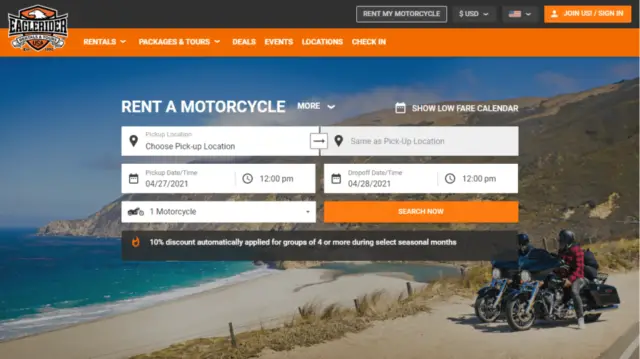 If you wish to go on a motorcycle road tour without the worry of planning the itinerary and accommodation, then look no further.
Eaglerider has got that covered.
What I love most about eaglerider.com.
I get to search for motorcycle tours.
I can choose between guided motorcycle tours and self-drive motorcycle tours.
It saves time if you want to plan your whole itinerary or plan on renting. Eaglerider.com offers a complete package (Bike+Hotel+Route).
See also:
Roadtrippers vs Wanderlog Travel App (Which One Is Better?)
 10 Best Road Trip Planner Apps/Websites.
3. Ride Expeditions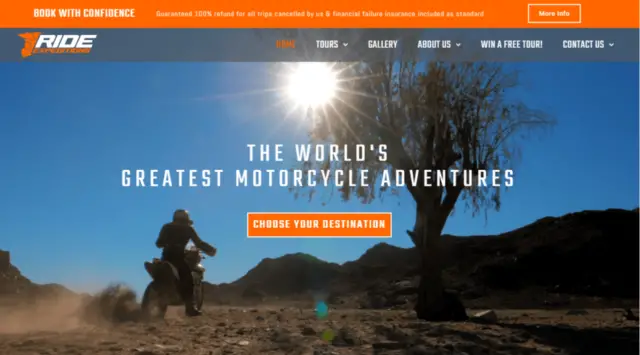 If you are looking for motorcycle travel adventure inspiration Rideexpedictions.com is the site to visit.
And if you are an adventure rider, you probably know that it is not always about the route, bike, or destination. It is a combination of all these!
This is what rideexpeditions.com offers riders. 
What I love most about this site
They have great touring packages, and if you like, they can do everything for you, including transport, accommodation, luggage, bike maintenance e.t.c leaving you with only one thing, to show up at the airport! How cool is that?
You get to meet other free spirit riders across different countries and continents.
They always have offers, deals, and prizes, including a chance to win free tours.