I have slept countless times at truck stops, especially when going on long car road trips.
However, my first time sleeping at a truck stop felt like the longest night! I was worried about my safety, was clueless about sleeping in the truck stops, and the noise was just so unbearable.
Out of my experience sleeping at truck stops and what I have learned from other travelers, I have shared this article to help guide anyone planning to sleep in the car at a truck stop.
What is a Truck Stop?
Trucks stops are places where truckers usually sleep. The stops have gas pumps and diesel for trucks (It is like a big gas station). They have a lot of parking for the trucks and showers for drivers. Often, the parking is free, but if you want to shower, you will have to pay. 
But first, is it legal to sleep in the car at a truck stop?
Yes, it is legal to sleep in your car at a truck stop. But there are a few things that you need to know, which I have explained in detail in this article.
Related:
Is It Legal to Sleep in a Car in the US?
11 Best Cars To Sleep In (Tips From Avid Campers).
Is it safe to sleep in the car at a truck stop?
Yes, it is safe provided that you follow the safety tips which we have discussed below.
Out of the many times I have slept in a car at a truck stop, I have experienced only two episodes of insecurity. This is like 2 out of 10, which has never stopped me from sleeping at a truck stop.
Safety tips when sleeping in the car at a truck stop
Be friendly to other truck drivers, don't be mean! 
Truckers will always help you in case of anything. Most of the time, they will not let anyone harm you in case of anything.
If you are a lady, do not try befriending them. Just mind your own business but don't be mean to them. You might need them! Take it from me, a fellow lady. 
Pack close to security cameras.
Before you park your car to sleep, ensure that you get a good spot with video/security cameras. 
Anyone who might want to harm you during the night will be scared because of the cameras. 
But what if they cover their faces? Most of them will fear taking a chance on you.
Do not park at the darker side of the truck stops.
Park in a brightly lit spot where you will see everything happening around you. Just in case you hear some funny sounds while sleeping during the night. 
When you are asleep, if someone tries to open your doors, the truckers will spot them and come to your rescue. This happened to me once. 
Carry a self-defense device.
For your peace of mind and a better night's sleep, carry something that you will use to defend yourself in case of anything. Personally, this came in handy at one point. So when I am traveling solo, I always make sure I have a self-defense device.
The following are the best self-defense devices;
Personally, I use this pepper spray. It hurts like HELL! I always feel safer while having it.
I have a brighter color because I easily find it in the dark.
You can check it out on Amazon.
Electric Tizzer and Stun gun.
I use the stun gun below. With this, you can easily get someone on their knees in under 5 minutes.
You can check it out on Amazon.
Related: Can You Sleep In Your Car In A Parking Lot?
How to Find Truck Stops for an overnight sleep in your Car
I use many different ways to find truck stops for a night's sleep in the car after driving for long hours. 
The following are places I get truck stops near me;
Allstays allow you to see the truck stops depending on your location (State/City).
I also love it because it shows me the number of parking spaces on a track stop and its location. 
See the screenshot below;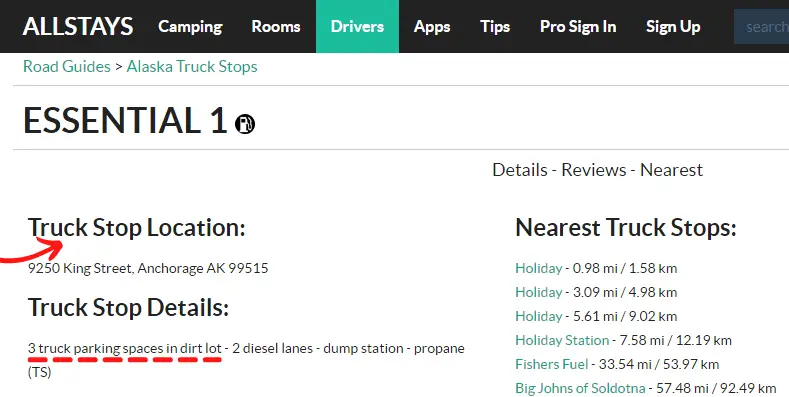 I also use RV Parky to show me other alternative truck stops and rest areas near me/ on my route.
See the screenshot below;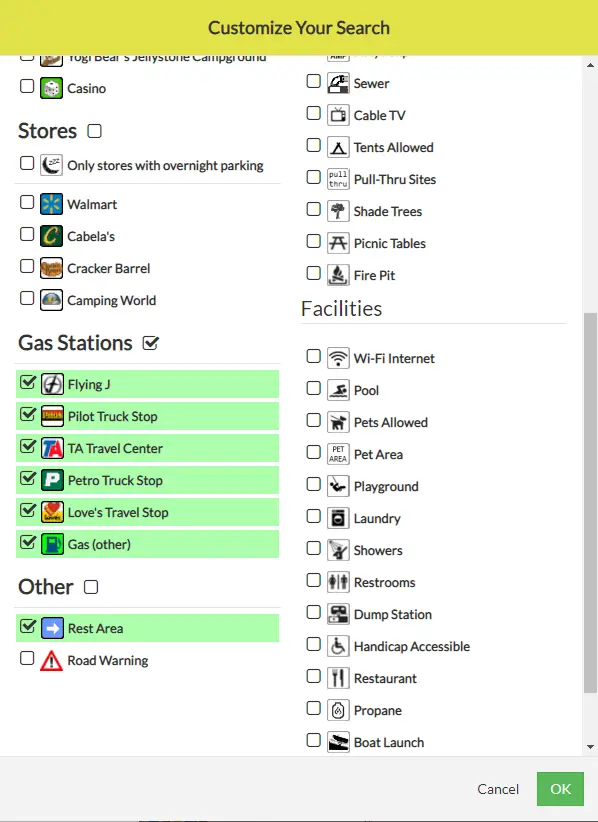 Truckstop parking rules
Do not pack at a trucker's spot. 
Before you park your car, make sure that you have parked it at the right spot by reading the parking signs or asking around.
Be certain that you are allowed to park your car at the track stop.
If you are not sure, go inside and ask before you park to avoid problems.
Do not be noisy.
Remember that most truckers park at these truck stops to get some good sleep before hitting the road. So, do not be noisy.
Tips for Sleeping in your Car at a Truck Stop
Get a windshield sun reflector or car curtains.
If it is impossible to sleep because of the bright lights from outside, then this blocks the outside light and helps keep your car darker on the inside for better sleep. 
Park directly under the light.
For better visibility of the outside of your car, be sure to park directly under the light. This also means that the light will not directly hit you through the windows into your eyes as you sleep.
Carry warm sleeping gear.
It gets really cold in the car at night, unless you are driving a Tesla. Some places may be freezing cold, and it can be stressful to wake up every hour to heat the cabin. 
So, be sure to carry your warm/winter sleeping gear.
Related:
How to Sleep in a Car During Winter (5 Things You Should Know).
How To Camp In A Tesla Like A Pro! (Tesla Camping Tips).
Have a Plan B.
As mentioned earlier, sometimes, it can be hard to find a parking spot at these truck stops. 
Therefore, I recommend always having a plan B, especially if you know you will be driving for long hours. 
It is unsafe to drive when fatigued, but what if you don't find a space at a truck stop?
Alternatively, you can search for a travel and welcome center to crash for a few hours before hitting the road again. 
Plan your route
Always plan your route before you go on a road trip or long drive.
Planning your route means;
Use a route planner to help you know how many miles you will cover on your trip and add stopovers on your route.
Research in advance the number of truck stops in your route and how far apart they are from each other.
Reading online reviews to help you know how safe you are when sleeping at the truck stops and if there is anything to be worried about.
See also: How To Plan A Solo Road Trip (Solo Road Trip Tips).
Advantages of sleeping in your car at a truck stop
It is free.
Most of these truck stops, if not all, do not charge you to park and sleep in your car.
Safer.
It is safer to sleep at truck stops than at rest areas or a random parking lot. 
I remember when I was doing a road trip in Indiana, I slept peacefully because the police were patrolling the truck stop almost all night. They would come in and out. This felt very safe!
Shower.
What I love most about sleeping in the car at a truck stop is that you can take a quick shower when you wake up. You will be feeling very fresh before setting off!
However, this is not free, but it is cheap and will not cost you much.
Breakfast.
Most of these truck stops have basic facilities like food/drink takeaways. I love it because, normally, I like to take my breakfast first thing in the morning when I wake up. I hate driving on an empty stomach.
Disadvantages of sleeping in your car at a truck stop
Noisy.
It can get very noisy, which makes it hard to sleep in your car. This is because truck stops are usually very busy with vehicles coming in and out.
It can be smelly.
Some parking spots at the truck stops are usually located next to the garbage. 
Cold.
It can get freezing cold during the night, especially if you sleep during the cold/winter season.
Uncomfortable.
It can be very uncomfortable sleeping in the car unless you have invested in good sleeping gear.
You will miss your bed so bad! I recommend that if you are going for more than a 3-day road trip, make sure that you sleep at least once in bed on your road trip. 
Though you might think you don't need it, your body will need it.