Last Updated on February 24, 2023 by Rose Morah
My wife and I have camped for more than 15 nights in our Teslas this year. We are frequent road trippers and own Tesla Model 3 and S.  
Though we now enjoy camping in our Teslas, I must admit that our first camping nights weren't as great.
On our first camping road trip, we went from coast to coast camping the whole way. We felt like zombies by the time we were back home.
Why?
We simply did not know how to plan, enjoy and maximize our camping experience.
In this article, I'll share some of the best Tesla camping tips to help you plan your overnight stay in your Tesla.
But first, here is a quick look at a few advantages of sleeping in a tesla.
Saves money. No need to book a hotel. You can comfortably sleep in your Tesla.
Minimal setup. It does not take up much time to set up your camping area. This is great, especially if you're tired after a long drive.
It is comfortable. It is quieter, has fewer bugs, and is warm( you can control your temperature).
Tesla camping tips
NB: These Tesla camping tips will help you from time to time, even if you are not camping in a Tesla!
1. Manually Lock your doors on your screen
If you plan to sleep in your Tesla, ensure you manually lock it. The doors typically stay unlocked until you lock them manually.
To Prevent people from opening your doors while you are asleep, turn off Bluetooth on your phone. This will prevent strangers from opening your doors from outside even when they are locked.

To Prevent the car alarm from going off when you open your doors in the middle of the night when going to the bathroom, remember to turn off your sentry mode and alarm.
2. Park your Tesla on level ground
For your comfort and safety, park your Tesla on level ground. Additionally, carry extra pillows to pad the small gap at the door panels when the seats are folded down.
3. Arrive with enough charge
It is always important to get to your camping destination with enough charge – at least above 20%. This is because the AC/heat will go off when your charge is below 20%.
Yeah, we could put in a setting allowing it to drop as low as 5%

— Elon Musk (@elonmusk) October 8, 2020
It is important to note that using a Tesla route planner app can significantly help you arrive at your destination with enough charge.
We have a detailed article about the best tesla trip planner apps. Be sure to check it out.
See also:
How Accurate Is The Tesla Trip Planner?
Cool and Must-Have Tesla Model 3 and Y Accessories.
4. Keep fresh air coming in and out of the car
Before sleeping, make sure that you have enough fresh air coming in and out of the car.
5. Mind where you park
If you are not camping at a reserved RV camping site, remember not to camp/park in a charging spot.
6. Keeping people off the car
If you are worried about people hanging out close to your Tesla, just flash your lights or honk. On most occasions…, they will just walk away.
7. Your safety when camping is important
Lastly, before choosing a camping area be sure to research or inquire about your safety when camping.
You might also like:
Read This Before Sleeping In A Car At A Truck Stop.
How To Determine The Cost Of A Tesla Road Trip.
28 Best and Must-have Road Trip Car Accessories.
What to consider before choosing/booking a Tesla camping site
Choosing a camping site can be a major headache not only for a Tesla owner planning a tesla camping road trip but also for different campers.
From experience, we have always preferred camping at RV sites due to the following reasons;
You can charge your Tesla as you sleep.
Some RV camping sites will give you discounts (just because your car is not an RV).
Hot shower baths.
Good bathroom facilities.
We usually don't have to worry about security.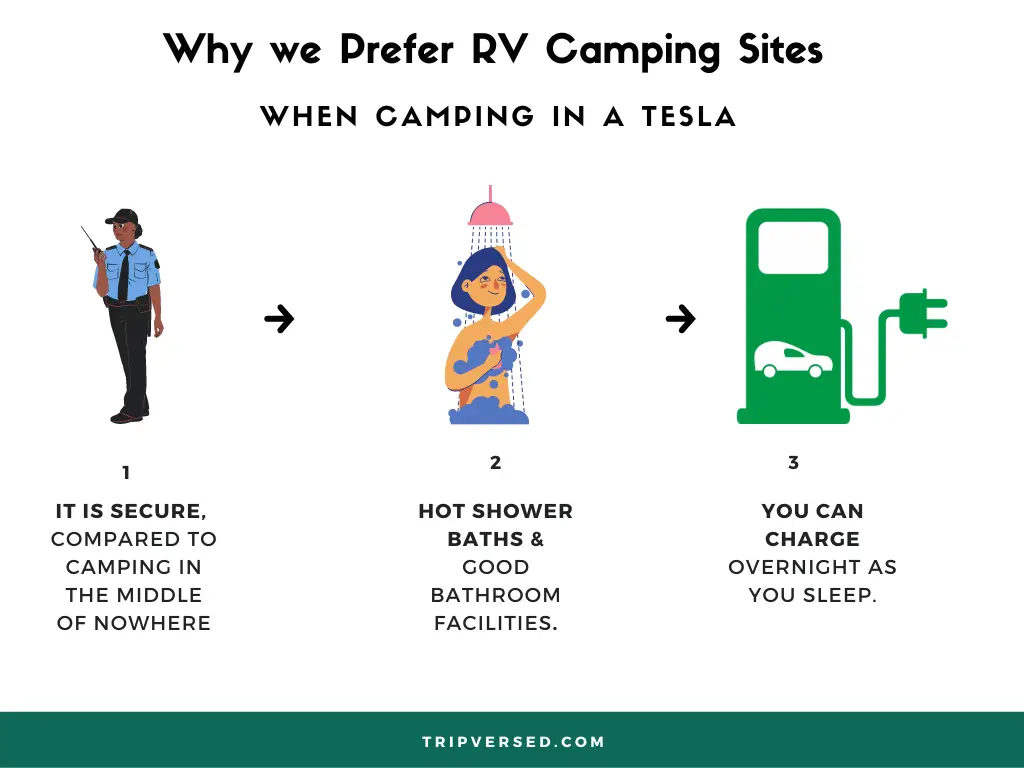 Related: 15 Best Portable Showers for Camping.
Tips for choosing the best tesla camping sites 
Call in advance to inquire what charge service is available. Personally, I prefer RV campsites that offer 50 amp service (though most of them have).
Check online reviews to get a better picture/info of the place. Some reviews will mention the bathroom facilities and security. This will be very helpful.
Always call ahead to make a reservation. This will guarantee you an overnight charge for your Tesla.
See also:
How to Sleep in a Car During Winter (5 Things You Should Know).
How to camp inside your tesla 
This is basically how we set up everything for a night's sleep in our Tesla.
1. Set up the cabin temperature
First, I set up the temperature of the cabin by turning on the "Keep climate control on" before I move the seats.
To make the process a lot easier and avoid setting it up every time, create a camping mode profile. You can check out more details about this in our article on Long distance Tesla Road Trip Tips.
If you are not camping alone, you will have to manually set everything up for the passenger side.  
N/B: Don't forget to set the floor vent for a better night's sleep. Additionally, if you want to charge your phone overnight, this would be the best time to plug it in before you fold the chairs.
2. Moving the seats
When moving your seats forward, make sure that you:
Clear the passenger footwell. This will prevent the seat from jamming when moving it forward.
Be careful when moving the seats too far forward because the top headrest may break the Tesla's mirror in the visor.
When camping on a Tesla Model 3, ensure the backs are completely upright then push the seats as far back as possible. This helps prevent the pillows from oozing down into the rear passenger's footwell.
3. Lay your Tesla mattress or memory foam topper
Before going on the road trip, set up and lay on your mattress/memory foam, especially if you are not sleeping alone. This will help you figure out how comfortable you will both be and perhaps adjust accordingly.
4. Put your slip ons below your head (in the backseat footwell)
This will be convenient, especially if you'll need to go to the bathroom in the middle of the night. 
5. Carry paper towels
They come in handy when you want to wipe off the dampness from the dew, dirt, and grit from the charging cable when packed outside overnight.
6. Carry a sleep mask
Carry a sleep mask or install window screens for a better night's sleep in your Tesla. This is mostly because of the surrounding lights. But, if you don't mind the lights then there's no need for these. 
7. Every space matters
For instance, you can use the back shelf to put glasses or water. We discovered that the back self is the best place for easier reach.
You might also like 10 Best Bike Racks For Cars and Trucks When Traveling (Recommend by Cyclists).
Tesla camping accessories
| | |
| --- | --- |
| | Tesla Camping Accessories |
| 1. | USB Humidifier |
| 2. | Inflatable Mattress |
| 3. | Car Curtains |
| 4. | Sunshade Side Windows Reflective Covers |
| 5. | Quarter Side Window Scoop Louvers |
| 6. | Glass Roof Sunshade Sunroof Cover |
| 7. | Center Screen Protector |
| 8. | Tesla Mat |
1. USB Humidifier
When camping in my Tesla, I use a USB humidifier to dry out and improve the quality of air in the cabin. I remember this was quite helpful when we were camping at Louisiana swamp.
I have used this USB humidifier for quite some time now, and I love it.
It is also portable, which means that I can take it anywhere with me, including in the office!
Check out its current price on Amazon.
2. Inflatable Tesla Mattress
To get the most out of your Tesla road trip, an inflatable Tesla mattress that perfectly fits your Tesla model is a must-have.
Check out what I use below.
It fits both our Tesla Model 3 and Model S better than other Tesla mattresses that we have used before. The bed is also great in other Tesla models.
It is also easy to keep the mattress inside the trunk's hidden compartment and it fits perfectly.
Check out its current price on Amazon.
3. Car Curtains
We all need privacy when sleeping in the car, either during the day or at night. 
Car curtains help create an impression that someone is in the car, even when there is no one inside, thus preventing people from stealing or scratching your car.
These magnet curtains below were quite helpful before I switched to tinted windows.
Installing them takes less than a minute.
Check out their current price on Amazon.
4. Sunshade Side Windows Reflective Covers
If car curtains are not your thing, you can consider these reflective covers.
They help reduce heat transmission into the car and give you privacy. No one will see what you are doing from the outside.
Check out their current price on Amazon.
See also: Pros and Cons of Hardshell Rooftop Tent (Buyers Guide).
5. Quarter Side Window Scoop Louvers
If you own a Tesla Model Y, this will be great for privacy.
They also help minimize the temperature inside the car and make your Tesla stand out in a good way.
Check out its current price on Amazon.
6. Glass Roof Sunshade Sunroof Cover
I bought these covers for my Tesla Model 3 because sometimes it gets too hot during the day.
When you park under the sun while charging, sometimes the temperatures reach high degrees in the car making it uncomfortable to rest or take a nap inside.
This cover is able to block the sun that comes in through your glass rooftop.
It also makes it comfortable to drive under the hot sun. 
Check out its latest price on Amazon.
7. Center Screen Protector
After buying our Tesla Model S, we never used a screen protector for the Tesla touch screen. After using it for months, it got scratches and started to look old. 
We later wished we had used a screen protector, which we installed on our Tesla Model 3. It now looks brand new!
You can use it together with the below screen cover to protect the screen from UV and scratches.
8. A Wireless Mouse
A wireless mouse makes it easy to control your touchscreen when sleeping from the back. 
This is because you may want to control the media and temperature without having to wake up.
9. Tesla floor mat
Tesla floor mat also plays an important role.  
Personally, I use this three-layered Tesla mat because of the following reasons;
It is dirtproof.
Protect the car from mud and snow when I'm going on long road trips with multiple stops.
It is also very durable – I have used it for over one year now and it still looks brand new and has not cracked or deformed like other Tesla mats that I have used before. 
Check out the current price of the Tesla floor mat on Amazon.