Last Updated on February 28, 2023 by Rose Morah
*This post may contain affiliate links. Please see our disclosure to learn more.
Accessories make your life easy and save you unimaginable costs that go into car maintenance.
Tesla accessories are no different. They help protect your Tesla and make this perfect car perfect for you.
In this article, we have compiled a list of some of the best and must-have Tesla accessories that make your car stand out.
1. Spigen Screen Protector
The Spigen screen protector is compatible with Tesla Model 3 and Y screens. You should get it immediately after getting your car. It perfectly fits the screen and helps minimize the light but still keeps the clarity. It is quick and easy to install.
The good thing is that it does not leave fingerprints or allow sunlight to glare on the screen.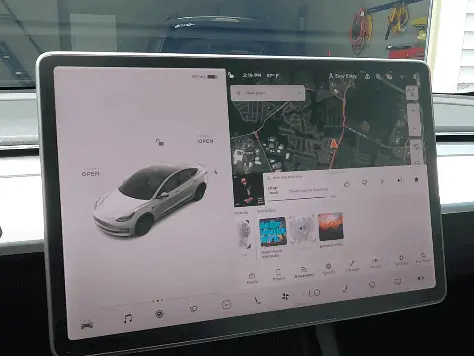 $39.99
2. Center Console Cup Holder Insert
Tesla cup holders are normally big for most water bottles and cups. The center console cup holder insert perfectly fits Tesla M 3 and Y's new center console.
In any case, you don't want any liquid spilling in the car while driving. The cup holder insert locks any can or bottle to prevent spillage and eliminate noise when the bottle shakes while driving.
It is also very easy to install.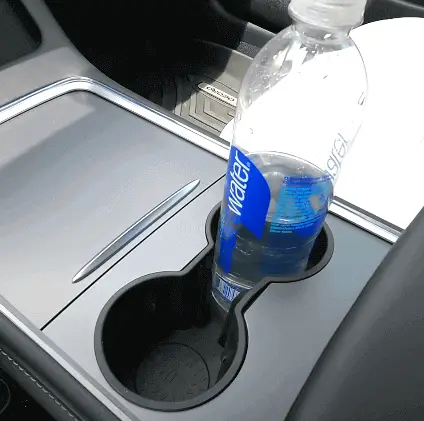 $19.99
Related: 12 Best Tesla Model X and S Accessories.
3. Wall charger holder
The wall charger holder helps keep your charging cable well-organized and off the ground when not in use. The charger head fits tightly into the slot.
It is also sturdy, holds the cord well, and prevents it from getting tangled.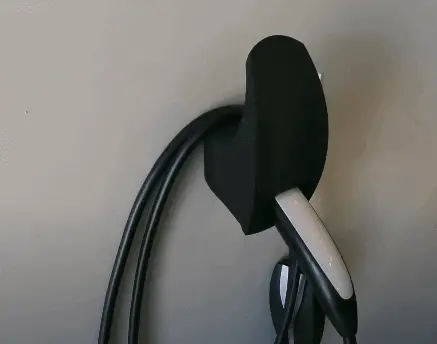 $19.99
4. Grocery Bag Hook
The grocery bag hook can easily hold 3 or more grocery bags after shopping. You only need to screw it onto the protruding bolt close to the trunk top.
Fits all Tesla M3. Its hooks are also longer and hence able to hold more bags.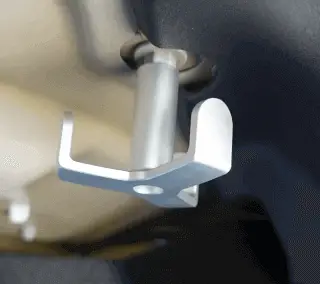 $23.99
5. Floor Mats
These mats fit perfectly in the car. They are all-weather and protect your vehicle from mud, dirt, and water spill both on the front and back seats.
They are anti-skidding and hence provide a strong grip. They are also easy to clean too and are compatible with Tesla M3.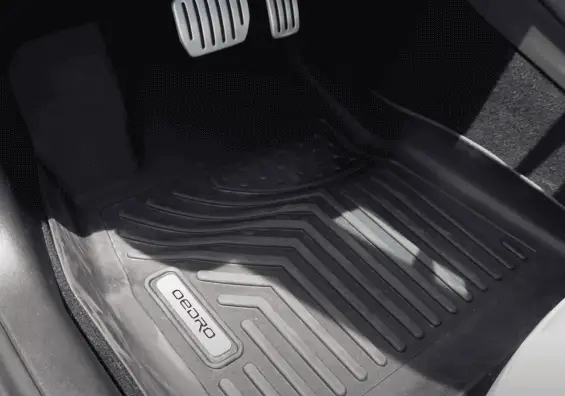 Car Seat Headrest Pillow
The car seat headrest offers you exceptional head and shoulder support, which makes your daily commutes and long road trips more enjoyable. 
They are designed for Tesla M3 and Y and do come in black and white leather material that perfectly matches the interior and the quality of your Tesla car seats
The pillow will definitely help improve your posture while driving, thereby reducing muscle tension and stress.
It is also very easy to install. 
See also: 28 Best and Must-have Road Trip Car Accessories.
6. Rear Trunk Organizer/Divider
The trunk divider fits Tesla Model 3 and Y. With a rear trunk divider, your small items will remain stuck in one corner and in an organized shape.
It perfectly matches the trunk material and interior. It is also quite affordable and easy to install.
Model 3 trunk organizer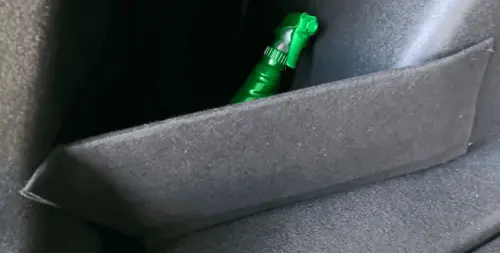 Model Y trunk organizer
$15.99
Model Y Trunk Storage Bins
This side storage bin provides great storage for your water bottles, cleaning supplies, or anything you don't want to spill in the truck while the car is moving.
That's because it is made of water-resistant rubber material.
The good thing is that it comes with a cover that locks in your stuff perfectly. It also matches the interior of the trunk.
$79.99
Glove Box Organizer 
This glove box organizer is designed for 2018 2019 2020 2021 Tesla M3 & Y. 
It helps keep the glove box less messy, all jumbled, and noisy. 
It also offers plenty of slots to stow your small and medium-sized items and is very easy to install.
$18.08
See also: 6 Must-Have EV Accessories (Best EV Accessories).
Under seat storage box
This under-seat storage is specific for Model Y. It provides great storage, especially for things that you like to keep close but out of sight.
N/B: Be sure not to adjust your seat too low, especially when you have floor mats. This will ensure that the tray slides out easily when you want to access any of your stuff.
$29.99
7. Garbage bag
Carrying a garbage bag is a convenient way to keep your car clean and looking tidy, especially when going on road trips.
This bag perfectly fits Model 3/Y. It also has a built-in LED light that lights up when you open it up. And the good thing is, it does not occupy space.
You will still have enough space for the legs without the bag falling off.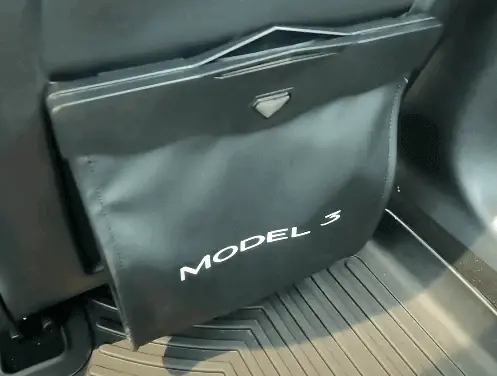 $19.99
Cordless Portable Vacuum
The cordless vacuum sucks in any dust and dirt around and under the seats, on the floor mats, and in hard-to-reach tight areas.
Its cordless design provides great mobility and convenience. It is also lightweight, hence easy to carry and store. 
It comes with front LED lights to lighten the darker areas of the car when vacuum cleaning. 
Mini Trash Bin
The mini trash bin holds small pieces of trash to help keep your car clean. It is fingerprint-resistant and stain-proof from its soft silicone material.
It does not scratch the car and is easy to clean.
It definitely does the trick.
See also: 7 Smart Long-distance Tesla Road Trip Tips.
8. Tesla lifting jack pads
The pads are able to support the weight of the car without crashing since they are made from solid rubber.
You risk damaging the battery pack and the chassis side skirts without the jack pads when raising the car to repair it or rotate the tires.
They are compatible with Tesla Model 3/S/X/Y.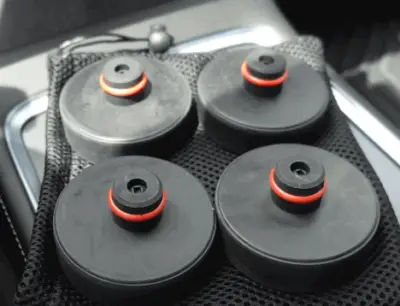 $19.99
9. 303 UV Protectant Spray
This spray helps protect your dash from the damaging effect of daily exposure to UV rays. It keeps your car looking new.
You just spray on and wipe to prevent fading and repel stains. Use it to clean your dash, windows, and seats. Spray on the surface and wipe it dry.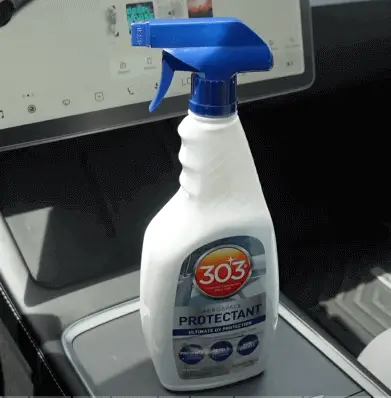 $22.79
10. Center Console Organizer Tray
The tray organizer fits perfectly in Model 3/Y. You would think it came with the car.
It is definitely a must-get if you want to keep your small items around the center console well organized.
It is easy to access and view your items. You only need to slide it in to get access to the low compartment.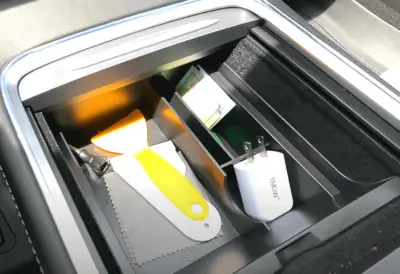 $9.99
The hidden storage is compatible with Models 3/Y. It increases the storage space and keeps your small private stuff away in a hidden place.
It is easy to install and open. You just need to pull its small protruding handle to open and push it back to close.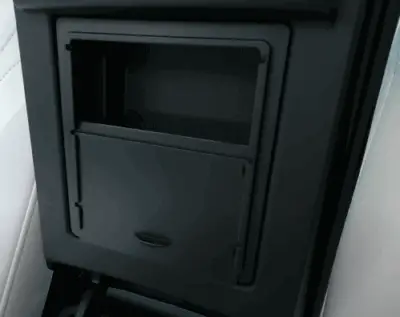 $16.99
Armrest Padding
This Model Y/3 armrest padding helps protect and make your elbow feel comfortable when driving, especially when going on long road trips.
$32.99
12. Phone Mount
So far my favorite accessory. It grabs the phone and opens when you pick the phone.
It is also quick and easy to install without messing up the dash and perfectly blends with the background color.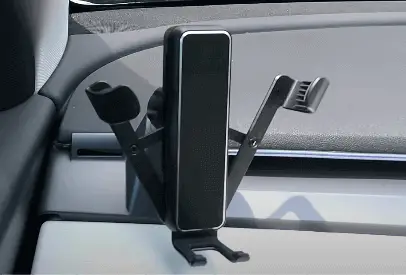 $27.99
Tablet Mount
The tablet holder is perfect for entertaining kids and your passengers in the back seat during a road trip.
It is compatible with a variety of tablets and smartphones. It holds them firmly in place without wobbling when the car is moving.
It can also be rotated at 360 degrees for the best viewing angle.
It only takes a few seconds to install and fits Tesla Model 3 and Y.
$16.99
13. Steering wheel desk
The steering wheel desk lets you eat and work while inside your car. It enables you to create a small office inside your vehicle.
You can place your snacks or foods, and it will catch the cramps and spills.
$19.99
14. License Plate Frame
The frame protects the paint of your car from scratches. It does not scratch the vehicle when vibrating.
It helps eliminate the vibration noise that comes from the license plate. The good thing is, it does not rust or break like metal or plastic and does not block any of the prints or stickers on the plate.
This frame will make your car look very nice and sporty.
15. Door Lock Protector Cover
The caps protect the door locks of Model 3 and Y from corrosion and damage. They are straightforward to install without using any tools or glue and do not interfere with the door.
They also make the car look cool when you open the doors.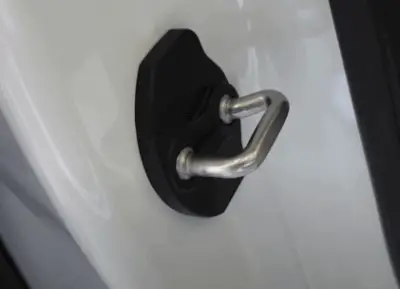 16. 15mm Rear Hub-centric Spacers
They push the tires out a little bit in Tesla Model 3. Not a must-have, but they make your Tesla look cool, aggressive, and sporty.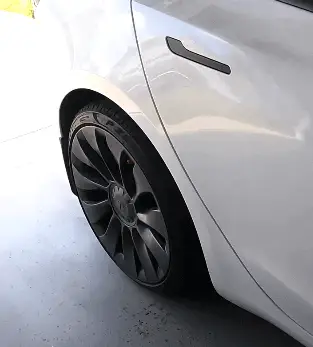 $109.99
17. Splash guard/ Mudflaps
They help protect your paint from snow, mud, small chips, and dirt splash that the wheels throw around, which causes corrosion. These are definitely must-have accessories for Tesla Model 3, especially when driving on unpaved roads.
They are made from strong, durable material, and no drilling is required when installing.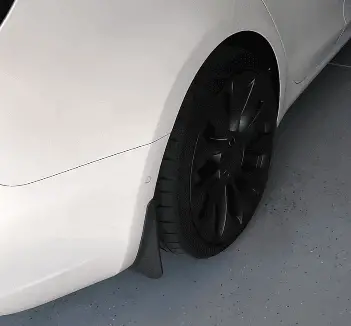 $29.99
See also: Best Tesla Winter Road trips Tips (According to Tesla Owners).
18. Intake Grille Protection Cover
The grille protection cover offers extra protection to your Tesla air intake from leaves and organic debris that blocks or clogs it, thereby keeping the airflow unobstructed.
It is easy to install and fits perfectly on Tesla Model 3.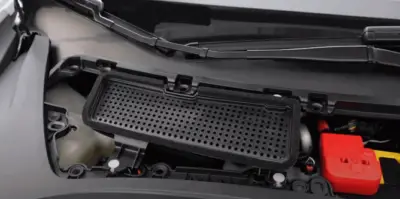 $19.99
Dog seat covers
Front seat covers
These covers fit perfectly in the front seat and fully wrap the side of the seat thus protecting it from scratches, dust, hair, dirt, and mess.
The covers come with an anti-slip and waterproof material to prevent water or urine penetration.
They are also easy to install (takes only about 30 seconds) and clean. 
The good thing is that they have adjustable straps to fasten around the seat to ensure that the covers fit snugly on the seat. They also come with front pockets.
Back seat covers
What I like about them is the fact that your seats will be spotless when you remove the covers. So, there will be no need to vacuum or clean them again.
They are also easy to clean and install. They will definitely protect your seats from scratches.
These covers will undoubtedly come in handy when taking your dog on a trip or if you're carrying items that would scratch or damage your seats.
$43.99
Armrest cover
It protects the armrest from pets' claws scratches, dirt, scuffs, and damage.
It fits the armrest like a glove. You won't even notice the difference before and after.
The cover is made of dust and water-resistant soft leather material. You would think it came with the car. It is also very easy to clean.
It fits model 3/Y perfectly.
$18.99
19. Carbon Fiber Steering Wheel Wrap
The carbon fiber steering wheel wraps help transform the interior of your Tesla and make it look aggressive, sporty, and different.
It fits perfectly in Model 3/Y and helps protect the steering wheel from damage. It will blend with the center console and the dash if you have a similar wrap.
They are also very easy to install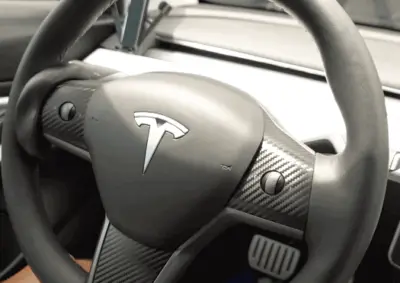 Screen Swivel Mount
The original Tesla touch screen is permanently fixed with no ability to turn right or left. With the Screen Swivel Mount installed, the navigation screen is able to rotate 30 degrees to the right and to the left. 
The screen swivel mount fits Tesla Model 3 2017 2018 2019 2020 2021 2022 and Tesla Model Y 2020-2021.
It helps improve safety and comfort and allows your passenger to conveniently view the screen when watching videos.
20. Dashboard cover wrap
The dash cover wrap protects your dash from scratches, cracking, fading, and dirt, and hides the previous damages.
It decreases the glare significantly and has a very clean look. It fits Tesla M3 and Y.
$59.99
Tesla Door Sill Protector 
The Tesla door sill protector protects your car's door sills from shoe scuffs, dirt, and scratches. This is especially when people don't lift their shoes up enough when climbing in and out of the car.
It is made of carbon fiber, which adds a more refined look that matches the dash and center console if they also have a similar style. 
It is lightweight, wear-resistant, and easy to install and clean. It sticks like gloves and you only need to wipe it with a microfiber towel to clean it. Available for M3 and Y.
Model Y Sill Protector:
$99.99
Model 3 Sill Protector:
21. Interior Lighting Upgrade
The light upgrade will be compatible with M3/Y/X/S but not with model 3 SR+.
The original Tesla lights are dim and dull. The interior light upgrades are well able to light up the dark places in the car, especially at night.
They are compatible with the trunk, frunk, puddle, footwell, and glove box lights. They are also quite easy to install.
They will definitely transform your interior.
22. LED Interior Lights
These lights are compatible with Tesla Model Y and 3 new center consoles. Not a must-have, but they are really cool, especially at night when you have them in the car.
They also do come with an app to change the color, brightness, and music mode.
$59.99
23. Frunk Organizer
The Model Y frunk organizer is very convenient and helps keep small items in the front trunk from rolling around when the car is moving.
It also keeps things organized and protects the frunk from any spillage.
$109.99
Frunk Organizer Insulation Bag
Alternatively, if you are carrying perishables, this bag will perfectly fit in your Model 3/X/Y 'frunk'. It is ideal for camping, picnics, tailgating, and during long road trips.
It also has extra pockets to store stuff like towels, can openers, or utensils.
$39.99
See also: How To Camp In A Tesla Like A Pro! (Tesla Camping Tips).
24. Trunk organizer
This trunk organizer is the most convenient way to organize the trunk and prevent items in the trunk from rolling around.
Has a tie-down strap system with adjustable straps to keep your grocery, cables, and other items in place while braking. It is also waterproof, collapsible, and has multiple compartments.
You can fold it in half or any size that you prefer. It is definitely handy to have when road-tripping, tailgating, camping, or on a picnic.
$29.99
Portable Refrigerator /Freezer
This portable fridge fits well in the trunk. The good thing is, it does not drain your car battery, which allows you to camp for an extended duration.
It is perfect for camping, road trips, and fishing.
It will definitely keep your food and drinks fresh and frozen without any need to buy ice.
$229.99
25. Chemical Guys speed wipes
The Chemical Guys Speed Wipe is an easy and quick way to clean your car. You just spray on and wipe with a microfibre cloth/ towel to remove dirt, fingerprints, and smudges.
It leaves your car shining and protected from UV rays. It also has a fresh cherry scent. And the good thing is, it does not leave the static cling for the dust to stick on.
It will make the painted exterior surfaces get a bright shine on any car.
$9.97
Invisible Air Freshener
This air freshener is discrete and nearly invisible. It perfectly fits Tesla Model 3 and Y's small lower vent gap, with every single stick lasting for about 3 to 4 weeks. 
It smells amazing and comes with a variety of scents. This invisible air freshener will completely make your rides fun and enjoyable.
It is also easy to install. You just need to unscrew the capsule cap, insert the scented refill into the capsule, then place the air freshener capsule into the lower vent. 
$14.99
Other exciting Tesla accessories
Model Y trunk cargo cover
$89.99
Cell phone mount
$39.99
Rotating phone mount with wireless charging
N/B: Charging is not compatible with most Samsung phones.
$73.00
1TB SanDisk for sentry mode
$98.99
M3/Y charger lock for J1772 Adapter
$12.93
Rechargeable LED light bar
$34.95
Emergency escape tool
N/b: It is a tempered-glass window breaker and has a jammed seatbelt cutter.
$17.95
Car seat organizer (great when traveling)
$32.95
100ft extension cord
$88.58
Snow socks
N/b: This is a great tire chains alternative.
$109.95
Soundproof seal kit for noise reduction (Model Y)
$49.99