Last Updated on February 24, 2023 by Rose Morah
Taking a road trip in a Tesla, whether for the first time or as an experienced Tesla owner, can both be exciting and daunting.
I mean, road trips with Teslas are amazing, but they can also be quite challenging, especially if it's your first time.
But that does not necessarily mean that you can't fully enjoy your Tesla road trip.
In fact, with just a few tips and tricks before and during the trip, you will be able to make your road trip with your Tesla as 'normal' as any other.
So, the following are tips for going on a road trip with your Tesla:
Related: The best Tesla trip planner app.
1. Choose your charging stations wisely
First of all, Tesla Superchargers make a long road trip possible. Planning your charging stops well helps save you time and ensure that you enjoy your trip.
There are great apps that can help plan your charging stops wisely. The in-built tesla route planner app works well, but there are also other alternatives.
The following are some of the best tesla route planner apps available for long road trips.
Route Planner-App
Main Features
A Better Route Planner (ABRP) – Latest version 4.0.47
It provides users with the following features:

i) Real-Time traffic – this will help give you realistic driving times and avoid traffic or closed roads.
ii) Gives you real-time weather and weather forecast – to help plan your road trip wisely.
iii) It has worldwide coverage and gives users live Tesla Supercharger availability.
iv) It gives you alternative plans as you drive, hence a better experience.

Plugshare
(i) It gives you over 180,000 charging stations in Canada and the USA and over 275,000 charging stations worldwide.

(ii) It allows you to monitor your charging sessions within the app.

 (iii) It helps you find routes and hotels that have destination chargers. So, you can wake up with a full charge.



Related: ABRP Vs Plugshare: Which One is The Best EV Trip Planner App?
We also have a detailed article about the best Tesla route planner based on the Tesla owners who have actually used these apps before.
Having a good charging stops plan gives you a better road trip experience. 
But what does it mean to plan wisely?
By taking a look at the Charging Locations on the map to your destination, you can start by choosing those with exciting detours.
Related: Smart Tips for Planning A Road Trip With An EV.
See also:
Reasons Why Your Tesla Is Charging Slow At A Supercharger.
Choosing great spots along the highway as your charging stops is fun when traveling as a couple but also with kids.
Another advantage of planning your charging stops is, you have the opportunity to choose/book a hotel or a vacation rental where you can freely charge overnight while you rest. 
Hence, you wake up the following day ready for your next leg and with a full charge.
NOTE:
1. When planning your lunch/dinner charging stops make sure the restaurants are within walking distance from the charging station.

2. When planning your trips during the cold seasons, you may need to allow yourself extra charging time because the battery may take longer to charge.
Check out these 5 Tesla Supercharging Tips To Speed Up Your Charging Time On A Road Trip.
See also: Is Tesla Full Self Drive Worth It?
2. Inspect your tires before the road trip
Before embarking on your journey, it is vital to inspect your tires for cuts, foreign objects, or bulges. 
First, you can do this by checking the Tire and Loading Information label on the center door pillar, visible when you open the door.
And should you notice any issues, schedule a service appointment via your Tesla app.
The label will also confirm the size of your tires and the correct tire pressure.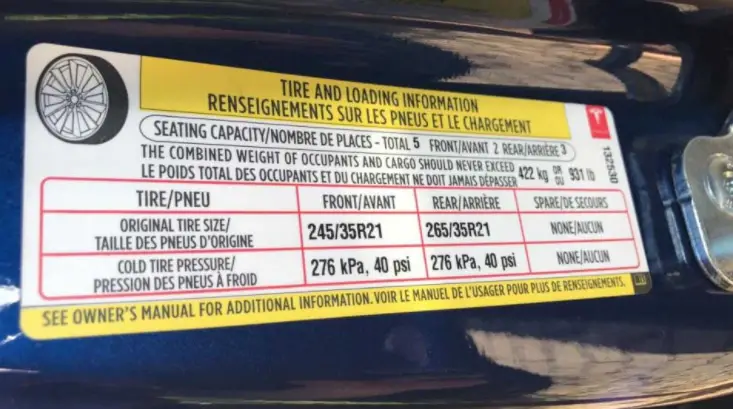 And if you're looking to get an excellent pocket-friendly tire pressure pump, then consider checking out this one on Amazon.
See the Tire Pressure Guide: What is the Proper Tire Pressure For Vehicles?
3. Install the right wheels
You could consider installing aero wheels when going on road trips with a Tesla. This is mainly because aero wheels add about 3 to 4% efficiency, which adds more miles/increases range.
See also: Cool and Must-Have Tesla Model 3 and Y Accessories.
4. Watch out for Tesla 'range anxiety'
While on your road trip, it is perhaps not uncommon to find yourself driving on a low charge.
This may sometimes trigger range anxiety.
To prevent this, you need to first identify some of the key contributing factors that will likely drain your battery fast.
For instance, here are a few essential factors:
An uphill drive
Weather conditions, such as snow, rain, and headwinds
Driving speed
Therefore, you may need to, for instance, find out the type of terrain beforehand.
How to Maximize Tesla Range & Reduce Battery Drain on Tesla.
What if you realize that you might not have enough charge to get you to your next charging destination?
If you realize that you might not have enough charge to get you to your next charging stop, you should do the following:
Drive behind semi-trucks (but not close).
This will help save the EV lot of energy because the truck in front will be taking the brunt of all the air resistance.
Reduce your driving speed. 
Reducing your driving speed reduces the strain on the car which causes the battery to use less energy. This will make it possible to arrive at your next charging destination. 
Turn off or reduce the HVAC system.
Turning off or reducing the HVAC system will help maximize the car's energy efficiency.
This will thereby significantly help you deal with range anxiety when driving your Tesla on a road trip.
See the Longest Range Electric Car in 2023.
5. Always have an extra buffer
When going on a long Tesla road trip, I highly recommend that you always have an extra buffer (range).
You can do this by setting your charge limit to 100%. Why?
Because you never know what might happen on the road trip.
For example, encountering closed roads may force you to take longer routes which could end up messing with your original charging plan. This may also lead to range anxiety.
6. Take advantage of Tesla features
Before embarking on a road trip, you need to ask yourself, 'Do I want to get to my destination as fast as possible, or want to create a memorable experience along the way at a nice leisurely pace?'
Here is how Tesla features can help you achieve either of that:
First, if you want to get to your destination on time, or rather save time than eat away all your hours on the road, you only need to enter your destination on your Tesla touch screen. The navigation will then automatically display the fastest route. 
Secondly, you can choose to use the traffic-based routing feature to help you navigate and escape traffic by rerouting you to your destination. Be sure to turn it on, on the map's settings icon.
And thirdly, if all you want is to have the best experience on the road with your Tesla, then you can use the Go Anywhere feature to select and make stops on routes that have great scenic views.
Use the Tesla energy tab for almost accurate range estimates
When driving, the best way to check your estimated driving range is by checking it at the energy tab on your Tesla navigation. 
It is more accurate than your standard battery display because it uses your driving data over the past 30 miles to estimate what your range remaining is.
Take advantage of the Camp Mode Feature
The Tesla Camp Mode feature converts your Tesla into a comfortable, breathable, and relaxing cabin. So, if you are still wondering whether it is possible to camp in a Tesla, the simple answer is, yes, it's possible. 
You need to put the car in camp mode to activate the heat if it's cold. Alternatively, you can leave it on neutral to ensure that the A/C or heater is on.
The Camp mode feature takes care of:
Airflow and temperature in the car. You can also adjust the cabin temperature depending on your preferences.
The interior lighting. You may also choose to enable or disable music.
This, no doubt, makes Tesla great for camping.
How Do You Enable Camping Mode on your Tesla?
First, ensure your car is in park mode, and your battery charge is above 15%.
Tesla will not allow you to use the camp mode feature if your charge is below 15% or not set to park mode.
Tap the fan icon located at the bottom of the screen.
Then tap the "Camp" icon.
How long can Tesla last in camp mode?
For as long as it has enough charge. It will remain in camp mode until you decide to turn it off. 
The camp mode does not consume a lot of energy. It mostly consumes about 10% of your battery in about 8 hours. This is typically the maximum time you need to sleep in a day. However, during winter, your battery consumption may rise by 5% in 8 hours.
7. Use Tesla as 'plan B'
Depending on your destination and route, if you're traveling on a tight budget or can't find a good hotel for the night. The good news is, you can use your Tesla as plan B.
Can you sleep in the back of a Tesla?
Yes, you can! I have managed to convert my Tesla into a comfortable bed on several occasions when going on long road trips.
I started using this Tesla sleeping air mattress after getting tons of recommendations from friends.
The mattress takes me only about 5 minutes to pump. It is also easy to set up, fits perfectly, and is comfortable to sleep on. 
Since I own a Tesla Model 3, the back seats, which don't fold completely flat were my main challenge. However, after watching a couple of helpful videos online, I finally learned how to remove the back seat cushions.
To my surprise, this made the Tesla air mattress even more comfortable and relaxing since I was now able to fit perfectly without folding my legs. I am 6ft, by the way.
I should also point out that apart from the comfort, the mattress is also very durable. I have used it on countless road trips and while camping for a good two years now, and I don't think I will be throwing it away any time soon.
If interested, this air mattress is available on Amazon in all sizes for Tesla Model X, Model S, Model Y, and Model 3 SUVs.
It is worth noting that, Tesla Model S is known for its unique ability to provide a comfortable and good night of sleep. Its back seat can easily fold flat, creating enough space for a comfortable bed.
And another thing, you can use the RV Parky app to help you find car camping places for your overnight camping.
For more detailed content about Tesla camping, be sure to check out – How To Camp In A Tesla Like A Pro.
8. Install Tesla Sunshade
Are you going to be traveling mainly during the day and in sunny/hot temperatures?
If yes, then I would strongly recommend that you purchase a Tesla sunshade.
Sunshades help keep the heat out by reducing and blocking heat transmission.
From experience, I hated stopping for a charge when driving in sweltering temperatures. I would suffer from the heat inside the car while waiting for it to charge.
And even when I opted to go for a walk, I would come back to a hot, burning seat. That was not a pleasant experience.
Luckily, I discovered what I now consider an excellent sunshade for my Tesla.
It was surprisingly very affordable and has since made my road trips more relaxing and fun, even in hot temperatures.
How? Because it effectively blocks the heat!
And the good news is, it's straightforward to install.
If you are interested, be sure to check it out on Amazon.
9. Don't Cold Battery Pack
A cold battery pack charges relatively slower as compared to a warm battery pack. Thus you may end up taking longer to charge.
For a fast charge, you should hence allow your battery to heat up first. 
The battery heats up when:
You drive
Precondition your car
Precondition the battery before arriving at your next charging stop.
The car should start pre-heating the battery 10 to 15 minutes before arriving at your next charging stop.
This means that, if you have set your next charging stop on the navigation, the car should automatically start pre-heating before you arrive.  
Preconditioning helps speed up your charging and get the battery ready to charge before you arrive at the next charging stop.
10. Carry less
The more weight you carry in your tesla, the more energy it will use. 
Less weight = Less energy used.
This results in more charge consumption, which also means more charging stops. 
NOTE:

Don't forget to carry your Tesla mobile connector.
Carry the mobile connector as a backup when going on a Tesla road trip. This, in fact, should be one of the main items on your Tesla road trip checklist.
Frequently Asked Tesla Road Trip Questions
Is Tesla good for long road trips?
Absolutely. Tesla being one the safest cars on the road, with chargers spread out strategically across different destinations, makes it suitable for long road trips. 
And additionally, Tesla as a company has always made continuous improvements, such as constantly re-engineering its models, new tire designs, and adding more charging stations, which has made it possible for drivers to enjoy and have smooth road trips.
How accurate is the Tesla trip planner?
Unfortunately, the Tesla trip planner is not 100% accurate. And perhaps, this explains why most new Tesla drivers sometimes experience range anxiety. 
However, most drivers tend to get more accurate predictions with time, depending on their driving experiences. And besides, Tesla has also been working over the past years to make their trip planner more accurate for drivers.
Related: How Accurate Is The Tesla Trip Planner?
How do I plan a Tesla road trip?
The Tesla Go Anywhere tool has made it easier for road trip rookies planning long road trips using a Tesla. 
The tool also provides you with supercharger locations, recommended charge times, and routes to take on your trip.
What are the best Tesla trip planner apps?
A Better Route Planner (ABRP) – it allows you to select your own stops, set your preferred charge and wait times, and easily find hotels that have Tesla charging stations.
This app also allows drivers to search the charging stations based on – high-power and public or residential stations. 
And speaking of residential stations, residential chargers can be a great alternative for travelers going on a long journey or where chargers are spread far apart. 
The app is free and available on both Android and iOS phones.
ChargePoint – the app provides you with charging spots across parking garages, workplaces, homes, retailers, and multifamily dwellings.
And apart from that, you are also provided with the charging costs and status, charging history, and real-time updates that include busy charging times.
The app is free and available on both Android and iOS phones.
EVHotels – this app provides drivers with over 250,000 hotels worldwide that have EV charger stations.
It costs $99 and is available on both Android and iOS phones.