Tesla Superchargers gives you an excellent travel experience, especially when you are taking a long road trip.
Superchargers are fast, reliable, and convenient. 
Additionally, Tesla has distributed their Superchargers in the most desirable places, with access to WIFI hotspots and restaurants, making long Tesla road trips enjoyable.
So, what are the best Tesla Supercharger trip planners?
We recently surveyed over 500 Tesla owners to determine the most preferred trip planner apps they use when planning their road trips.
Related:
Based on the findings, when planning a trip with Tesla Superchargers, the following were the top three Tesla Supercharger Trip Planners;
A Better Route Planner (ABRP).
PlugShare
Go Anywhere – in-built Tesla route planner.
See also: How Accurate Is The Tesla Trip Planner After The Recent Update?
1. A Better Route Planner (ABRP)
According to the survey, most Tesla owners preferred the ABRP app over other route planner apps because the pros outweighed the cons, as shown in the table below.
ADVANTAGES
DISADVANTAGES
1. It is accurate.
1. Some beginner users report having a difficult time navigating through the settings. 
2. It is fast (It does not take time to load).
2. Some users report having experienced so many bugs when using the app.
3. Focuses on fast charging. 
4. You can add waypoints.
5. You can get real-time weather and traffic updates.
6. Gives real-time charger availability and forecasts. It also includes the waiting times!
7. You can add multiple vehicles.
8. Gives a charging notification.
9. Gives notifications of when your car arrives or leaves a specific location.
10. Allows you to share your live data with other ABRP users. This may be your friends or family.
 Plus you can also save your activities.
11. It allows you to watch your progress on Apple Watch.
12. It also allows you to follow your routes using Apple CarPlay.
13. Great customer service. I have always found that whenever I am experiencing a problem using it, I get fast assistance through the ABRP forum.
Pros and Cons of ABRP
ABRP is free, but if you want to access some of its great features, you will have to upgrade to a premium membership which starts from 5€ / month or 50€ / year.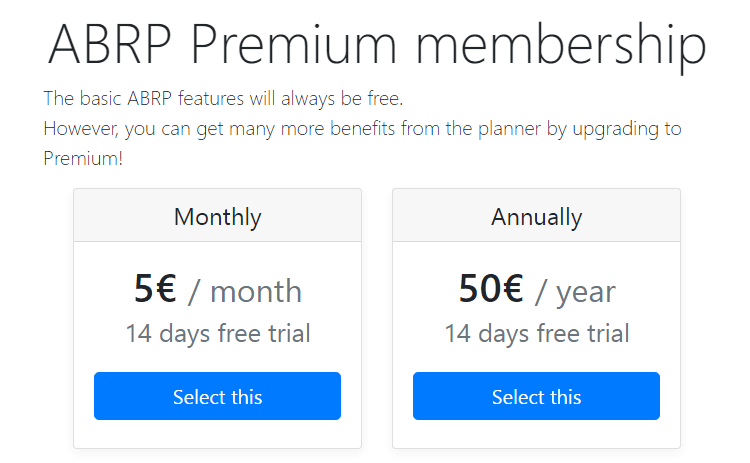 ABRP Premium features give you access to the following;
Real-time weather, traffic, and charger availability and forecast.
Access to Apple CarPlay and Apple Watch features.
Charging and Geofence notifications.
Allows you to share vehicle data.
Allows you to save and access your trips/plans.
Allows you to connect multiple vehicles.
See also: How To Camp In A Tesla Like A Pro.
How to plan a road trip with Tesla Superchargers on ABRP
Go to the Route Planner Settings.
Enable "more settings" (as seen in the picture below).
Scroll down and click "Battery and Chargers".
Then click on the "Fast Chargers" option and choose your preferred Superchargers and click done (as seen in the picture below).
If you would like to avoid certain networks then click on "Network Preferences".
You can avoid some Superchargers by clicking on the chargers on your routes.
Turn on "more settings."
Click on the "Fast Chargers" option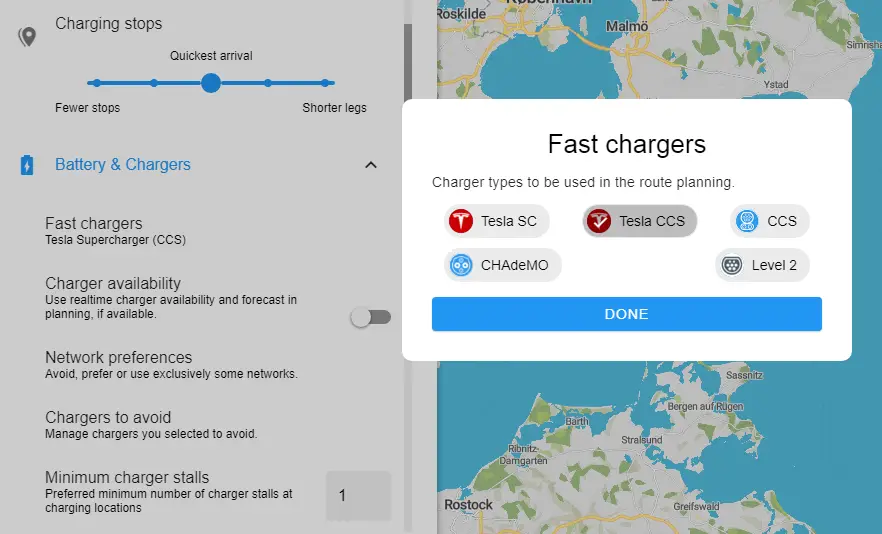 For more guidance on using the ABRP setting, check out our Better Route Planner article.
See also: 25 Cool and Must-have Tesla Model 3 and Y Accessories.
2. PlugShare
I have used this app several times before, mainly because of the extra features that allow you to plan a long road trip effectively. 
So, the following are some of the main advantages and disadvantages of using the PlugShare EV route planner.
ADVANTAGES
DISADVANTAGES
1. It allows you to set your charge and wait times.
1. It is not very accurate.
2. It allows users to find hotels/Lodgings that have EV charging stations.
2. The "Payment Required Mode" does not work 100%.
3. When planning a route, you can easily filter your routes to access specific amenities such as;          
>  EV Parking.          
> WIFI.          
> Shopping.           
> Restroom.          
> Park.          
> Grocery          
> Valet.
3. It has no Trip Planner mobile version. Only the desktop version is available.
4. It shows users available free chargers on their preferred route.
5. It allows users to filter their preferred charging locations.

> Payment Required Locations.
> Restricted Locations.
> Residential Locations.
> Currently In-Use Locations.
4. You can add up to 4 vehicles.
5. You can pay with PlugShare. It is available in the US and Germany.
6. You can easily view your recent activities and viewed locations.
Other PlugShare features:
It has an estimated drive time feature.
Users can add an estimated charge time (wait time) on the charging stops.
How to plan a road trip with Tesla Superchargers on PlugShare
You can use either of the two methods below. 
Method 1
Click on the "PlugShare Location" and type "Superchargers" as shown below.
This method will show you a broad overview of the Supercharger locations.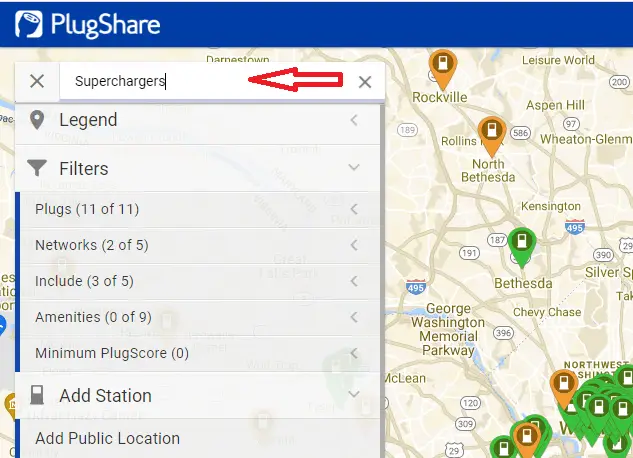 Method 2
On the Menu, Click on the Trip Planner. (This feature is only available on desktop)
A dialog box that allows you to choose your location, language and units will pop out, as show below.
Click on "Plan a new Trip"
A dialog box will appear on the right side. (As shown in the images below)
Add your starting point and destination.
Then filter to only supercharger as seen in the image below..
Click on the "trip planner" option. (Only Available on Desktop)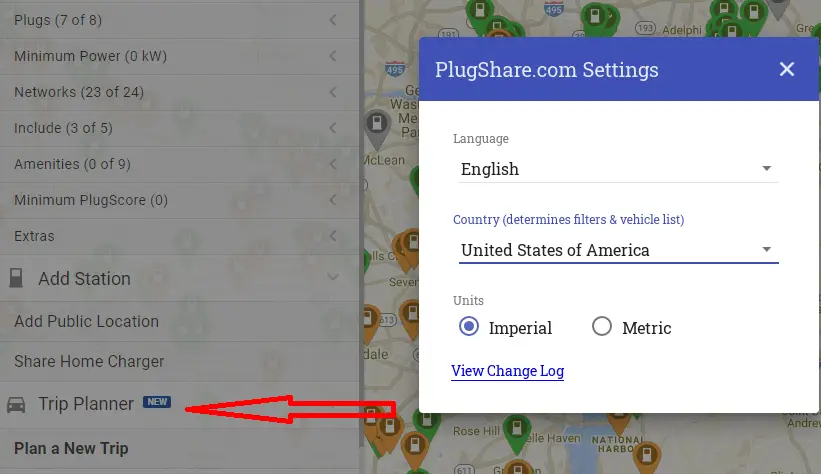 N/B: To get the best Tesla features, you'll have to log in.
The dialog box will appear on the right side.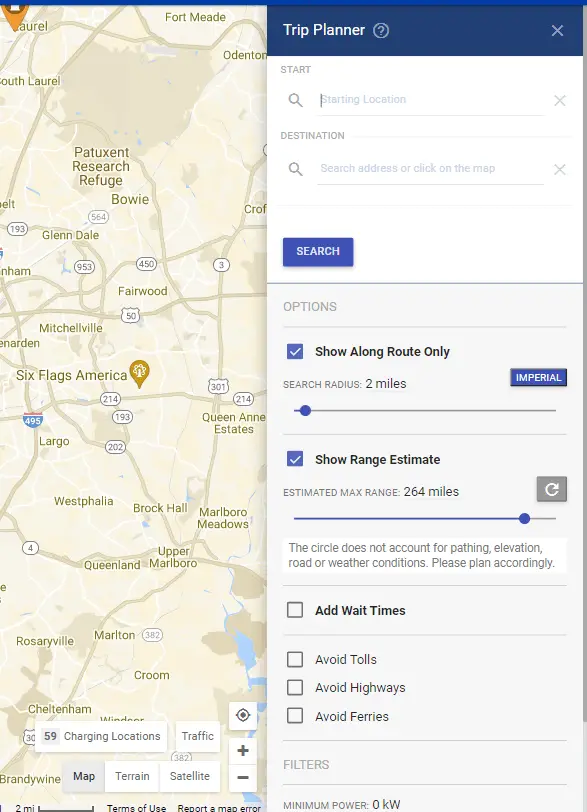 Filter "Supercharger"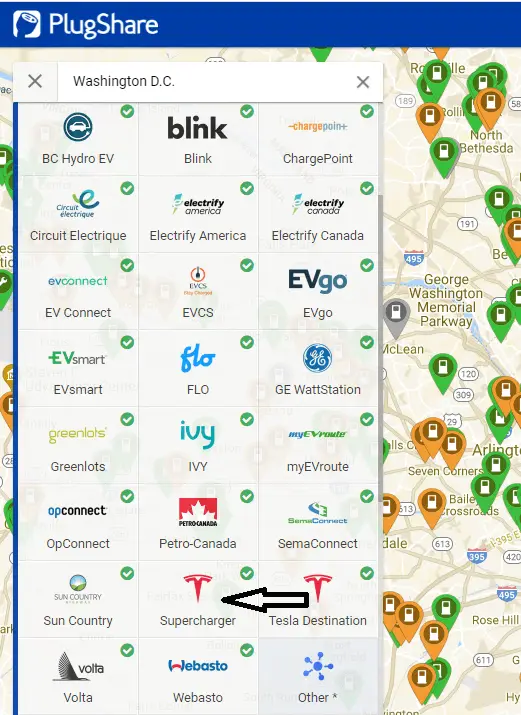 How to use your planned route on mobile
Once you are done mapping out your supercharger routes on PlugShare, scroll down and click on view directions, then click "send directions to your phone."
Lastly, the in-build Tesla route planner also made it to the top of the list because it works well 99% of the time. We have discussed the Tesla in-build route planner in more detail here.
Some of the accessories you might need during your Tesla road trip